BT and partners New Anglia Local Enterprise Partnership and the University of Suffolk began construction on the EcoLab zero-carbon affordable home project.
Forms part of Adastral Park's DigiTech Centre, building on ties with the Group's university partner.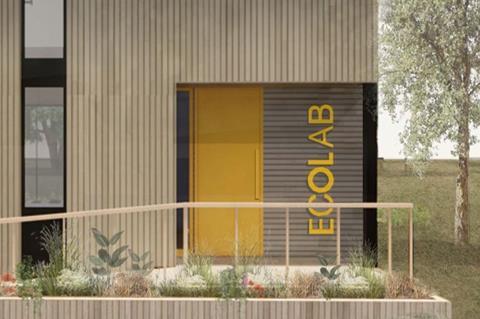 BT collaborated with academic and industry partners to begin construction at Adastral Park's EcoLab, a research project that aims to showcase potential for zero-carbon homes.
EcoLab will take the form of a two-bedroom house that achieves "zero-carbon occupancy". A model is being developed that allows for similar builds "at scale", while making savings in construction costs when compared with other sustainably minded builds, a joint statement claims. The model budgets £200,000 (€240,000) per home, making it "affordable".
The project is led by the University of Suffolk, with BT and New Anglia Local Enterprise Partnership also on the team.
Work on the initiative, announced as far back as 2020, was initially expected to begin at the end of that year (BTwatch, #316). No reason was given for the delay, but construction is now set to be completed in April 2022.
Partnerships at the core
Meral Bence, Research Strategy Manager for Adastral Vision & Engagement at BT, described EcoLab as an example of Adastral Park's "rich" innovation ecosystem.
EcoLab forms one part of the DigiTech Centre, a research and engineering facility formally opened in October 2021. The £9.6m project will include 145 BT apprentices and 500 students, providing skills training in cybersecurity, data science, and IoT (BTwatch, #314). The DigiTech Centre has close ties with the University of Suffolk, which has its ICT and Digital Creative department based at the centre.
Bence noted that while current EcoLab engagements have seen BT partner with the University of Suffolk, "we are also starting to see Innovation Martlesham companies getting involved".
Innovation Martlesham is the technology cluster at Adastral Park, BT's R&D site. It acts as a collaboration and innovation hub for member companies. In the past six months, a number of new partners have joined, including eGain Corporation (customer engagement software); General DataTech (systems integration and network solutions); and Anritsu (network test and assurance — BTwatch, #329 and passim).

Joseph Purnell is a Staff Reporter for TelcoTitans, contributing telecoms news analysis since 2019 as part of the TelcoTitans Editorial team.