BT execs appear to be getting message across on need for support.
Rivals remain keen to extract more concessions from Openreach on infra access.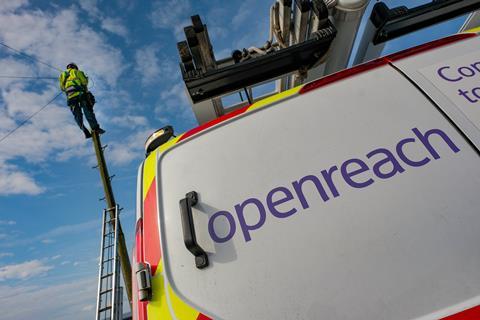 The PAC's assessment reflects not only the information received from the DCMS during hearings, the government's National Infrastructure Strategy report, and the data and views that comprised a National Audit Office review of the UK's broadband infrastructure progress, but also written evidence from industry stakeholders. BT Group and Openreach were unsurprisingly to the fore here, and the access services business and its parent company could be seen punching home points on the need for enablers to accelerate rollout, as well as the risk to competition of a patchwork of small independent fibre networks.
BT also said that while it could manage the demands of replacing Huawei in its infrastructure, albeit at a cost of about £500m, any further restrictions could overstretch its capabilities.
BT was notably less optimistic on the level of coverage that could be achieved without government intervention, citing an Analysys Mason report it commissioned, which put the likely UK fibre coverage possible without any form of state intervention levelling out at 75% (BTwatch, #316). Reiterating earlier estimates, the operator said that by 2025, only 70% fibre coverage could be reached without support, and a complete rollout would take until 2033. It was, though, more bullish on what could be done in short order if all barriers are lifted, and estimated 96% of premises could be reached by 2025 with full government commitment, and 100% coverage achieved a couple of years later.
Openreach's contribution was more pragmatic, placing greater emphasis on the difficulties it has already experienced as it rolls out fibre. Access to property and greater cooperation with house builders of all sizes was called for, along with simpler procedures for undertaking street works.
The access services business also talked itself up as having "unparalleled" experience in delivering rural connectivity and spotlighted the Community Fibre Partnership programme, which it said had enabled 130,000 fibre connections in remote areas through a combination of voucher schemes and community investment. This may prove to be a model that Openreach will emulate as the DCMS begins looking for partners on smaller contracts, enabling the business to compete with smaller, nimbler rivals.
Openreach urged any plans for subsidy to be designed to ensure 'not-spots' do not emerge in the midst of areas otherwise blanketed with fibre coverage, warning that infill would prove more costly than doing the work in conjunction with other elements of the rollout.
While PAC worries about DCMS, altnets still wary of Openreach
In a separate development, a joint submission to Ofcom in relation to the Wholesale Fixed Telecommunications Market Review saw a group of operators including CityFibre, Hyperoptic, Telefónica, Virgin Media, and Vodafone call for fundamental changes to rules governing physical infrastructure access (PIA) across Openreach's network.
The altnets consider a review of PIA processes should be a core element of the review of the future infrastructure landscape, and claimed their collective experience of using current products and services provides insights into fundamental problems. While BT and Openreach regularly assert that rivals have rights to access all of its infrastructure and to install their own technology at Openreach sites, the altnets said the duct- and pole-sharing set-up is not scalable, and represents a "cottage industry" approach to access. According to the submission, not only are processes decentralised and onerous, they also place obligations on CPs that Openreach does not apply to its own fibre rollout or the work of its subcontractors.
The slow, complex process is therefore said to benefit Openreach in that it hampers wholesale rivals while leaving the BT business with a clear run at deployment. As part of calls for a refresh and closer regulatory scrutiny to ensure BT and Openreach are not unduly benefiting from a dominant position, the operators also called for the PIA function to be established as a functionally separate business unit within Openreach — effectively creating a new semi-independent business within the semi-independent Openreach division.

Neal Doran is a Senior Analyst for TelcoTitans. Neal's industry knowledge and experience as a telecoms analyst and writer spans three decades, and he has been a key part of TelcoTitan's Editorial team since 2001.
DCMS preps Gigabit UK as MPs growl and BT looks ahead
1

2

3

4

5

6

Currently reading

BT and Openreach voices being heard

7