EE is trying once again to cast itself as the good guy on rural networks through offers to cooperate with rivals made through the media.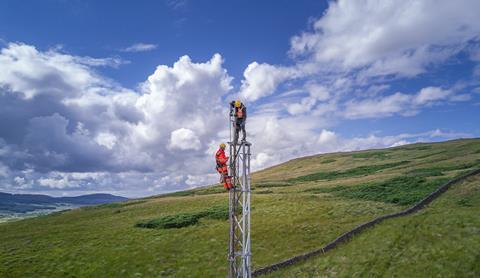 BT Consumer Chief Executive Marc Allera attempted to redress some of the negative publicity the operator gained after apparently blocking attempts by its three rivals to resolve the problem of poor mobile network coverage in rural areas (BTwatch, #303).
The Financial Times had previously reported that EE, O2 UK, Three UK, and Vodafone UK had been discussing a voluntary plan to share infrastructure in the hardest-to-reach areas – dubbed "rural roaming" – since around October 2018, but the talks stalled after BT argued that its rivals would benefit more from the arrangement because it operates the largest network, with more than 18,500 masts.
Allera, perhaps alarmed by the negative headlines that ensued, clearly decided to mitigate the situation by taking a direct approach, although some suspect his motivation is purely to protect BT/EE's competitive edge in the mobile network sphere.
Allera wrote a letter to the Daily Telegraph that sets out BT/EE's own proposal, namely a new cross-industry Rural Coverage Pledge that seeks to adopt a unified approach to not-spots (areas without mobile coverage), and address those areas with partial coverage "in a fair and equitable way". He proclaimed that, "if all operators and the government get behind this pledge, we could finally find a way to unlock the barriers to rural connectivity".
In practical terms, BT/EE wants the government to make it easier to serve not-spots by making more funding available and easing planning regulations, including allowing taller masts to be installed. With regard to areas that are covered by only one or two mobile operators, Allera said: "While we can't have one network operator free-riding on the back of another's investment, the pledge must also address this 'partial' not-spot issue, finding a way to open all masts for others to use, on fair and appropriate terms".
One thing that Allera, and BT/EE, clearly want to avoid is national roaming: "Calls to mandate roaming across networks are misplaced", he said. "It would dilute any incentive to grow coverage into those hard to reach places and give an unfair leg-up to those who have avoided connecting people in rural areas until now".
EE has already set itself the objective of achieving 95% 4G geographic coverage by 2020, with coverage currently at 90%. According to Ofcom's Connected Nations 2018 report, 9% of the UK landmass still lacks good outdoor 4G coverage from any operator.
It is also not the first time that Allera has taken to the media to take the high ground on coverage performance of UK mobile networks. In late-2016 he wrote an open letter to his operator CEO peers calling for greater clarity on network availability through the adoption of a Clear on Coverage pledge (BTwatch, #281). While EE moved away from highlighting population coverage, and held unilateral meetings with regulator Ofcom, other operators were said to be "unwilling to engage" and after a brief period in 2017, more detailed county-level geographic coverage data was removed from EE's website over concerns that it "was potentially misleading to customers".