Preliminary Q1 FY22 results show 37,000 mobile contract additions, taking VfZ beyond five million SIMs.
Suffers inevitable impact of losing F1 rights in 2021, though damage appears contained.
VodafoneZiggo pledges to supply all customers with 1Gbps connection by the end of the year.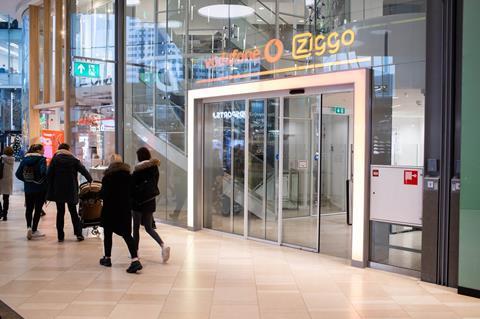 VodafoneZiggo emphasised its "devotion" to improving customer experience as it reported what it called "solid" financials for the quarter to 31 March 2022 (Q1 FY22).
In its preliminary results, the Dutch operator — a 50:50 joint venture between Vodafone and Liberty Global — delivered 37,000 mobile contract additions, surpassing a milestone of five million SIMs.
Total revenue dipped marginally, by 0.3% to €1bn (£857m), ending the run of "eleven consecutive quarters of growth" that the JV keenly highlighted at its previous results call.
Consumer mobile service revenue grew 4.3% year-on-year — its highest in five years — to €164m, while consumer fixed revenue declined 2.6%. The operator largely attributed the latter to a decline in its customer base and lower equipment sales.
Losing the rights to F1 last year will undoubtedly have hurt the JV. It reported a loss of 23,200 internet RGUs, which it attributed to the loss of its sporting rights and increased promotional activity by competitors.
In May 2021, Ziggo Sport was outbid for F1 rights by NENT. The Sweden-based group reportedly shelled out between €25m and €30m a year for the new F1 contract, starting in the 2022 season. The price hike, which was too rich for Ziggo Sport, appeared fuelled by the rise in popularity of local Dutch hero Max Verstappen, now F1 world champion.
In December, NENT struck Viaplay distribution deals with VfZ and rival KPN as part of its broader plan to bring the streaming service to 16 territories by 2023 (Vodafonewatch, #202). It led to a significant revving up of promotional deals weeks before the F1 season began on 22 March 2022.
Last season's final F1 race in Abu Dhabi, which saw Verstappen crowned world champion, was watched by 3.5 million people in the Netherlands. Of that number, 425,000 reportedly watched it via Ziggo GO, VodafoneZiggo's mobile app.
The customer comes first?
In announcing the Q1 FY22 results, VodafoneZiggo Chief Financial Officer Ritchy Drost — almost ironically — largely steered away from financial figures, instead focusing on the JV's increased efforts to deliver "excellent" service and experience. "That is what we've devoted all our efforts to in recent months", he said.
Drost pledged to supply all of its customers with the option to upgrade to a 1Gbps internet connection by the end of 2022. Coverage rose 6% to 79% during the quarter.
The JV has communicated a 3.5% price increase to customers "to support further investments to ensure high-quality connectivity through SmartWifi and 5G", according to a press release.
Jeroen Hoencamp, VodafoneZiggo Chief Executive, said the JV continued to "effectively execute" its commercial strategy in Q1 FY22. He cited the expansion of its SmartWiFi connected homes to 1.3 million, continuing investments in 5G, and the launch of a Sustainable Finance Framework, "further supporting our goal to halve our environmental impact by 2025 by attracting sustainable financing".
He added that with the "solid" adjusted EBITDA growth of 2.1% year-on-year — driven mainly by "cost discipline" relating to lower F1 programming costs — "we remain on track to deliver our full-year guidance".
Fries and shine
Speaking on Liberty Global's Q1 FY21 results call yesterday, CEO Mike Fries said revenue was flat to up in all markets, with particular praise for solid EBITDA growth in the Netherlands, Switzerland, and the UK.
"Demand for connectivity remains high across our European markets", he noted, adding that "we are seeing improved pricing power as inflation picks up, competition rationalises, and the regulatory environment eases".
Fries is a big fan of VodafoneZiggo, and, like Vodafone, invariably describes the JV in glowing terms (Vodafonewatch, #200).
Speaking at Deutsche Bank's 30th Annual Media, Internet & Telecom Conference in Florida (via VIQ FD Disclosure) during late-March, Fries indicated discussions surrounding the future of the JV are currently ongoing.
As usual, he was pressed on whether Liberty Global is open to buying Vodafone's stake, and, although he did not directly answer the question, he noted that the two partners are now "at an inflection point. We'll have to see what makes the most sense".
"It's done everything we asked it to do. And it has been a fantastic example of convergence in Europe", he told the conference.
Options on the table, as Fries has often alluded to before, include a listing or a sale. The future of the JV's tower assets, which have not been folded into Vantage Towers, Vodafone's European TowerCo spinout, will likely be another review item up for consideration.