Deals and updates from across the Vodafone Group include the latest CNTT release, Vodafone Business partnership with Energy Web, and a coordinated Track and Trace effort from European telcos.
Vodafone Idea flagged collaborations with Nokia, Red Hat, and Mavenir.

Vodafone Greece launched ToBi; Ireland expanded its relationship with Exclusive Networks; and Vodacom continues its fight against SA infrastructure vandals.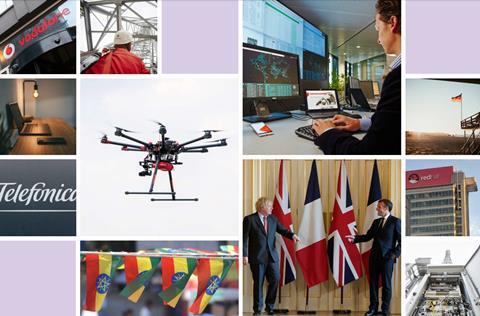 Vodafone Group
Legal and regulatory
Vodafone appeared to have settled a long‑running 3G and 4G intellectual property infringement claim made by Munich‑based patent house IPCom. The Group's recently published Annual Report indicated that IPCom had "given up" a trial scheduled for May 2020, following Vodafone's success in warding off an injunction from IPCom at a previous trial held in November 2019 (Vodafonewatch, #178 and #184). Further, a 360Law report indicated that IPCom had reached an agreement with three Vodafone entities to stay the UK litigation, and that the proceedings, including a trial on licensing terms due to start on 29 June 2020, had been halted. It is not clear if the agreement also covers off patent litigation brought against Vodafone Germany by IPCom and Intellectual Ventures. This is also referenced in the Annual Report, which suggests that the German case is current — but that "Vodafone has contractual indemnities from suppliers which have been invoked in relation to the alleged patent infringement liability".
Partnerships
The Vodafone-backed Common NFVi Task Force (CNTT) issued its second release nearly a year after its formation. Oddly named Baldy, the release defines network virtualisation architectures based on Kubernetes, which is widely seen as the de facto platform for containerisation management and workload orchestration. Baldy also includes CNTT's final conformance requirements for its OpenStack-based virtual machine architecture, which was the focus of Botrange, CNTT's initial release. CNTT, part of Linux Foundation Networking (LFN), sprang from a collaboration between LFN and the GSM Association. Vodafone appears to be placing high hopes on the initiative to help it deliver cloud-native technologies meeting telco requirements (Vodafonewatch, #186).
Vodafone Business partnered with Swiss‑based blockchain platform specialist Energy Web to integrate renewable energy sources into power grids, utilising decentralised infrastructure and Internet of Things (IoT). The partners plan to integrate SIM‑centric blockchain technology with IoT connectivity from Vodafone Business, to provide "specialist monitoring and control" of connected devices in future energy networks. The system will run on Energy Web's decentralised operating system EW‑DOS, which allows the identification and validation of assets across the power grid. Vodafone Business is described as Energy Web's first strategic partner from the telecoms industry.
European telcos seek to coordinate track-and-trace
Vodafone was among the operators named as supporting the European Telecommunications Standards Institute's (ETSI) new industry specifications group, Europe for Privacy‑Preserving Pandemic Protection (ISG E4P). The rapidly assembled group is intended to facilitate the coordination of proximity tracing applications developed across the continent and thereby help "break the chain" of COVID‑19 transmission.
Drawing on expertise from within its membership base in areas including cybersecurity solutions, e‑health applications, and emergency communications, ISG E4P will wrestle with the challenges of creating a framework supporting interoperability and security across proximity tracing apps developed on the basis of contrasting political views and fundamentally different technological principles.
The initial membership list shows 27 official ETSI members supporting the ISG E4P including BT, Deutsche Telekom, Orange, and Vodafone.
The GSM Association is also reviewing operators' potential contributions to the field of contact tracing, focused on delivering data privacy and coordinating how the flood of data linked to the tracing process will be managed. This could cover practical steps such as ensuring that any data used for tracing is zero‑rated across all countries, and developing ways to use Wi‑Fi to offload data shared by devices.
Social responsibility
Vodafone provided an update on its Connected Living project with learning disability charity Mencap, which launched in July 2019 (Vodafonewatch, #178). The Connected Living solution is now said to have been trialled at 30 Mencap-supported living homes, seeing installation of a range of Internet of Things‑enabled devices controlled by the Vodafone My Life app. Vodafone said the project had also been adapted to help users through the pandemic, such as by broadening its How To feature to include tips on regular hand washing. The initiative, co‑designed by Vodafone and launched through Vodafone Business Ventures, the social enterprise division of Vodafone Business (Vodafonewatch, #176), is intended to provide people with learning disabilities with greater independence and a better quality of life through access to personalised digital services.
Vodafone disclosed that 837 of its products contained conflict materials in a Conflicts Mineral Report covering calendar year 2019, published to meet US Securities and Exchange Commission disclosure rules. The number of "in‑scope" products represented a significant increase on 2018 (113), which was attributed to individual consideration of Vodafone Automotive products with small variations such as colour and software. The in‑scope items comprised: selected handsets; connected-home devices; mobile broadband dongles; tracker devices; vehicle anti‑theft systems; parking assistance products; and telematics control units. Vodafone sourced in‑scope products or their components from 66 suppliers during 2019, falling from 100 in 2018. Conflict materials are natural resources extracted in areas where conflict is taking place, and which perpetuate fighting. The operator includes conflict minerals identification clauses in its supplier contracts, and direct suppliers are expected to extend similar requirements across their own supply chains. In 2014, Vodafone dropped two suppliers of in‑scope products, following the introduction of more onerous conditions and stronger communication channels for vendors (Vodafonewatch, #135).
Associates and JVs
Vodafone Idea
Nokia announced a first‑phase implementation of its Dynamic Spectrum Re‑farming (DSR) solution for Vodafone Idea (VfI). The Finnish vendor drew attention to installation of massive Multiple Input Multiple Output (mMIMO) antennae across large swathes of VfI's footprint. The implementation of DSR, which enables dynamic spectrum sharing (DSS) among other things, includes Nokia's AirScale BaseBand module, designed to boost base station throughput, and seems to be positioned as a complement to DSS. Other Group DSS deployments to date have been seen in Australia (Nokia), Germany (Ericsson), and the Netherlands (Ericsson) — Vodafonewatch, #186. Nokia's work for VfI relates to a far‑reaching contract agreed in March 2019, which anticipated implementation of various technologies, including DSR, mMIMO, Single RAN Advanced, small cells, and Ultra Broadband Radio (Vodafonewatch, #173).
Mavenir Systems flagged an upcoming project to expand Vodafone Idea's (VfI) deployment of open RAN systems. The US software provider said its OpenRAN solution had been carrying "commercial traffic" for VfI on "multiple" 4G cell sites since December 2019. It added that it had been selected as one of VfI's partners on a plan to extend deployment of massive MIMO to multiple Indian cities in 2020. Along with rival Parallel Wireless, Mavenir is a favoured Group supplier for open RAN and is involved in projects in the UK (on 3G and 4G delivery) and Mozambique (4G). Mavenir was one of seven 'challenger' suppliers that responded to Vodafone's OpenRAN 5G NR software request for information in October 2019 (Vodafonewatch, #184). The others were Altiostar, Altran, Parallel Wireless, Phluido, Radisys, and Samsung.
Vodafone Idea (VfI) was said by partner IBM and subsidiary Red Hat to have made progress in the deployment of its open standards-based Universal Cloud (or Open Universal Hybrid Cloud) infrastructure platform. According to IBM, the platform has reached a "major production milestone for core network functions" and now enables IT and network applications to run on common cloud architecture. IBM said this latest development stems from agreements formed by VfI with IBM in May 2019 and Red Hat in October 2019 (Vodafonewatch, #175 and #181), and will help VfI release new enterprise services, including blockchain-based solutions, with a focus on vertical industries such as financial services and retail. Canada‑based Optiva also recently signalled progress with the pilot of its charging engine on Universal Cloud (Vodafonewatch, #185).
Europe
Germany
Vodafone Germany (VfD) partnered with German white‑label insurance provider ELEMENT Insurance to deliver private cyber insurance for mobile customers. The service will feature Vodafone branding and be made available for €1.99 (£1.79) per month for customers that already have VfD's Secure Net smartphone protection offering, or €2.99 for others. It claims to offer protection against identity theft, online banking fraud, and online shopping fraud. Michael Reinartz, Innovation & Consumer Services Director at VfD, said that the product was developed in "just a few weeks".
Vodafone Germany (VfD) continued to expand its DOCSIS 3.1‑enabled cable footprint but came under attack over its marketing of the technology. The latest phase of its rollout programme is said to have added a further 960,000 households passed across the states of Baden-Württemberg, Hesse, and North Rhine-Westphalia. Bulked up by the 2019 acquisition of Unitymedia, the OpCo claims to have the largest "Gigabit" network in Germany, passing 18.7 million households (Vodafonewatch, #174 and passim). VfD aims to pass 25 million homes with DOCSIS 3.1 by 2022. In May 2020, Timotheus Höttges, Chief Executive of rival Deutsche Telekom (DT), called cableco's "Gigabit" claims around DOCSIS 3.1 "fake news". Höttges alluded to a possible fixed‑line "renaissance" in Germany, following the COVID‑19 lockdown, but was adamant that cable was "not the answer", noting 1Gbps speeds could not be relied upon as cable is a shared medium. In its home market, DT initially placed superfast broadband bets on copper-based vectoring technology, but is now showing greater enthusiasm for fibre‑to-the‑home (providing investment conditions are favourable). Höttges did not go into the question of how often its broadband services deliver on marketed data speeds.
Vodafone Germany (VfD) fibre‑to-the‑premise (FTTP) partner Deutsche Glasfaser completed a sale by private equity owner Kohlberg Kravis Roberts (KKR) to investment groups EQT Infrastructure and OMERS, after approval by the relevant competition authorities. The deal lays a path to amalgamation between Deutsche Glasfaser and further FTTP upstart Inexio, which was bought by EQT in 2019 (Vodafonewatch, #179 and #183). The news of the new group's formation was welcomed by BREKO Bundesverband Breitbandkommunikation, the German association of alternative operators, which described it as a "strong signal for fibre construction in Germany". Deutsche Glasfaser is one of several independent fibre players in the German market and aims to invest €7bn (£6.3bn) in an FTTP network covering more than six million premises, in the "medium term". Earlier in 2020, it said its FTTP network had reached more than 400 municipalities, passing about 630,000 consumers and in excess of 5,000 businesses.
Vodafone Germany (VfD) was again slapped on the wrist for sending messages to consumers confirming orders for services that had not been actually placed. In May 2020, Verbraucherzentrale Hamburg (VZHH), a local branch of the Federal Association of Consumer Protection, said the regional court in Munich had banned the operator from such activity in relation to its Vodafone Giga TV App, or risk a fine of up to €250,000 (£224,004). It seems that VfD is a repeat offender in this regard; VZHH said four lawsuits had already been initiated against the operator within a "short time", with the last judgement passed on 3 March 2020. Other services for which VKD is also now prohibited from sending unsolicited confirmation messages include Vodafone TV Connect, Vodafone GigaTV including HD Premium Cable, Kabel Digital, Video Select, and fixed internet and voice services.
Italy
Vodafone Italy (VfIt) upstart rival Iliad Italy was rumoured to be close to an agreement with VfIt's fibre‑to-the‑premises (FTTP) partner Open Fiber. Iliad is said to be plotting a launch of fixed broadband services in Italy as soon as 2021, rather than its original plan of 2024, apparently galvanised by Sky Italia's intention to launch fixed services in 2020. Iliad launched its low‑cost mobile operation in 2018 and is already said to have built up a 7% market share (Vodafonewatch, #167, #185, and passim).
UK
A UK pressure group is in the process of mounting a legal challenge against the government over the alleged health risks of 5G technology. Action Against 5G has hired prominent human rights barrister Michael Mansfield to lead the case, and issued a Letter Before Action to the government, in preparation for its application to the High Court for permission to argue the case in full. The group is challenging the government's failure to take into account the "extensive evidence showing radio frequency radiation from masts and wireless devices puts health and life at risk, carry out a full and independent examination of the risks, [or] properly inform the public of the dangers". Trade association Mobile UK dismissed the claims, asserting that "no health risks have been established from exposure to the low‑level radio signals used for mobile communications".
Vodafone UK (VfUK) began reopening its retail stores, as part of a phased process. Following the reopening of four outlets in Northern Ireland in the second week of June 2020, 65 additional shops began operating on 15 June 2020, and the OpCo expects to proceed with a further 300 over the coming weeks. VfUK added that it will not be reopening some of its stores in inner London that can only be reached by public transport, and is allowing 700 retail staff to continue to work from home. A number of safety and hygiene methods have been implemented, including: additional training for employees; new "concierge" staff to greet and direct customers; provision of alcohol-based hand gel, screens, and personal protective equipment; footfall restrictions; removal of display devices; single-employee sales terminals; redesigned store layouts; and end of cash payments. VfUK said a survey of 1,540 employees had shown "strong support" for the new precautions. Rivals EE, Telefónica UK (O2 UK), and Three UK also began to reopen their stores on 15 June 2020. Virgin Media said it had decided to permanently close all of its retail shops after the lockdown restrictions are lifted, in an effort to cut costs, and presumably linked in with its planned merger with O2 UK.
EU Cluster
Greece
Vodafone Greece (VfGr) launched TOBi, the Group's artificial intelligence‑powered virtual assistant, built on IBM's Watson platform. After a trial begun in mid‑2019, TOBi is now available on the OpCo's My Vodafone app and website. VfGr claimed that during Greece's COVID‑19-induced lockdown, TOBi had answered questions from 187,000 customers. TOBi — a key plank of Vodafone's digital transformation programme — was first piloted in the UK during 2017 and has since launched in numerous markets, including: the Czech Republic, Germany, Italy, Spain, and Turkey (Vodafonewatch, #183 and passim).
Ireland
Cloud and security service provider Exclusive Networks expanded a relationship with Vodafone Ireland (VfIr), forming a strategic partnership to provide managed security services to the OpCo's enterprise clients. Capabilities will include both reactive and proactive security techniques, and Exclusive sought to stress the arrangement was scalable, enabling businesses to rely on the proposition "even as threats increase in intensity and frequency". Exclusive Networks' relationship with Vodafone has evidently been evolving over the past few months, seemingly strengthened by ties to Tomorrow Street, the telco's Luxembourg-based innovation and incubation joint venture. In mid‑2019, the vendor signed a security services partnership with VfIr, alongside US‑based provider Palo Alto Networks (Vodafonewatch, #180). In May 2020, Exclusive partnered with Tomorrow Street to "discover disruptive startups". Under the tie‑up, Tomorrow Street portfolio companies can access Exclusive's distribution channels and Exclusive, in turn, has been granted access to technologies being developed within the Tomorrow Street ecosystem (Vodafonewatch, #186).
Netherlands
Microsoft published a case study highlighting an enterprise-wide deployment of its Teams collaboration software at VodafoneZiggo (VfZ), in an evident promotional heads‑up for other organisations seeking to change ways-of-working post-COVID‑19. VfZ is said to have enlisted Portiva, a Netherlands-based partner of Microsoft, to install Teams and bed it into its business, via policies for team creation and guest access, employee awareness "roadshows", and the appointment of "Digital Workplace Champions". Meike Koekoek, IT Lifecycle Expert for Microsoft 365 at VfZ, said that previously, the joint venture had no central collaborative platform, and "teams were working in silos, using various tools such as Slack and WhatsApp to connect and share information". "The biggest win was getting the senior leadership team to use Teams meetings and live events to communicate with their teams and the broader organisation", said Microsoft.
Turkey
Vodafone Turkey (VfT) flagged the deployment of segment routing in its network, in a claimed country first. The OpCo did not disclose the identity of the vendor that is providing the network slicing technology, which is defined as a software‑defined networking capability with a packet-forwarding mechanism that helps simplify transport network operations. Vodafone has previously indicated it was using Cisco Systems' segment routing technology, and the technique has been deployed in Vodafone Germany's network since 2016 (Vodafonewatch, #158 and #163).
Africa
Vodacom Group
Vodacom Group achieved Level 1 of the Broad‑Based Black Economic Empowerment (BBBEE) scheme. The operator was said to have attained the highest BBBEE status by exceeding targets against the five components of the BBBEE scorecard during the year to 31 March 2020. Subsidiaries Vodacom South Africa and Nexio retained the previous year's Level 1 rating, while X‑Link Communications' score went up a notch to Level 1. Contributors to the new rating included: Vodacom's spend of ZAR 35.9bn (£1.7bn/€1.9bn) on Level 4+ BBBEE status companies; a ZAR 363m investment in skills development, of which 76% was directed to black employees; and funding of ZAR 87.5m during the past financial year to provide an e‑school platform, more than 100 ICT computer centres, and digital literacy training for 100,000 black teachers. Local lobby group the Progressive Blacks in ICT accused Vodacom of "manipulating the system" to achieve the Level 1 status. Vodacom rejected the allegations and said its work to attain the accreditation was subject to "intense audit scrutiny by a SANAS [South African National Accreditation System]-accredited agency".
South Africa
Vodacom South Africa (VdSA) bolstered efforts to protect its network infrastructure from battery thieves by enlisting community members to monitor sites. The OpCo claimed it will pioneer a "new model" whereby local citizens are employed to support police as "monitoring personnel". VdSA claimed the model has been successful in trials thus far. Vodacom Group Chief Executive Shameel Joosub recently claimed the operator had earmarked ZAR 1bn (£46.32m/€51.69m) to spend on preventing infrastructure outages, "much" of which will be used to "intensify security". Vandalism and theft at VdSA sites is said to currently cost it ZAR 120–ZAR 130m annually (Vodafonewatch, #181). In December 2019, Vodacom partnered with energy solutions provider Redflow to replace lead‑acid and lithium batteries, which are commonly targeted by criminals, with zinc‑bromine alternatives (Vodafonewatch, #184). The Redflow alternative batteries are said to be more difficult to sell on and come with additional security features.