Group CEO makes reference to €3bn budget for digitalisation of small businesses.
Move chimes with existing Vodafone Business strategy to focus on SMEs.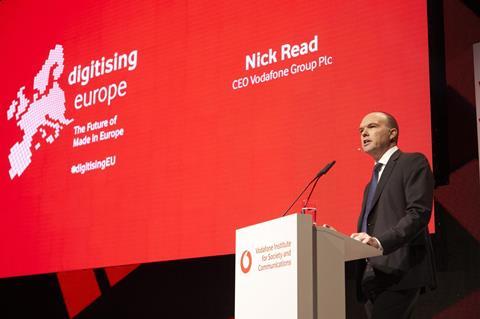 Nick Read, Chief Executive of Vodafone Group, recently alluded to a new consortium in Spain that will make use of funds being allocated under EU recovery programmes to promote the digitalisation of small- and medium-size enterprises in the Spanish market.
Read, who was speaking during the Group earnings call for the three months to 30 June 2021 (Q1 FY21–22), could be referring to a new alliance that is reportedly being created by about 20 companies from various business sectors in Spain, according to local media.
The Invertia news site said in May 2021 that Vodafone is coordinating the new consortium, and cited other members such as Atos, BeeDIGITAL, Billing, Caser, Dell, s21, and Serviform. The objective is to create a one-stop shop for the purchase by SMEs of digital products and services. Read also mentioned the involvement of Telefónica in a similar type of consortium.
The CEO made reference to a €3bn budget that is included in the Plan de Digitalización de pymes 2021–2025 ("Plan for the Digitalisation of SMEs") prepared by the Spanish government to support the adoption of digital processes by SMEs and self-employed people. Spanish business consultants CE Consulting explained that this plan falls within the €72bn Recovery and Resilience Plan presented by the government in October 2020, as part of efforts to relaunch the economy after the COVID-19 pandemic.
A June report from the EC also said Spain has requested €69.5bn from the Recovery and Resilience Facility of the NextGenerationEU recovery programme. Component 13 (Support to SMEs) has an allocated budget of €4.9bn and is expected to be implemented by the end of 2021. The digital investment is set at €3.7bn.
Speaking last month, Read suggested that other European countries should adopt the SME digitisation model being implemented by the Spanish government. "I would say this is the best case we have at the moment", he said. "What we are doing to other governments around Europe is saying, 'please replicate this, this is a really good model for us'."
It's worth noting here that Spain is particularly reliant on SMEs, which account for 98.99% of all companies and 49.58% of employees, according to government figures from September 2020.
Read expressed hope that about €500m will be in circulation by November this year. "They are targeting that first half a billion on companies with [one to 49] employees… and they are going to give a 90% subsidy level on digital services … and, importantly, the 90% is paid upfront", he said. "Then we put the customer on a two-year, three-year contract for those services".
Vodafone has "contributed a lot to the shaping of this", Read said.
Spain's Plan de Digitalización de pymes 2021–2025 comprises 16 measures divided into five lines of action, of which the first is 'boost to digitisation' with funding of €3bn. Digitisation measures include a 'digital toolkit' programme, which promotes public–private collaboration to accelerate the digitisation of SMEs through the implementation of basic digital service packages. Other measures include: connectivity support; cybersecurity training and tools; and a programme called Accelera PYME to help SMEs integrate ICT into their operations.
Riding the SME wave
Vodafone has stepped up its focus on SMEs as part of a 2025 growth strategy, unveiled earlier this year. Vodafone Business said it wants to be a "champion" for SMEs and their "trusted partner" for connectivity and cloud-based IT services.
At the time, Vodafone Business Chief Executive Vinod Kumar had already indicated that SME take-up of cloud-based IT services is expected to get a boost this year from the distribution of European COVID-19 recovery funds, some of which are earmarked for SME digitisation.
Vodafone wants to be seen not just as a service provider but a "trusted partner" for SMEs. To support this effort, it launched in July 2020 the V-Hub advisory service for existing SME customers in Germany, Italy, Spain, and the UK (Vodafonewatch, #191 and #192).
Vodafone Business is also relying heavily on its partners for expanding its SME services. For example, it has tied with Accenture for managed security services for SMEs and enterprises (Vodafonewatch, #193).

Anne Morris is a freelance journalist, editor and translator. She has been working as a reporter and news analyst for TelcoTitans since 2016.