Vodafone ready for long-trailered Location Intelligence services expansion.
Five-year IT and organisational update ensures so-called 'single version of truth'.
IoT and security use-cases also in focus.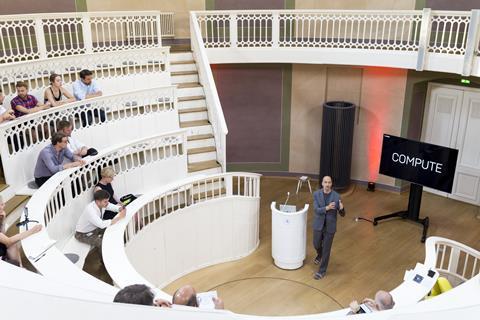 Vodafone Business flagged readiness to enact a new range of partnerships and propositions in the data‑driven enterprise services space, aided by a long process of internal harmonisation and 'cloudification'.
The enterprise arm — which now seems a 'lead' business on analytics go-to-market within Vodafone — suggested the operator has developed many of the necessary organisation, culture, process, and technology 'building blocks' for exploiting big data, following a phased, five‑year build-up of capabilities. The inference is that these elements, plus the increased flexibility of the Group's central analytics platform, will enable OpCos and Group functions to target a range of new use‑cases, and expand beyond the largely internal-focused approach to data exploitation seen from Vodafone so far. Areas now being eyed include data-led Internet of Things (IoT), network security, and 'location intelligence' solutions.
Speaking during a recent analyst update, David González, Head of Big Data & Artificial Intelligence (AI) at Vodafone Business, indicated that the switch to hybrid cloud infrastructure will take place by the end of the current fiscal year (to 31 March 2020). He said that Vodafone's current "main focus" in terms of analytics was to "extend this on‑premise platform into the cloud, following… the security-by-design approach, [and] having a hybrid platform that we can benefit from in order to deliver all kinds of use-cases". "Within Vodafone Business, we are benefiting from this platform in order to develop new revenue opportunities… in partnership with different operating companies that we are working with", he added.
González — a former data science startup founder and Accenture executive, who joined Vodafone in 2017 — indicated that Vodafone Business' analytics "operations" had already been migrated to the cloud, supporting four of the division's key internal initiatives: Data First; Strategic Inventory; Programme ADAM (customer delivery transformation); and Velocity (digitised, personalised pricing). These projects were being delivered "way cheaper" and "way faster" than would have been possible before the systems upgrade, he said.
Silencing the silos
The cloud migration is part of a wider refresh and consolidation of Vodafone systems under Group Technology's Gigabit Vodafone strategy — and the culmination of an infrastructure project stemming back five years or more.
Originally, this began with the implementation of Hadoop technology and a 'minimum viable' platform, hosted at data centres in Germany and Italy. González said that Vodafone might have "started small" with the rollout, but was still "thinking big". The plan was ultimately to "bring all the different countries on board in order to share this big data lake, to have one strategy that all the different countries could benefit from, try to [consolidate] all the best practices, all the codes we were developing, so that we could build a standardised practice", he added.
Alongside the move to cloud infrastructure, the Group is said to have recognised that, to become truly "data-driven", it needed to address the data duplication and incompatibility issues seen across many large organisations. To achieve this, it set out to create "one unique platform", a "solid data-governance programme", and a "set of reliable data assets", as well as an end‑to-end framework for advanced analytics and AI. "Otherwise, data would never be consistent and would never be used in a proper manner to maximise the value of the massive data sources", said González.
The upshot has been creation of 'as-a-service' data and analytics/AI resource, offering 'normalised' data services for use by different Vodafone teams. To enable these was a challenging process as, in the past, Vodafone had "data duplicated across different systems [and] when we wanted to compare data assets between different teams, data wouldn't match", said González.
"So, … we have taken the responsibility to build not only the 360°, single customer view, to have a clear understanding of the relationship between a large client and Vodafone, but also we have built data assets that are being used by other programmes and other teams, making sure that they use the single version of truth that we can provide. "

— González.
González also noted a level of internal "pushback" needed to be overcome, as some other Vodafone operations had their own analytics platforms in place, and there was a tendency among technology executives to label the new venture as "shadow IT". "This journey wasn't easy", he said, noting that "showing value" was key to securing backing from leadership and other departments.
AWS reach spreads further
González did not specifically lay out the partners that Vodafone has worked with on roll out of its data analytics platform.
However, Amazon Web Services (AWS) — Vodafone's predominant public cloud provider — has previously been confirmed as the Group's infrastructure partner on TV analytics (Vodafonewatch, #174 and #176), and González indicated that its cloud services were being used to support Vodafone IoT's connectivity platform, to enable new data-led use-cases.
US performance management vendor NETSCOUT Systems — a European passive probe technology enabler for Vodafone — was also referenced as a partner (Vodafonewatch, #155).
Slow build
Vodafone has long talked up ambitions around big data analytics, but is thought to have begun a more concerted effort in the space around 2013, when signs emerged that it was upping engagement with vendors such as IBM and Pivotal (Vodafonewatch, #117).
Subsequently, in 2014–2015, the initiative looked to progress with further development of the underlying strategy, organisation, and technology, including creation of Vodafone Analytics — a startup unit, led by former Prudential executive Katia Walsh. It appeared rooted within Vodafone's Group Commercial, Operations & Strategy division, and mandated to both enable new commercial opportunities and support Vodafone's own customer-facing activities. By March 2016, some elements had been put in place and services enabled in three markets (Italy, Portugal, and the UK). In March 2019, this is said to have been extended across the Group's footprint.
With the departure of Walsh and other senior analytics figures earlier in 2019 (Vodafonewatch, #173 and #175), there have been indications of a pivot, and at least some of Vodafone's big data analytics responsibilities appear to have ended up being subsumed by Vodafone Business. Currently, analytics services do not represent a distinct line of business for the enterprise unit, but are fed into the portfolios of Vodafone Business and other units, such as Vodafone Carrier Services, Vodafone Cloud & Security, and Vodafone IoT. González indicated that this may change in future, however.
Vodafone has not broken out revenue from analytics services but González claimed Vodafone Business has attracted "more than 100" clients in the space.
Plans: a long list
Regarding future areas of opportunity, González indicated that Vodafone sees a broad range of internal and external use-cases, claiming the "landscape is huge". At the same time, there was a sense that Vodafone is taking a cautious, step-by-step approach to expansion. Prioritising initiatives was a "very important exercise to do" because of the range of opportunities offered by this approach, said González.
Back in 2017, former Group Chief Executive Vittorio Colao touched on the big data space during an investor forum, and indicated that the operator's approach was mainly internally focused — i.e. on cost cutting. He suggested external use-cases were of interest but would be targeted further down the line, once commercial drivers and regulatory norms were clearer (Vodafonewatch, #159). The main opportunities being emphasised at that point were around digital-led customer experience improvement, such as customer insight and automated chatbots, alongside "smart" capital expenditure initiatives such as analytics‑led network planning (based on passive probe data, call detail records, and other network metadata).
González's latest comments suggest a wider range of moves are in the offing, whether in the form of new opportunities in those categories, or further additions to the Vodafone Business portfolio:
A "standardised" and automation-infused Location Intelligence product is said to have been created by Vodafone Business over the past 18 months. González indicated that the solution was aimed at enabling retail, tourism, and city planning applications, based on footfall analysis via anonymised and aggregated data. This has long been an area Vodafone Business has shown interest in targeting, having previously highlighted a flagship customer win with US real estate services specialist Jones Lang LaSalle in Spain, and regularly trumpeted footfall-monitoring and geo‑fencing projects at Mobile World Congresses in Barcelona (Vodafonewatch, #172 and passim).
Vodafone Business's analytics unit looks to be supporting Vodafone Identity Hub, a recent addition to Vodafone Carrier Services' (VCS) portfolio, focused on tackling identity fraud issues such as SIM swapping. VCS has said little regarding the offering, possibly because of the area's sensitivity, but recently appointed Fraser King, a former analytics services lead within Vodafone Business, to drive its commercialisation as Head of Business Development & Commercial Strategy (Vodafonewatch, #186). The solution is believed to be tied with the GSM Association's Mobile Connect standard (Vodafonewatch, #178 and passim).
IoT — an area not mentioned by Colao in 2017 — is seen by González as holding "enormous value" that could be unlocked by AI and connectivity data. Particular potential is considered to reside around connected-car and footfall analytics services. For enterprise clients, Vodafone Business has built a Connectivity Analytics solution for IoT device usage analysis. Vodafone App Invent, Vodafone Business's application development initiative for IoT, appears to be a key enabler for bringing new analytics and AI capabilities to the Group's IoT portfolio.
As well as enabling new products, González indicated Vodafone Business was working on data-infused customer experience improvement, such as via the division's Velocity programme. "Proactive" customer relations was emphasised, as well as deeper enterprise client insights, industry benchmarking, and net promoter scores.
Carat to help Group root out digital media efficiencies
September 2019 saw developments in another area where Vodafone has been seeking to bring internal data analytics capabilities to bear on the efficiency of its business — media spend.
Following a tender, Vodafone awarded its global media buying account to Dentsu Aegis Network-owned agency Carat, displacing incumbent WPP Group (Vodafonewatch, #167, #174, and #179). Alongside the deal, a Digiday report suggested the Group was increasing the pace with which it was implementing plans, first mooted in 2018 (Vodafonewatch, #165), to insource management of much of its digital advertising spend, in a bid to improve visibility into returns and reduce costs. Announcing its contract win, Carat said the scope of the account "includes media buying across multiple international markets, partnered with Vodafone's in‑housed biddable media team".
As of March 2019, Vodafone's internal biddable media team is said to have numbered 120–150 staff across eleven markets, and the Digiday article indicated its remit continued to expand, despite experiencing "complexity" in executing the original vision.
According to Campaign, Vodafone's media account is estimated to be worth around £400m (€463m)‑a‑year, significantly lower than the £600m figure quoted when WPP beat Carat to win the account back in 2014. Overall spend is expected to fall further as the insourcing process continues. Digiday suggested Vodafone's in‑house biddable team may eventually handle "around a quarter" of the Group's total media budget.
Carat will take control of the Group's business in around 15 markets, according to Campaign. WPP, whose bespoke Team Red unit is also Vodafone's media strategy partner, is still said to manage marketing services including creative and public relations, as well as media in markets where Vodafone operates joint ventures. For example, WPP recently fought off competition from Accenture to secure a contract from VodafoneZiggo in the Netherlands. It is also Vodafone Hutchison Australia's media partner.