Group loses another exec from layer below CEO Read's increasingly thin top leadership.
Home-market custodian and Read contemporary Nick Jeffery likely to have seen development opportunities limited in tightly-controlled upper echelons.
Resultant vacancies in Group Operations and Strategy briefs pose a challenge in terms of introducing new voices.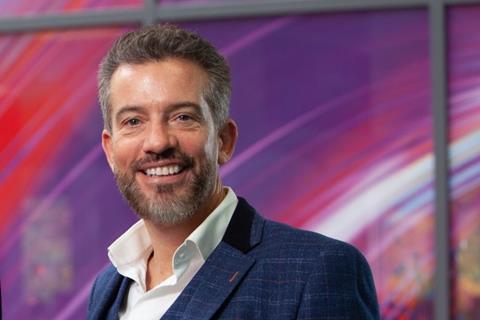 Vodafone is to lose a second major OpCo Chief Executive (CEO) in a matter of weeks, with the departure of Vodafone UK's (VfUK) Nick Jeffery announced earlier this week.
The high-profile and evidently popular Briton is to leave the domestic OpCo on 15 February 2021, quickly following Vodafone Spain CEO António Coimbra out of the Group exit door (Vodafonewatch, #189). Jeffery has been appointed to lead $8bn (€7bn) revenue US carrier Frontier Communications out of bankruptcy protection.
Jeffery's decision to leave Vodafone, which evidently came as a surprise to the operator's leadership, has sparked another round of musical chairs in Group CEO Nick Read's Executive Committee.
Ahmed Essam, currently Group Chief Commercial, Operations & Strategy Officer, will replace Jeffery at VfUK from 1 February 2021, while Essam will in turn be part-succeeded by Alexandre Froment-Curtil.
Emphasising the unplanned nature of the switch, Froment-Curtil had only recently been shipped into the CEO spot at Vodafone Turkey (VfT) as part of the executive rejig that followed on from Coimbra's exit.
Vodafone has yet to announce a new VfT boss.
Under-pressure Read unlikely to rock boat in resultant reshuffle
Further gaps left unfilled by the switch-around are the "Operations & Strategy" briefs that Essam currently oversees, but are ostensibly not being taken on by Froment-Curtil (whose title, according to Vodafone's announcement, will be a more conventional "Group Chief Commercial Officer").
How Read chooses to cover off these areas of responsibility will be interesting, particularly with the Group's top hierarchy appearing increasingly standardised and staid (and at times stretched) under his leadership, and few signs emerging of willingness to bring in fresh voices and thinking (Vodafonewatch, #188).
Using Jeffery's exit merely to elevate two long-time Vodafone insiders that Read has already promoted once since taking over as CEO in 2018 does not suggest desire for diversification.
Looking at the make-up of Vodafone's Executive Committee, it remains difficult to identify alternative voices in the Group's upper hierarchy, and, going on his record so far, it would be a major surprise if Read went against the grain to fill these vacancies — particularly the Strategy brief. The ExCo is very much constituted in Read's image — tellingly, average tenure of other members is now scarcely three years (Read has been CEO for 26 months) yet most are still old hands with Group ties of almost twelve years.
Read and his top team have been making a meal out of devising the Group's medium-term vision, and notably the long-delayed Tech 2025 plan (Vodafonewatch, passim), but seem unlikely to willingly bring in someone from outside the club, to give them any new impetus or direction.
However, there is one fresh ingredient in Jean-François van Boxmeer who took over as Vodafone's Chairman scarcely a month ago and may feel inclined or even obliged to shake up the cosy status quo. On Vodafonewatch's initial assessment, van Boxmeer has the potential to be far more assertive than his predecessor Gerard Kleisterlee, and may seek rapid and very possibly radical action to restore Vodafone's reputation as a higher-valued growth stock.
Vodafone Executive Committee, from February 2021 (barring further changes)

Executive
Role
Appointed to ExCo(current role, excluding tweaks to brief)
Joined Group

Notes: * Also an Executive Director (i.e. on Group Board of Directors).

Sources: Vodafone and Vodafonewatch.

Hannes Ametsreiter

CEO, Vodafone Germany

2015

2015

Aldo Bisio

CEO, Vodafone Italy

2015 (2014)

2014

Colman Deegan

CEO, Vodafone Spain

2020

1998

Margherita Della Valle *

Chief Financial Officer

2018

1994

Ahmed Essam

CEO, Vodafone UK

2016 (2020)

1999

Alexandre Froment-Curtil

Chief Commercial Officer

2021

2004

Shameel Joosub

CEO, Vodacom Group

2020 (2013)

1994

Vinod Kumar

CEO, Vodafone Business

2019

2019

Rosemary Martin

General Counsel & Company Secretary

2010

2010

Nick Read *

Group CEO

2008 (2018)

2001

Joakim Reiter

Director, External Affairs

2017

2017

Leanne Wood

Chief Human Resources Officer

2019

2019

Serpil Timuray

CEO, Europe Cluster

2014 (2018)

2009

Johan Wibergh

Chief Technology Officer

2015

2015

Average tenure

4 years

12 years
Jeffery not alone in running out of road within Read's Vodafone
It seems likely there were other reasons for Jeffery to exit Vodafone, beyond the fresh opportunities and financial rewards on offer by taking on the Frontier project.
He is essentially a contemporary of Read, with a long career history at Vodafone stretching back to 2004 (and before that, at subsequent 2012 acquisition Cable & Wireless Worldwide) and a record as a trusted lieutenant of Read's predecessor Vittorio Colao. As such, Jeffery may have considered promotion opportunities limited and his time at Vodafone to have run its course, with Read coagulating seniority and influence around his former Group Finance and international power bases.
Jeffery may also have thought that he has taken VfUK as far as he can, following the semi-turnaround he has overseen since moving from Group Enterprise to take over at the OpCo in 2016 — especially with the UK competitive landscape set to change, and potentially to the serious detriment of mobile-led VfUK, with the proposed merger of rivals Virgin Media and Telefónica UK.
Brexit could have played a part in his decision, too, and tensions with Group leadership may not have been beyond the realms of possibility, with key moves being made in the UK market recently, including VfUK's exclusion from Virgin Media's revamp, speculation emerging over a Three UK tie-up, and ongoing delays in the Read-led extraction and transfer of VfUK's 50% stake in Cornerstone Telecommunications Infrastructure to new, central real estate arm Vantage Towers Europe (Vodafonewatch, passim).
O'Leary and Timuray question marks
One further side-note to the Jeffery departure — especially with the low level of diversity at the top of Vodafone — is that Anne O'Leary, current CEO at Vodafone Ireland, has been building out her CV recently, joining the Boards of Directors of Vodacom Group and packaged food group Greencore. While the Vodacom directorship could suggest she is in the running for a new central role with wider responsibilities and input, these appointments could equally have been compensation for missing out in the contest to succeed Jeffery in the UK.
Another point of note is that Froment-Curtil is being promoted above Serpil Timuray, his boss at VfT as CEO of Vodafone's EU Cluster and a key figure alongside Read during Colao's tenure. When Read became Group CEO, he replaced (and arguably sidelined) Timuray with Essam as Group Chief Commercial, Operations & Strategy Officer. She is one of only four women on the 14-member Executive Committee.

Richard Agnew is Group Editor at TelcoTitans.