More business-to-business tension between VfUK and BT.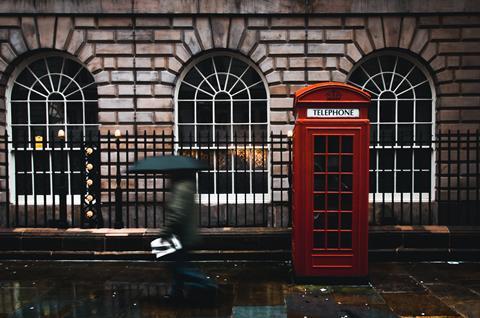 Vodafone UK held a press and analyst event to announce its decision to challenge media and telecoms watchdog Ofcom over approaches based on its recent Business Connectivity Market Review (BCMR).
The OpCo said it is to take Ofcom to the UK's Competition Appeal Tribunal (CAT), claiming Ofcom's that BCMR-based rulings were inconsistent with its stated goals. Competitor TalkTalk has also reportedly filed objections over the BCMR with CAT.
Speaking during the briefing, Helen Lamprell, General Counsel at VfUK, said the OpCo had "not taken the decision to appeal lightly", but that Ofcom had "introduced regulation not based on evidence, which is its duty as a regulator, but in the hope that things will change in the future". VfUK is particularly prone to any weaknesses in Ofcom's approach to business market regulation as it is seen as having a comparatively high level of reliance on revenue from enterprise customers, as well as continuing to lack a major wireline presence to reduce reliance on incumbent BT Group's Openreach infrastructure division.
Earlier in summer 2019, Ofcom issued final determinations based on the BCMR and latest, parallel Physical Infrastructure Market Review (PIMR). The decisions are designed to enable alternative operators to gain deeper access to Openreach assets, but Ofcom's approach to the issue has drawn criticism.
The two reviews are the last before Ofcom moves towards a new system of conducting consultations and implementing regulatory remedies. This will apply for a five year period and aim to provide longer-term clarity for industry stakeholders. The latest PIMR and BCMR are set to cover the period until April 2021, when the new approach will be adopted. Future regulation will also see business and residential markets regulated on the same basis, to enable network operators challenging Openreach to more effectively plan investment.
Ofcom has now decided to impose an unrestricted physical infrastructure access (PIA) remedy on BT in all four geographic markets it identified, based on physical infrastructure network competition. Regulated PIA has been available in business markets for some time, but the latest PIMR expands availability to the consumer sector.
With the BCMR, the regulator also decided to introduce a requirement for BT to provide access to dark fibre, on reasonable request, for inter-exchange circuits from certain BT-only exchanges. "We have decided to restrict the scope of dark fibre from our consultation position, so that it is only available from BT-only exchanges with no rival networks close by [within 100 metres of the exchange]", Ofcom said.
Openreach has now soft launched a Dark Fibre X (DFX) product that will be available from BT-only dark fibre exchanges to any other exchange. The service is available initially in the east of the UK, with additional regions being added until the full launch by 1 January 2020.
CAT to consider Ofcom's determination on market power
VfUK identified three areas where it considers Ofcom to have acted inappropriately:
The operator is objecting to the decision that Openreach does not have significant market power in the central London area. The regulator's ruling was based on the substantial number of alternative networks available to most businesses in the area (four, on average). VfUK considers that the cost of switching to alternative providers remains prohibitive, and that BT's market share, which is said to exceed 60%, demonstrates that the central London market remains uncompetitive. Lamprell noted that "one of the arguments that is made very, very strongly in this review and in the appeal is that businesses are hugely dis-incentivised from switching [networks] because of the potential disruption to them. Given BT's massive advantage in terms of the number of premises they're connected to, which is roughly 90%… and the build cost in the UK, we're still massively dependent on wholesaling from Openreach".
VfUK is protesting the decision to replace cost-based charge controls with flat price caps in the BCMR. This is said to give BT a freer hand regarding charges.
It is also objecting to Ofcom lifting the price cap for leased lines in cities, such as Birmingham, Glasgow, and Manchester, where it anticipates stronger infrastructure competition to develop. Lamprell called this a "mistake", saying that "in the future BT should allow all the providers [to use] dark fibre – at a fair price, of course – to reach the UK business premises, homes, and 5G masts".
Lamprell said the regulator had been inconsistent in its rationale. "Ofcom says we need competing fibre networks. At the same time, it also says that where they don't exist, we don't need regulation, and where they're likely to exist, we need less regulation. It hopes that by relaxing regulated price controls on what BT and Openreach can charge businesses, public sector organisations and other providers for high capacity fibre lines, will stimulate competition in the long run", she said.
As noted above, the period covered by the BCMR has already been truncated from its usual three years, and the CAT appeal process is expected to take until at least summer 2020. It may, therefore, be that the challenging operators are hoping to influence Ofcom's approach to subsequent regulatory decisions as much as amending the current regime. Ofcom is set to begin a new consultation process covering the 2021-26 period before the end of 2019.
Lamprell acknowledged that the regulation would only apply until 2021, but claimed that, with demand predicted to grow by 20% year-on-year, businesses, the public sector, and other communications providers would in that time have to pay up to £230m (€256m) more than necessary for their leased line connections – or be forced to throttle the higher bandwidth needed for new digital services. This figure is said to have been reached by calculating the "difference between the pricing regime that exists today and the new pricing regime", plus figures from Ofcom and BT.