OpenRAN time appears to be coming, with supplier choice constraints evidently dominating Group thinking.
Vodafone steps up rhetoric regarding potential of tech; "fast tracking" referenced.
Group still in trial mode with technology, however.
Firm strategy for bearers and configurations yet to emerge.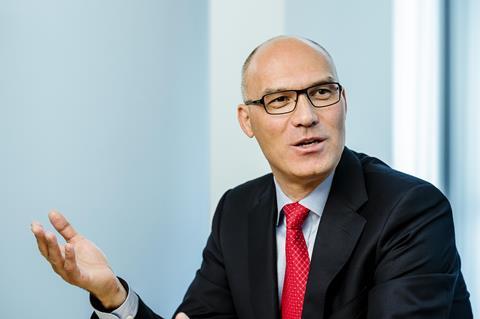 Vodafone trumpeted expanded trials of "open" radio access network (OpenRAN) systems, sending another shot across the bows of traditional network partners.
Vodafone said it has now initiated OpenRAN trials in the Democratic Republic of Congo (DRC) and Mozambique, building on earlier laboratory tests in South Africa and a small-scale field project in Turkey (Vodafonewatch, #173). It is also starting rural service expansion experiments with OpenRAN in the UK, thus bringing the initiative to Europe for the first time. Vodafone asserted that this latter move came "ahead of schedule", and held out the possibility of extending trials to other Vodafone markets on the continent, albeit without firm details.
The new African projects are being conducted by local Vodacom businesses in partnership with Parallel Wireless (in DRC, as well as Turkey) and with Mavenir (in Mozambique). Mavenir is also collaborating on OpenRAN with Vodafone UK, including on both macro‑ and small‑cells. The latter instance encompasses Open CrowdCell solutions that Lime Microsystems has developed in collaboration with Mavenir and Vodafone, which are in use in Spain and Turkey (Vodafonewatch, #170, #173, and passim).
Vodafone's announcement came as a precursor to mid-November 2019's TIP Summit, the annual gathering of the Facebook‑led Telecom Infra Project (TIP). Vodafone's OpenRAN efforts have thus far centred around TIP (Vodafonewatch, #157, #173, and passim). However, its latest statement was notable devoid of a nod to its joint work with development partner Telefónica — suggesting the two operators have now moved beyond their phase of collaboration and emerged from the TIP R&D yoke. TIP itself was only mentioned in the release's footnotes.
Wibergh says OpenRAN now on "fast track"…
As the OpenRAN trials were confirmed, Johan Wibergh, Chief Technology Officer (CTO) of Vodafone, took to LinkedIn to reinforce how the Group intends to "fast track the technology into Europe" in order to "expand the ecosystem of hardware vendors that we have access to". In doing so, he sought to emphasise aims for "greater flexibility and innovation in our mobile networks", while cutting the cost of building and managing infrastructure.
Vodafone has made no secret of its desire to shake up the supply chain, moving away from vertically-integrated RAN solutions so beloved of traditional vendors such as Ericsson (Wibergh's alma mater) and Huawei Technologies.
The Swede's comments were echoed by Group Chief Executive Nick Read, who has previously expressed disquiet over the dwindling number of network equipment suppliers, particularly since opposition has mounted in some quarters towards China‑based vendors. During an interview at the 2019 edition of Mobile World Congress, Read said it was an "unhealthy position" to concentrate the market down to two players — in other words, Ericsson and Nokia (Vodafonewatch, #172 and passim).
In the operator's statement on the new OpenRAN projects, Read said Vodafone is "pleased with trials of OpenRAN" and is "ready to fast track it into Europe as we seek to actively expand our vendor ecosystem".
… but true scope of Vodafone's ambition still an unknown
Despite Vodafone's show of enthusiasm for OpenRAN, it is notable that the operator remains in testing mode with the technology, without a publicly-declared commercial launch timetable — and is coy on the latest set of experiments' exact scope and ambition.
It has not specified whether — as per earlier investigations — the new trials focus on a virtualised RAN (vRAN) platform, with key network functions devolved to disaggregated software, or true "OpenRAN" technology (featuring open interfaces that promise to maximise technology and supplier flexibility).
Vodafone has also not specifically laid out which bearers it will deploy in each project, saying merely that "across the three countries", it will provide "2G, 3G, and 4G services, with 5G possible over OpenRAN in the future". Based on current OpenRAN capabilities, Vodafone's configuration options would include support for: a full gamut of 2G/3G/4G services; only 4G (the operator's likely preferred route, for efficiency purposes); or 2G and 4G (a 'compromise' set-up seen in the Turkish trials, and one that both addresses pressures to maintain support for basic 2G services and meets the Group's stated enthusiasm for 3G spectrum‑refarming).
OpenRAN primer
TIP's OpenRAN project group is led by Intel and Vodafone, with Telefónica a further prominent member. In late‑2018, Vodafone and Telefónica selected Altiostar, Mavenir, and Parallel Wireless as having the most compliant end‑to‑end RAN platforms, and being most capable of providing interoperable kit in accordance with the "principles" of the project group (Vodafonewatch, #170 and #173).
Telefónica is perceived to have moved slightly faster than Vodafone on OpenRAN trials, with test deployments in Latin America. As Vodafone announced its latest set of trials, Telefónica disclosed it was taking a stake in Altiostar via corporate investment vehicle Telefónica Innovation Ventures. Gonzalo Martin-Villa, Chief Innovation Officer at the operator, said the move will "help us innovate in order to build the next generation of networks, improving efficiencies and leveraging network flexibility to develop potential new services to our customers".
TIP's OpenRAN project stream is often bracketed alongside the O‑RAN Alliance, which is writing specifications to support more open, interoperable networks — as well as various other industry programmes with similar or related objectives. OpenRAN is seen as less about creating standards and more a practical initiative aimed at developing technology to break the RAN into its constituent parts, 'softwarising' functions, and enabling them to be run (largely) over off-the-shelf hardware ('white boxes'). Light Reading said that Vodafone and Parallel Wireless have confirmed that OpenRAN is fully compatible with O‑RAN Alliance specifications, and noted that a Vodafone spokesperson described the two initiatives as "complementary". Vodafone is not an O‑RAN Alliance member, however.
Nokia non-plussed
Wibergh's post on LinkedIn provoked a flurry of responses congratulating Vodafone on its technological advancements. One of the less complimentary comments came from Vipul Patel, a Technical Project Manager at Nokia in India, who noted tersely that "already Rakuten is doing this in Japan". The comment now appears to have been deleted. Nokia is one of several vendors working with upstart Rakuten Mobile on its high-profile virtualised network deployment, along with Allot, Altiostar, Ciena, Cisco Systems, InnoEye, Intel, Red Hat, OKI, Fujitsu, Mavenir, NEC/Netcracker, Qualcomm, Quanta Cloud Technology, Sercomm, Tech Mahindra, and Viavi.
Parallel Wireless: five years in the making at Vodafone…
In a post on LinkedIn, Parallel Wireless' Vice-President of Marketing, Eugina Jordan, noted that the vendor's OpenRAN 'journey' with Vodafone commenced with a meeting in 2015, leading to participation in the Group's current 12-month trial supporting 2G, 3G and 4G live traffic. Jordan namechecked Andy Dunkin, Senior Manager for the Mobile Access Centre of Excellence, who in his own LinkedIn profile describes his role as "currently lead[ing] the creation of Vodafone's OpenRAN multi-technology mobile access platform, with the objective to deliver lower cost and economically viable disaggregated multi-vendor RAN solutions which will support coverage extension in under served regions such as those found in Africa and Asia Pacific, driving both educational and economic benefits… I work across Vodafone's global markets and Technology teams as well as external partners and forums such as Facebook, the Telecom Infra Project and the wider vendor eco-system to realise our objectives".