Multimillion-pound drone project ready for deployment, with VfUK a key enabler.
Drones to work as surveillance system for construction sites — just one of its many potential use‑cases, according to Group CTO.
Another addition to Group's expanding portfolio of drone tech collaborations.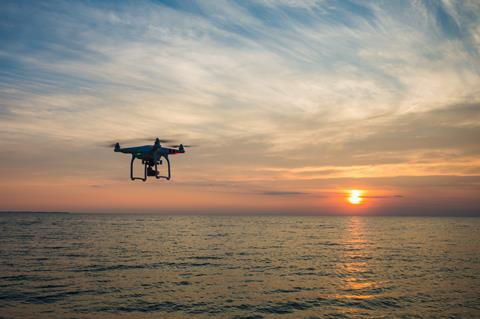 Sees.ai, a UK startup marketing autonomous flying technology for drones, is leading an eight-partner-strong consortium — which includes Vodafone UK (VfUK) — to pilot beyond visual line of sight (BVLOS) drone flights for surveillance and inspection purposes at several construction and industrial sites in the UK.
The 'command and control' tech will be piloted at sites held by the consortium's "end clients", which include construction contractors, with notable variation in the surveillance-oriented use‑cases being looked at (see table).
Sees.ai told Vodafonewatch that the broader aim is to demonstrate the benefits of its solution — leveraging "state‑of-the‑art" robotics via a central control room for drone use in urban and industrial environments — and accelerate the path to commercial deployments.
Sees.ai‑led consortium

Partner
Function
Sources: companies; Sees.ai.

Enablers

NATS (air traffic control)

Technical support

Sees.ai

Command and control

Terra Drone

Drone supplier

Vodafone UK

Connectivity provider. Radio Positioning System for drone tracking

End clients

Atkins

Undisclosed infrastructure asset. One‑day test

Sellafield

A 265‑hectare nuclear waste site. Several days on site

Skanska

Building construction site. Week‑long pilot

Skanska Costain STRABAG joint venture (HS2)

Rail environment. Several days on site
Needs be
The tests are funded by £7m (€7.7m) of a wider pot of £33.5m offered under the Future Flight Challenge fund, which flows from the UK government-backed Research & Innovation agency's wider support of disruptive aviation tech. The funding is intended to overcome the detrimental impact of COVID‑19 and climate change across various industries, such as construction and engineering.
The UK government confirmed the first 20 winners of the Future Flight Challenge programme in November 2020, with a further 28 projects to be announced in the "coming weeks". Other winning proposals included projects to: transport goods between Bristol and Cardiff via a hydrogen-powered electric aircraft; run low‑ and zero‑carbon short‑haul flights in the UK; and deliver personal protective equipment and COVID‑19 testing kits to rural communities in Cornwall and the Isles of Scilly using unmanned aerial vehicles.
BVLOS drone flights can reduce the infection risk among workers, according to the announcement, by removing the need to carry out inspections of onsite assets manually, limiting human contact and transmission of the virus, and managing social distancing.
In practice, the drones gather "aerial data" and beam output to a command and control room, operated by human pilots. The solution offers real‑time monitoring capabilities via "high‑end aerial imagery" of onsite activities, and is expected to boost productivity, cut costs, and save time.
More to come
VfUK has long positioned its in‑house-developed Radio Positioning System (RPS) as a means to provide BVLOS players with accurate oversight, as well as a way to meet the UK Civil Aviation Authority's (CAA) stringent drone safety regulations (Vodafonewatch, #184, #152, and passim).
In a whitepaper published during early‑2020, Chief Technology Officer Scott Petty noted arguments made in a report commissioned by VfUK and public policy and economics consultancy WPI Economics that highlighted the potential societal and economic benefits of cellular connected (SIM‑enabled) drones. The report made various policy recommendations, such as the launch of a "blue light" drones fund to highlight the benefits of cellular connected drones to emergency services.
Potential use‑cases, Petty said, could be found in delivering medical supplies, responding to traffic accidents and commercial or domestic fires, and monitoring livestock for farmers.
Sees.ai namechecked Vodafone as a key partner in late‑2019 when it outlined future plans after it was granted regulatory approval to operate under the CAA's Innovation Sandbox. Another collaboration between the business and Vodafone is expected to be announced soon.
Overview of publicised Vodafone drone activity 2019–2020

Unit
Partner(s)
Use‑case/activity
Sources: Vodafone units; Vodafonewatch.

Vodafone Germany

The OpCo said it had conducted a proof‑of-concept trial in November 2020 with Ericsson to develop a smart "Navi" for drones at the 5G Mobility Lab at its Aldenhoven Testing Centre. The solution reduces the risk of drones flying into airspace with low levels of connectivity via enhanced coverage map intelligence.

Vi

Airmap
Curl Analytics
TechEagle
Zomato

Vi joined the Clear Sky Consortium in mid‑2020, as one of 13 groups participating in the country's Directorate General of Civil Aviation-backed drone trials. The use‑case appeared to be takeaway food delivery.

–

Drones were used by Mumbai Police to monitor crowds at a religious festival in September 2019. This was the first (known) commercial deployment of Vodafone-connected drone surveillance tech (Vodafonewatch, #187).

Vodafone Spain

Centre for Advanced Aerospace Technologies
Valencia Polytechnic University

Early‑2020 test saw a 5G‑enabled drone successfully transport medical supplies from coast to island 4km away.

The Regional Government of Andalusia
University of Sevilla

Vodafone is a leading partner in the government-backed Impulso al 5G Andalucía initiative. In early‑December 2020, a project called ATHOS 5G was selected to develop a prototype for an unnamed aerial vehicle that applies phytosanitary products to agricultural crops.

Vodafone UK

The project positions drones as a means of surveillance and monitoring. To be piloted by several construction service partners. Rollout was announced in early-November 2020 and accelerated by onset of pandemic.

Blue Bear Research Systems
Cranfield University
Thales

VfUK joined the National Beyond Visual Line of Sight Experimentation Corridor in March 2019. The scheme uses CAA's Regulatory Sandbox to track location coordinates of drones using 4G and 5G connectivity.