Huawei and Ericsson in 5G RAN mix.
5G tariffs same as high-end 4G plans.
Exclusive agreement with cloud-gaming provider Hatch.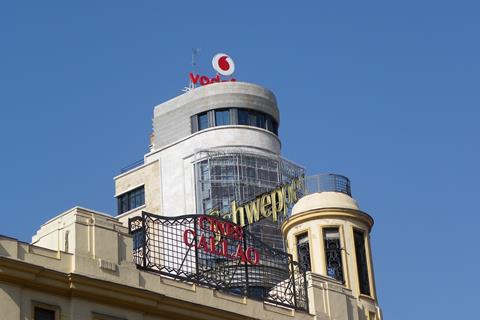 Vodafone Spain (VfS) launched a commercial 5G network in 15 cities on 15 June 2019, boasting that this made it the first operator in Spain to launch 5G on a commercial basis.
The OpCo's 5G downlink speeds are advertised as "up-to-1Gbps". For customers on a high-end mobile tariff or converged package – broadband and mobile – VfS wants to increase that to "up-to-2Gbps" by the end of 2019.
Big spending 4G customers in VfS sights
VfS is offering two 5G tariffs, each with "unlimited" data. They are priced the same as equivalent high-end 4G plans:
Ilimitado Total, at €49.99 (£44.83)-per-month, offers the fastest possible 5G speed.
Vodafone One Ilimitado, which combines a '1Gbps' fibre connection with fastest 5G, is again price the same as its 4G counterpart at €109.99-per-month.
There are three smartphone models supporting the launch: Samsung'sGalaxy S10 5G; LG'sV50 ThinQ 5G; and Xiaomi'sMi MIX3 5G.
Using radio access network (RAN) equipment from Huawei Technologies, VfS kick-started the next-generation technology in Barcelona, Bilbao, Logroño, Madrid, Málaga, Pamplona, Santander, San Sebastián, Sevilla, Valencia, Vitoria, and Zaragoza. Ericsson is the 5G RAN supplier in Gijón, La Coruña, and Vigo. Coverage in each of these agglomerations is currently far from city-wide. VfS said that it was able to initially reach 50% of the population in each of the 15 launch cities with 5G signals. Coverage will be "expanded progressively".
Both new 5G plans boast unlimited data, but Vodafonewatch has been unable to determine whether there is a related 'fair-usage' qualification, such as permitting throttling-back of downlink speeds once a certain data volume is exceeded.
VfS repeated the operator refrain that faster speeds and relatively low latency times (of five milliseconds) will open up new use-cases. It flagged various promising areas, including advanced video, autonomous cars, "business applications", Internet of Things, telemedicine, smart-cities, and virtual reality gaming.
VfS' 5G rollout leverages concessions in the 3.7GHz (3.6GHz-3.8GHz) frequency band, which VfS acquired at auction in July 2018 (Vodafonewatch, #167). With 90MHz of contiguous spectrum at its disposal in what is widely-viewed as a 5G "pioneering band" in Europe, VfS is in a strong position. Of the 3.7GHz airwaves available in Spain, VfS claims a sizeable 45% share.
Ready for 5G: VfS spectrum holdings

Band

Holding

Source: Vodafone.

800MHz

2×10MHz

900MHz

2×10MHz

1800MHz

2×20MHz

2.1GHz

2×15MHz plus 5MHz

2.6GHz

2×10MHz plus 20MHz

3.7GHz

90MHz
VfS has appeared something of a Group pioneer on 5G development, alongside Vodafone Italy. VfIt launched commercial 5G – albeit on a smaller scale – a few days earlier than the Spanish OpCo. VfS nonetheless beat Vodafone UK (VfUK) to the 5G punch, which launched the next-gen tech on 3 July 2019 (Vodafonewatch, #175 and see separate report). VfS anticipated availability of 5G roaming services in Germany, Italy, and the UK "over the summer [of 2019] ". The implication is that Vodafone Germany will also have switched on 5G services in at least some cities by that time, giving Vodafone a 5G presence across its four largest markets.
Vodafone seeks 5G city strongholds
As well as representing a nod to the competitive struggles that VfS has experienced in recent times (Vodafonewatch, #175 and passim), the decision to keep 5G prices the same as 4G may reflect the limited 5G coverage initially on offer. It also seems a sensible insurance policy to take the sting out of any criticism – especially hurtful when it comes from high-spending customers – in the event that access performance does not live up to expectations. Teething problems are almost inevitable, and 5G-enabled handsets will revert to 4G in the event of a problem (or lack of coverage).
Also at play, perhaps, are 5G efficiencies. Nick Read, Chief Executive of Vodafone, recently alluded to a lower cost-per-bit with 5G than 4G – in certain instances – suggesting greater potential for like-for-like profitability even if 5G tariffs are identical to 4G ones (Vodafonewatch, #175).
"There is a good [5G] cost-play for us in major metro areas where there is large data volume, and therefore I think you're going to see that from all players – work the major cities out – rather than any other type of execution."

– Read.
Signs of a more muscular Group go-to-market strategy?
VfS's 5G go-to-market strategy may have Group as well as domestic input, with Vodafone UK also launching 5G propositions that are competitive on price, performance and data-allowance.
In the UK, at least, there are signs that Vodafone is shifting away from sweetening tariffs with third-party OTT content, to lead with its own network credentials. Together, this leaner and meaner positioning created greater differentiation than usual with local rivals, such as market leader and 5G first-mover EE.
Correspondingly, VfS could be trying to pack more punch against Telefónica.
Hatching plans for cloud gaming
Complementing its 5G launch, VfS announced an "exclusive agreement" in Spain with games streaming platform provider Hatch, a subsidiary of Finland-based Rovio Entertainment, to offer cloud gaming. VfS said 5G will allow users to play games "instantly".
VfUK also recently collaborated with Hatch (Vodafonewatch, #175). The service is already available on the 5G-ready Xiaomi Mi MIX 3 5G handset, and on pre-order via the upcoming Samsung Galaxy S10 5G.
The ad-free Hatch Premium service, which offers more than 100 games as well as access to Hatch Kids for children, will be offered free of charge to VfUK contract customers for three months, after which it will be charged at £6.99 (€7.90)-a-month.
The Hatch price in Spain is similar, at €6.99-per-month, once the free promotional period ends on 24 September 2019.
¿Huawei? Sí, absolutamente
By using Huawei 5G New Radio technology in the RAN, VfS joins other operators willing to again cock a snook at the US-led push to ban the Chinese supplier from 5G network involvement on the grounds of a perceived security risk (see separate report). There is little sign of any backward-tracking here, possibly not least because Spain is keen to firm up economic ties with China. In November 2018, during a state visit by China to Spain – which brought together China's President Xi Jinping and Spain's Prime Minister Pedro Sánchez for talks on promoting business ties between the two countries – incumbent Telefónica Group was notably proclaimed (once again) as a close ally of Huawei (Telefónicawatch, #131). The aim was to deepen collaboration on 5G, fibre broadband, and digital services.
Although there is no Huawei device in the OpCo's starting line-up of 5G smartphones, this could change. The US appears to have retreated from an executive order to put Huawei on a so-called 'entity list', which effectively cut off the vendor's US supply chain. A relaxation of this sort could reassure operators that the supplier's future Android -based devices will continue be furnished with critical (and at least briefly suspended) Google software. Doubts about Huawei's Android roadmap had led VfUK to remove the Mate X from its 5G device portfolio (Vodafonewatch, #175).
Ericsson in the frame, and Nokia lurking
As expected, given the extremely close ties between VfS and Huawei, Ericsson does not feature as prominently in the OpCo's 5G rollout plans. It is present in only three of the OpCo's 15 5G cities. Even so, the Swedish manufacturer has close links with VfS. Ericsson recently highlighted further preparatory work on 5G with Vodafone Portugal and VfS, via a "technical demonstration" of cross-border gaming (Vodafonewatch, #175). The system supporting the demo featured "virtualised 5G core network functions" and 5G Radio gnodeBs from Ericsson, and was seemingly supported by Vodafone Roaming Services, the Group's central roaming unit.
In the run-up to MWC, VfS and Nokia demonstrated what they claimed were innovations related to massive MIMO (mMIMO), which are designed to improve 5G capacity and performance (Vodafonewatch, #173). VfS and Nokia said they had jointly conducted "extensive simulation studies", and apparently concluded that Nokia's RFIC-based mMIMO active antenna is a "more suitable solution" to improve radio resource management and boost 5G radio performance.
Ciao 5G
VfS was technically beaten to the 5G punch by Vodafone Italy (VfIt), which launched its Giga Network 5G offering on 5 June 2019. Commercial consumer tariffs did not become available until 16 June 2019, however. VfIt's 5G services are initially available in five cities, but the OpCo has ambitious plans for extending coverage quickly. 40-50 cities are slated for 5G in 2020, increasing to over 100 by 2021. VfIt uses 5G RAN equipment from both Huawei and Nokia, with the same three 5G smartphones available as in Spain. At the time of the launch announcement, VfIt said it had implemented 33 5G projects out of a planned total of 41, working in collaboration with 38 industrial and institutional partners. Altran, Huawei, IBM, Nokia, and Qualcomm, as well as Milan's Politecnico University, are among the collaborators. Together they are exploring areas including health and security (Vodafonewatch, #162 and #171).