Vodafone hones in-house IT skills and organises into squads.
Share progress on building up platforms and scale.
As transformation continues at pace, Vodafone Spain downsizes.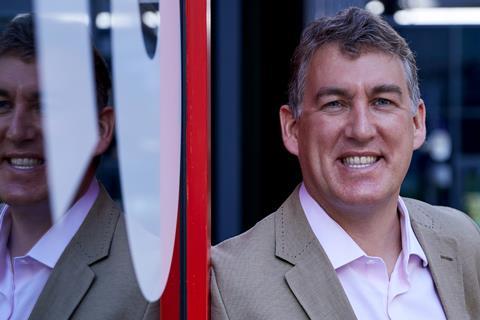 Telcos made a strategic mistake years ago when they heavily outsourced IT capability, according to Vodafone Spain CEO Colman Deegan. In hindsight, the move limited telcos' flexibility to compete against more agile, hyperscale rivals in today's digital, 5G era.
Vodafone is reversing that trend as the operator builds up in-house IT skills as part of the Group's broader transformation (Vodafonewatch, #198). Deegan said it is "changing very fast".
Deegan shared how Vodafone is remaking itself as part of a panel discussion on becoming a "tech­‑driven telco" during the recent TM Forum Digital Transformation World Series. He echoed the themes outlined in the Group's Tech 2025 programme, which focuses on platforms, software, and "cultural transformation" (Vodafonewatch, #198).
"What we look like today is not what we looked like three years ago, and for sure won't be what we will look like in three years' time, and that is the evolution to a tech company", he noted.
Part of this change involves having more IT capability reside within the company, which should give the operator more control over the products and services it develops, as well as the customer experience. The operator is also creating common platforms that can be scaled and reused across the Group.
"Technology is enabling amazing capabilities and major steps forward in how we run our business … the exciting thing is [when it is] all being developed by our own teams", he said.
He flagged the new Internet of Things (IoT) Centre of Excellence that will be built in Málaga, Spain as an example of Vodafone's new model. The research and development centre will hire 600 people, which Deegan said "will grow as we develop our own technology and build our own platforms and systems".
Another example is the My Vodafone app, which Deegan noted had 20 million users across Europe. There is a different instance of the app in each market and Vodafone is now working to harmonise them onto one platform across markets.
Vodafone hopes harmonisation efforts and platform approaches will give it some of the scale, flexibility, and agility that is inherent at hyperscale companies.
"The debates are over around the power of platforms and scale and having common architectures … for us, it's not an option; it's an obligation. And that's why we have made our changes as Vodafone to our organisation our structure and our direction of travel".

– Deegan.
Vodafone is also changing how it works.
"Three or four years ago, if you had mentioned words like tribes, squads, or agile, you [would] have had a lot of confused faces around the table. Now it's fundamental", he said.
As part of this shift, the operator is combining commercial and IT teams to work more closely together. In Spain, "we will bring in an incremental 75 IT engineers and 75 commercial people into our squads this year… in three years' time, I'm sure we will have more people working in commercial and IT than we have in other parts of the agile framework we have in other parts of the business", he added.
Flipside of transformation
As Vodafone Spain adapts to new ways of working, the OpCo recently announced that it will cut up to 515 staff, representing 12% of its workforce. The downsizing will mainly affect commercial staff. The number has since been negotiated down to 467, according to local media reports.
The announcement represented another step up in cost cutting at the Spanish OpCo, which back in 2019 began moving to a more digital‑led, leaner business model in response to competitive vulnerability (Vodafonewatch, #171 and passim).
The suggestion that commercial functions are taking the brunt of the downsizing chimes closely with Vodafone's Digital First strategy, focused on pushing efficiency and customer experience improvement through a shift from physical to virtual channels. It also looks to further expand the domain of growing shared services division _VOIS, which is enabling much of the Group's efficiencies drive by amalgamating OpCo‑level functions such as customer support.

Michelle Donegan is an experienced telecoms writer and has been contributing as a reporter and news analyst for TelcoTitans since July 2020.