Creation of new business is latest move in Vodafone's M&A and business improvement plan for European sites.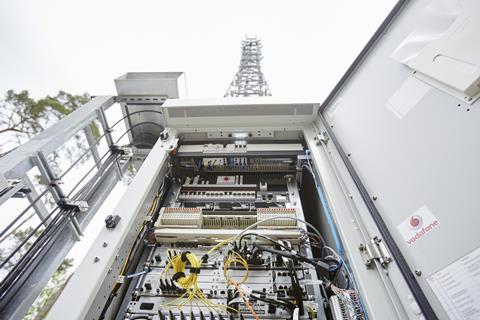 Vodafone is understood to have separated out tower assets in the Czech Republic in the latest step of its plan to overhaul (and divest) European infrastructure.
The Group's latest Annual Report, for the year to 31 March 2020, shows the creation of two new "related undertakings" in the territory: Vodafone Towers Czech Republic 1 and Vodafone Towers Czech Republic 2.
Rather than being based at the operator's local headquarters, in western Prague, both entities are registered at premises of UPC Czech Republic, the cableco that merged with VfCZ as part of Vodafone's four-country Liberty Global asset buyout in 2019.
Petr Prochazka, formerly Vice-President of Strategy & Integration at VfCZ, was appointed Head of Finance for the new tower operation in April 2020.
Plan coming together
The move forms part of a continuing effort by Vodafone's leadership to raise cash and cut debt through a "double monetisation" of regional- and national-level tower assets.
The Group recently assured that despite COVID‑19 disruption, it continues to work towards an early‑2021 window for a flotation of shares in Vodafone Towers Europe — the new, continent-wide TowerCo it has set up to improve the business performance and "strategic development" of its infrastructure operations in the region.
It has also mooted sales of stakes in "several" of the market-level tower assets being overseen by VTE. These include joint ventures such as the UK's Cornerstone Telecommunications Infrastructure and Italy's Infrastrutture Wireless Italiane (INWIT), as well as distinct, wholly-owned entities that have recently been set up in Germany, Ireland, and Spain.
Group slides have indicated ten markets fall within the overall "asset utilisation" improvement plan — collectively bringing together a network of around 80,000 sites. These include the six countries mentioned above, plus Greece, Hungary, Portugal, and Romania.
African and Indian TowerCos in works, too
Further, outside of that footprint, Vodacom Group recently indicated it is studying creation of a regional TowerCo across its sub-Saharan African footprint, and Vodafone is seeking to wrap up a long-delayed merger of Indian JV Indus Towers with co‑parent Bharti Infratel later this month.
This ostensibly leaves Albania, Australia, Egypt (which Vodafone is in the process of exiting), Netherlands, and Turkey outside of the programme.
Vodafone tower sharing and management entities, June 2020
Market
Entity (Group ownership)
Notes
Sources: Vodafone and Vodafonewatch.

Within European TowerCo territory

Europe

Vodafone Towers Europe (100%)

Scheduled for IPO in early-2021.

Czech Republic

Vodafone Towers Czech Republic (100%)

–

Germany

Vodafone Towers Germany (100%)

–

Greece

Victus Networks (49.94%)

Network-sharing JV, co-owned with Wind Hellas.

Hungary

–

–

Ireland

Vodafone Towers Ireland (100%)

–

Italy

INWIT (33.2%)

Network-sharing JV, co-owned with Telecom Italia and others.

Portugal

–

–

Romania

Netgrid Telecom (50%)

Network-sharing JV, co-owned with Orange Romania. Recent, unconfirmed local reports have also mooted the creation of a distinct local tower entity by Vodafone.

Spain

Vodafone Towers Spain (100%)

–

UK

Cornerstone Telecommunications Infrastructure (50%)

Network-sharing JV, co-owned with Telefónica UK.

Other entities

India

Indus Towers (46.95%)

Pending merger with Bharti Infratel. Vodafone's 46.5% effective ownership level includes holdings of Group (42%) and Vodafone Idea (11.5%).