Reworked deal said to give challenged Spanish OpCo a broader fibre platform and better terms, in return for expanded commitments.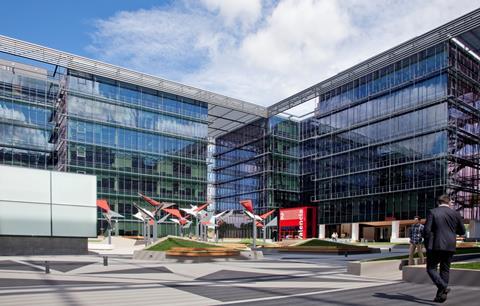 Vodafone Spain (VfS) has quietly reworked its fibre-to-the-premises (FTTP) wholesale deal with incumbent rival Telefónica España, enabling the operator to extend further beyond its own cable broadband footprint.
A note in Vodafone's latest Annual Report indicates the arrangement, formed in early‑2017, was renewed and recalibrated in March 2020, prospectively giving VfS full FTTP reach across Spain (Vodafonewatch, #154).
As well as extending the timeframe of the relationship, to 2024, VfS is said to have expanded the scope of its purchase commitments to Telefónica — and in return, gained an unquantified improvement in "commercial and operational conditions" from the telco.
The deal is also now said to cover the entirety of Telefónica´s FTTP footprint — and therefore looks to bring about a step-change in VfS' broadband reach.
Move chimes with VfS' shift to a leaner model
Commercially, the enlarged footprint appears to offer a platform to help VfS revive growth in its broadband base, which has dropped from 3.34 million to 3.17 million over the past two fiscal years, amid intense competition.
It is also an interesting element, strategically, and could explain the deal renewal's low profile. Hypothetically, it provides a broad, alternative foundation on which VfS could maintain broadband reach should reports of a possible wireline asset divestment by the OpCo — or some other form of M&A rejig — turn to reality (Vodafonewatch, #179). This would, however, raise more questions over the long-term viability of cable assets as a next-generation network (NGN) alternative to pure fibre (as seen with Deutsche Telekom Chief Executive Timotheus Höttges' recent dismissal of cablecos' Gigabit credentials as "fake news").
When the Telefónica wholesale relationship was first formed in 2017, figures from VfS and Vodafone intimated that the deal was offering it a footprint of around 8.5 million households. However, the incumbent has rapidly expanded its FTTP reach since then and is aiming to cover 25 million (apparently the entirety of the country) by the end of 2020.
Ultrafast network coverage, major Spanish operators, December 2019
FTTH
DOCSIS 3.1
Source: CNMC.

VfS

3.6 million

7.6 million

Telefónica

23.1 million

-

Orange

14.8 million

-

Grupo MásMóvil

8.2 million

-

Euskaltel

0.3 million

2.3 million
Home disadvantage
VfS has been relying on a somewhat patchwork NGN footprint, reflecting Vodafone's pragmatic 'build, buy, and partner' approach to wireline expansion over the past decade.
The OpCo was said to reach around 20 million households at 31 March 2019 — with around half of that footprint seemingly based on the Telefónica arrangement. Beyond that, it has:
In the region of 7.9 million households passed by its own infrastructure, largely via the cable network inherited from its 2014 buyout of ONO. This has since been fully upgraded to "Gigabit" DOCSIS 3.1 technology (Vodafonewatch, #122 and #170).
FTTH network-sharing relationships with Grupo MÁSMÓVIL and Orange Spain. The exact scope is muddy, but previous data from VfS and Vodafone has intimated that these tie‑ups provide fibre reach to around three million households (Vodafonewatch, #169 and #174).
Overall, across Europe, Vodafone claims to have NGN coverage of 136 million households, but only 55 million of these are through "owned" connections (and 23 million of this latter portion are not yet Gigabit-capable). The residual 81 million come through "strategic partnerships" or wholesale deals.
With cash tight and capital returns remaining questionable in Europe, the Group's strategy seems set to remain centred on tie-ups with third-parties that are putting money directly into FTTP buildout, and it has increasingly been attempting to sidle in as an "anchor tenant" of incumbents and other NGN players in markets, like the UK, where it has fewer assets in the ground than key competitors.