Any post-COVID-19 spend strategy changes appear to either be being kept under wraps, or subjugated by leadership focus on keeping the business on track.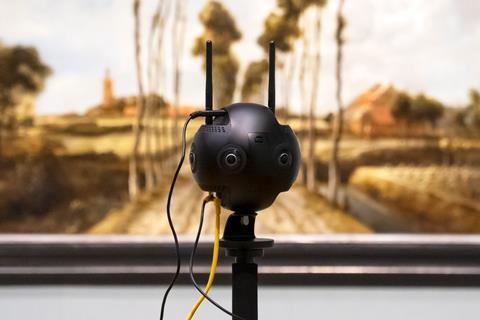 Spend-wise, there was little colour in the presentation on how Vodafone has responded to the coronavirus crisis.
Despite the unprecedented nature of the pandemic, the Group did not depart from its convention of leaving detail on expenditure and profitability out of Q1 (and Q3) statements, reserving those numbers for HY and FY sessions. Nor was there any real commentary on how spend mix might have changed.
In terms of capital expenditure, the Group remains wedded to its "mid-teens" intensity range, versus revenue.
Regarding operating expenditure (opex), the emphasis continues to be on digital- and centralisation-infused reduction of cost, and Della Valle indicated that the operator was "proceeding very well" towards its objective of slicing €400m out of its Europe and Common Functions opex base during FY20–21.
The €400m scheme is the first leg of a three-year, €1bn efficiencies plan confirmed by Della Valle in May 2020, and primarily focused on attacking customer care and distribution costs (Vodafonewatch, #181 and #186). Germany and the UK have previously been cited as the key markets where Vodafone has catch‑up opportunities around opex efficiencies.
Guidance: crisis management largely on track
Group keeps flex in the system on profit and cash flow, with top-line impacts of coronavirus remaining difficult to fully gauge.
Looking forward, Vodafone's leadership continued to reassure that the operator has not been significantly blown off course by COVID‑19, while conceding that certain areas of its business are — as elsewhere in the industry — being buffeted. Vodafone being "resilient… but not immune" to the pandemic was how Della Valle described the state-of-play during its annual results presentation in May 2020, and this summed up her commentary on the Q1 call too (Vodafonewatch, #186).
Read and Della Valle reiterated the forward guidance they published in May 2020 — although anything else would have been a major jolt, considering its modest expectations for the FY, and the ample wiggle-room Vodafone's naturally conservative leadership tends to give itself by laying out a minimalist, short-term range of forecasts every twelve months. Some might be tempted to wonder what purpose listed business' guidance actually serves, if it does not require significant change in the face of a global health and economic crisis.
Vodafone's leadership — which asserts it would have achieved growth in the current year, if COVID‑19 had not happened — continues to expect core earnings to be "flat to slightly down" for FY20–21, and free cash flow to be essentially flat or slightly up, at "at least €5bn". Q2's pandemic impact was "very much… in line with what our expectations for the quarter were", said Della Valle.
Criteria
Performance
FY19–20
Target
FY20–21
Vodafone Group guidance, FY19–20
Note: Performance and targets at guidance exchange rates, and excluding M&A, spectrum acquisitions, and restructuring costs.
Sources: Vodafone and Vodafonewatch
EBITDA

€14.9bn

"Flat to slightly down"

Free cash flow

€4.9bn

"At least" €5bn, pre-spectrum
Travel trouble — ongoing COVID‑19 danger areas laid out
Digging into the crisis' financial impact on Vodafone, executives' comments focused largely on areas of revenue generation — rather than any internal measures that the Group is itself undertaking in response to the pandemic, and how they could mitigate top-line softness. These internal activities may become more apparent in November 2020, when the Group reports interim figures for the first six months of FY20–21 and updates cost base data.
Della Valle laid out a range of coronavirus "puts and takes" — reflecting how established telcos have benefited in some ways from lockdown restrictions (such as reduced opportunities for customers to churn, and remote-working's stimulation of data traffic) and suffered in others.
Commercially, places where Vodafone remains on watch include:
Competitor behaviour — including the potential for Vodafone to again be damaged by a step‑up in rivals' aggression (with perennial problem markets Italy and Spain naturally to the forefront of concerns). Della Valle sought to stress the Group's improved go‑to‑market responsiveness, after moving away from its previous tendency, under Vodafone's last leadership regime, to focus purely on higher-value customers while decrying competitors' behaviour as "not rational". She asserted that OpCos, with their increased range of brands and greater platform flexibility, can now compete effectively "at all levels". Nonetheless, it was notable that this was the first item on her list when she probed about coronavirus-related trends.
Vodafone Business — where the Group, like rivals, has indicated corporate customers could put a stop on IT and communications projects in response to the crisis. Executives indicated that this had not yet become a major issue, but warned it could hit home later in the FY, if and when governments' business support measures tail off. They again flagged a coronavirus hit on the (already challenged) Vodafone Automotive unit within Vodafone Business' Vodafone IoT division (Vodafonewatch, #185), affected by stalled car sales during lockdown, but Della Valle said this line of business was "actually now starting to recover".
Roaming — where OpCos predictably experienced a hit during lockdown. Della Valle indicated there had been a partial recovery in roaming volumes during June 2020, covering intra-European traffic, but noted that long-haul travel remains restricted and Q2, with its onus on summer holiday revenue, could see a bigger drag on takings from roaming.
COVID‑19 and control: Vodafone's squeezed pipeline
While explored in‑depth during the presentation, it remains clear that the pandemic is not just presenting commercial problems for Vodafone but strategic and operational headaches too.
Continuing to challenge future strategy is how lockdowns have disrupted regulators' plans in many European markets, muddying how nations will adopt European Commission guidelines on high-risk vendor controls (including the mooted European certification process for 5G technology), and pushing back timelines for remaining 5G auctions.
Further, Group Technology's next Technology 2025 strategy should have been made public by now — with the previous Technology 2020 plan having expired in March 2020 (Vodafonewatch, #186 and passim) — and it is likely that the delay is now because it is being reworked with a focus on post-coronavirus priorities and objectives.
While Chief Technology Officer Johan Wibergh might have been expected to lay out Technology 2025 at either May 2020's annual results presentation or the Q1 call, he did not feature in either session, with Read and Della Valle continuing to monopolise the limelight. Another candidate for the programme's unveiling would have been the Arch Summit in October 2020, but this event has now been put back to 2021 (see separate report). Cloud-ification and platform consolidation are expected to dominate Technology 2025 and following coronavirus, are likely to have even more emphasis when the plan is eventually published. Vodafonewatch now anticipates general release by November 2020 at latest.
Vodafone Q1 FY20–21
1

2

3

Currently reading

Vodafone Q1 FY20–21 spend: no obvious change of course, post-COVID-19