Vodafone has invited pitches for an IPO of its European towers, to be listed by 2021.
€10bn–€20bn valuation, with €2bn+ targeted for minority stake.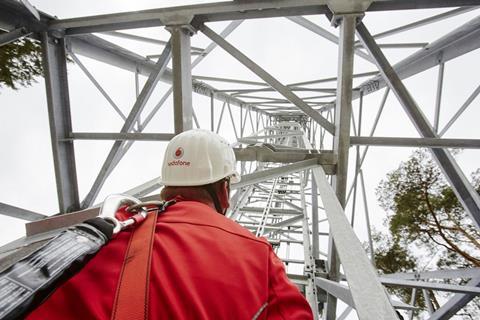 Vodafone Group has reportedly invited pitches for a role on the initial public offering (IPO) of its Vodafone Towers Europe as the telco pushes forward with a part‑sale of its infrastructure arm. Advisors have been given until July 2020 to put forward proposals, with the process being overseen by investment bank Rothschild.
Sources told Bloomberg that the IPO would raise upwards of €2bn (£1.8bn), with a unit valuation of between €10bn and €20bn in 2021. Group Chief Executive Nick Read has previously suggested a value of around €18bn, which would indicate a stake in the realm of 10%–20% could be offered.
Read has been outspoken in recent years about his desire to unlock shareholder value from Vodafone's tower assets by extending infrastructure to peers and competitors, as well as pushing ahead with an IPO sometime in early‑2021 "if market conditions allow". At the Group's earnings conference call for the quarter to 31 December 2019, he confirmed that Vodafone Towers Europe would be "incorporated in Germany and headquartered in Düsseldorf" (Vodafonewatch, #183). Adding to this local flavour, sources suggest that Frankfurt has become the most likely city to list the IPO, though London remains on the table.
An IPO has been trailed for a few months and looks to be going ahead at an opportune time, both to reconcile with the impact of COVID‑19, and to beat Deutsche Telekom to the boat. DT has its own Europe‑wide TowerCo in the offing.
Deutsche Telekom's TowerCo reorganisation groundworks are ongoing, with Magenta Telekom (Austria) the latest to establish an infrastructure entity (Deutsche Telekomwatch, #92). This mirrors dedicated tower businesses that has DT set up in Germany (Deutsche Funkturm) and in the Netherlands (T-Mobile Infra). Again, as in the Vodafone case, network‑sharing is on the cards.
Similarly, Telefónica's recently‑formed Telefónica Infra entity, within which its majority-owned Telxius TowerCo operates, has been growing its footprint over recent months across Europe and South America. Markus Hass, CEO of Telefónica Deutschland, recently reiterated his confidence that monetisation of 19,000 mobile rooftop sites would be achieved, with at least a proportion shifting to Telxius (Telefónicawatch, #143).
At Vodafone, the potential for a part‑sale reflects continued ambition from Read to unlock value that is currently buried within the Group's European infrastructure:
In the Czech Republic, two Vodafone tower entities have been created (Vodafonewatch, #187).
Vodafone's Italian tower arm successfully merged with Infrastrutture Wireless Italiane (INWIT) in the first half of 2020, forming the backbone of a 5G network-sharing agreement with INWIT parent Telecom Italia.
Vodafone's Irish and Spanish OpCos have spun out their tower assets in recent months.
Vodafone UK is said to be preparing for a part‑sale of its joint venture with Telefónica UK, Cornerstone Telecommunications Infrastructure.