Yet another network-sharing deal struck, this time with dstelecom.
Cash-constrained Vodafone continues to find friends among infrastructure specialists.
"New" Vodafone TV surfaces in pioneer market Portugal.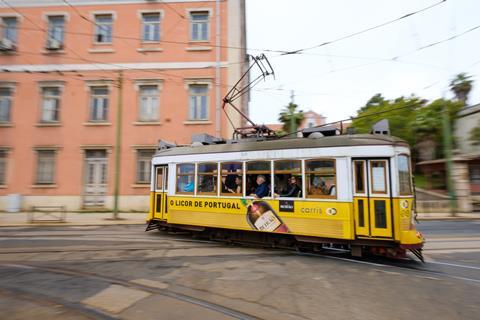 As part of ongoing Group-wide efforts to boost broadband operations and mount a greater challenge to national incumbents through converged bundles, Vodafone Portugal (VfP) struck yet another network-sharing agreement to expand its fibre-to-the-premises (FTTP) reach. The OpCo also trumpeted the availability of an enriched pay-TV offering to pull in more subscribers.
VfP announced a tie-up with wholesale network provider dst telecommunicaçoes (dstelecom), which has been building open access fibre networks in Portugal since 2010. At the same time, dstelecom signed a similar agreement with VfP's multi-play rival NOS, meaning the three operators will collaborate on the expansion of Portugal's shared FTTP network to up to 1.2 million premises. NOS also provided a minimum figure of 900,000 households.
José Pedro Faria Pereira da Costa, Chief Financial Officer at NOS, said the dstelecom collaboration is targeting "not exclusively, but mainly" areas of the country where it would not be economically viable for it to invest alone. The network will be open to any provider that can reach an agreement with dstelecom. "As such, [this network] has completely different economics… There is no capex [capital expenditure] from our side. We will be renting as we acquired customers", he noted.
In 2018, the Cube Infrastructure Fund II, managed by Luxembourg-based Cube Infrastructure Managers, acquired a 54% stake in dstelecom, the telecoms business of national construction group DST. At the time, the provider said it aimed to pass at least 500,000 homes with its network by 2020. Established in 2008, dstelecom was awarded a 20-year contract in 2010 to build and operate next-generation networks (NGN) in 79 municipalities across Portugal, placing a focus on areas with low-density housing. It had completed networks in 76 areas by 2013, and is now thought to cover 90 municipalities. It described the aim to reach up to 1.2 million homes following the agreements with VfP and NOS as the third phase of its network development.
Another addition to the team
The dstelecom arrangement adds to an already convoluted web of NGN collaborations in Portugal.
VfP and NOS signed a separate network-sharing deal in 2017 (Vodafonewatch, #159 and #164), and said the partnerships with dstelecom will increase their footprints to more than 5.3 million and 5.7 million premises, respectively. The deals target areas not already covered by their existing agreements or by their own FTTP networks. Under the 2017 VfP-NOS tie-up, VfP gained access to 1.3 million properties in new areas, increasing its NGN footprint from 2.7 million to four million households.
Mário Vaz, Chief Executive of VfP, said the dstelecom partnership ensures that 90% of its FTTP network will be shared with other operators.
"Vodafone Portugal has always advocated a co-investment and partnership model for next-generation fixed networks, as a way to ensure more rationality – technical and economic – accelerating the arrival of these networks to remote areas and the most disadvantaged populations."

– Vaz.
NOS tie-up "going well", too
Subsequently, speaking during the presentation of NOS's second-quarter earnings for 2019, Pereira da Costa said the network-sharing arrangement with VfP "was going well, with around 700,000 households being exchanged since the start of the project".
He added that total coverage by the operator's FTTP and DOCSIS 3.1 hybrid fibre coaxial (HFC) networks stood at 4.5 million households at 30 June 2019, with FTTP representing 1.3 million of the households passed. The latter figure includes 200,000 contributed "by our partner"– in other words, VfP.
It also looks likely that NOS will bring forward its guidance of reaching 70% FTTP penetration by 2022, up from 29% of total coverage currently. NOS previously said it aims to deploy FTTP across its entire footprint, and has been more downbeat about HFC's future prospects, contrasting with Vodafone's willingness to make huge cable investments in Germany, the Netherlands, and Spain (Vodafonewatch, #165).
VfP still the broadband third wheel
Altice-owned incumbent Meo, which also has a fibre network relationship with VfP, is still the first-placed operator in Portugal's fixed broadband market. According to figures compiled by Autoridade Nacional de Comunicações (ANACOM), Portugal's communications regulator, Meo had a broadband market share of 40% as of 31 December 2018, followed by NOS with 36.7%, and then VfP, still in a distant third place, with a 19.2% slice of the market.
In terms of residential access only, however, NOS is market leader with a 39.4% market share, followed by Meo (38.1%) and VfP (18.1%).
Meo is the leading provider of FTTP and ADSL broadband services with shares of 54.7% and 90.3%, respectively. The regulator further noted that the number of households covered by FTTP networks increased by 11.5% from the end of 2017 to 4.7 million by the end of 2018, while HFC households increased by 0.4% to 3.7 million. The number of residential high-speed broadband customers increased 10.9% to 2.5 million.
Portugal converged operator user and FTTP comparison, 30 June 2019

Mobile customers

Broadband customers

TV subscribers

FTTP

households

Sources: Operator figures, Vodafonewatch.

Meo

6.3 million

1.6 million

1.4 million

4.7 million

NOS

4.8 million

1.4 million

1.6 million

1.3 million

Vodafone Portugal

4.7 million

0.7 million

0.6 million

3.2 million
Vodafone TV raises its voice
Clearly recognising that attractive TV services play a significant role in enticing users to subscribe to high-speed broadband services and converged bundles, VfP launched an advanced version of the Vodafone TV service based on the new VBox+ 4K decoder.
VfP boasted that the new service comes with a more intelligent user interface, enabling a greater level of personalisation for customers owing to the use of artificial intelligence-based algorithms. The OpCo also claimed to be the first operator in Portugal to have launched "intelligent voice search" as a feature. Said to be based on Google's voice recognition system, the voice-driven search engine enables subscribers to search for content using voice commands combined with search criteria such as name, date, and content genre.
Other new features include: Kids Space, a dedicated content area for children including a parental control system; new applications such as YouTube Kids; access to HBO and YouTube, the two key applications on the current service; and access to a newly launched 'public services'' feature.
VfP said it was the first operator in Portugal to present a range of public services to customers via an application called Serviços Públicos. The OpCo explained that it is responding to a call by Agência para a Modernidade Administrativa to help improve public services over digital networks, as part of the Simplex state administration modernisation project. Services and features available initially include the ability to request a digital mobile key via the set-top box and the issuance of electronic passwords for access to public services such as employment and social security, transport, and professional training. Customers receive SMS messages confirming requested services and an assigned password. In the coming months, the OpCo aims to add the ability to renew identification cards, log changes of address, and book medical appointments.
VfP is also continuing to add channels, recently announcing the availability of the A Bola TV sports channel. It said Vodafone TV now offers more than 200 channels in high-, standard-, and 4K ultra-high-definition formats.