Prime Minister turnaround puts Vodafone in financial spin.
Group "put all its eggs in a Chinese basket", says Strand Consult.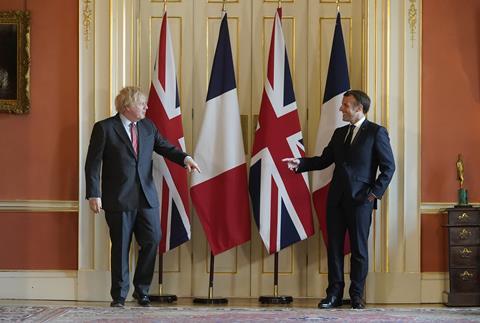 Vodafone once again voiced concerns about excluding Huawei Technologies from 5G networks.
In the UK, Prime Minister Boris Johnson has hardened his stance on the Chinese supplier, prompting a warning from Scott Petty, Chief Technical Officer (CTO) at Vodafone UK. "The UK's leadership in 5G will be lost if mobile operators are forced to spend time and money replacing existing equipment", Petty told the Financial Times.
Rather than stripping out Huawei equipment, Petty thought that "efforts should instead be focused on expanding 5G coverage, developing 5G capabilities for UK industry, and investing in the next stage of this important technology".
Leaving aside Petty's dubious claim of "UK leadership" in 5G, the CTO called attention to real and seemingly irreconcilable differences between the financial wellbeing of operators and geopolitical pressures. Like Petty, many operators try to square the circle by warning that domestic political goals of timely, expansive, and more cost‑efficient 5G rollout will be jeopardised if Huawei is excluded from the mix.
Cost conflict continues
How much a Huawei rip‑out-and‑replace programme might cost operators is difficult to determine, but some have had a stab at the calculation.
Nick Read, Chief Executive of Vodafone, is braced for a €200m (£179m) bill to remove Huawei from 4G core networks, which can support the non‑standalone version of 5G New Radio, across a five‑year period in Europe (Vodafonewatch, #183). Enders Analysis thinks it will cost the UK's four mobile operators £1.5bn (€1.7bn) if they are prohibited from using any of Huawei's radio access network (RAN) and core equipment, with EE bearing the brunt.
In an internal paper prepared by Deutsche Telekom (DT), seen by Handelsblatt, the cost of replacing Huawei kit in its German operation over a five‑year period was pinned at about €3bn. DT described the disallowing of Chinese suppliers on its home turf as the "Armageddon scenario".
Huawei-funded analysis undertaken by the GSM Association (GSMA), which emerged in July 2019, estimated that a ban on buying telecoms equipment from Chinese firms would add €55bn to the cost of 5G networks in Europe, and delay the technology by about 18 months (Vodafonewatch, #181).
Denmark-based Strand Consult painted a much less painful picture for European operators. In a paper published in September 2019, Strand said most of Europe's networks were about three to five years old and were ready to be replaced, which was not factored into the GSMA calculation. Strand placed the cost of replacing recently deployed Huawei and ZTE equipment, in order to 'clean' networks before 5G deployments took place, at a much lower $3.5bn (£2.8bn/€3.1bn).
Geopolitics meets plain-old UK domestic politics
There were signs that the UK's Prime Minister has started to wobble on Huawei, with the change in heart seemingly prompted by growing unease among 'backbenchers' in the Conservative Party he leads.
In January 2020, Johnson tacitly endorsed the Chinese supplier's involvement in UK 5G infrastructure by approving a 35% cap on High‑Risk Vendor supply of equipment outside the network core (Vodafonewatch, #183).
At that time, Johnson seemed willing to take criticism on the chin from US President Donald Trump, who has repeatedly called on American allies for a blanket 5G ban on Chinese suppliers, both in the RAN and the core. According to the Financial Times, the US President vented "apoplectic fury" at Johnson in a phone call after it became apparent that the UK was not following US advice. Trump reportedly threatened to restrict the UK's access to the Five Eyes security alliance, which comprises Australia, Canada, New Zealand, the UK, and the USA.
In May 2020, however, The Telegraph revealed that Johnson had made a dramatic U‑turn, and instructed officials to draw up a plan to phase out Huawei from UK networks by 2023, which was later confirmed by government officials. The right‑leaning newspaper helpfully reported that the UK Prime Minister always had "serious concerns" about the 5G agreement initially brokered by his predecessor Theresa May, namely that Huawei only be allowed access to the "non‑contentious" parts of the network (Vodafonewatch, #175).
Bloomberg subsequently reported that UK officials spoke with Japanese supplier NEC about diversifying the UK's 5G supply chain. South Korea's Samsung is apparently also on the UK's 5G radar.
Domestic politics look very much at play here. In March 2020, nearly 40 Conservative Party Members of Parliament rebelled against the government by tabling an amendment to try and force Johnson to set out a timetable for excluding Huawei from any involvement in 5G networks.
The government narrowly avoided defeat then, but strains in Sino–UK relations are increasing. There is reportedly growing disquiet in "Tory ranks" about what they see as shortcomings by Beijing in the initial handling of the coronavirus outbreak. Perceived heavy‑handedness in the way China has cracked down on protesters in Hong Kong, as they strive to preserve autonomy from the mainland, is another concern.
Johnson's tough new line on Huawei seems a reaction to domestic pressure, but if he did have genuine concerns about May's approach — and, on reflection, would prefer after all to have Trump fully onside as a useful trade ally post‑Brexit — increased geopolitical tensions have given him useful cover to change his mind without too much loss of face.
In May 2020, the UK's National Cyber Security Centre began an "emergency review" of Huawei's role in 5G following fresh US sanctions against the Chinese supplier. Under new restrictions, due to be introduced in September 2020, Huawei will be prevented from using US semiconductors and software to build 5G equipment. UK security officials warned that the curbs could have "very, very serious" implications for the Chinese company's planned role in supplying 5G networks. The review's outcome was still pending at the time Vodafonewatch went to press.
Vodafone in deep with Huawei
Vodafone is a staunch supporter of open RAN, yet stills seems committed to sticking with Huawei, a supplier that shows no interest in disaggregating software from general purpose processing hardware. The cost of ditching Huawei seems to outweigh the (promised) benefits of open RAN, at least for now.
According to Strand Consult, Vodafone exclusively relies on Huawei for mobile equipment in at least four of its European markets: the Czech Republic, Greece, Hungary, and Romania. In an interview with Capacity, John Strand, the research firm's founder and Chief Executive, said Vodafone had taken a "calculated risk" and "put all its eggs in a Chinese basket".
Strand Consult thinks there is heavy reliance by Group OpCos in Spain (67%), the UK (62%), and Germany (53%). Italy was the least dependent on Huawei among the countries studied so far by Strand (as of June 2020), but still stood at a sizeable 50%.
A Vodafone official, owing to the "commercially sensitive" nature of the estimates, said he could not vouch for the accuracy of the numbers.