UK enterprise customers able to deploy £1,700 solution for 100 readings per minute.
Tie-up with Tomorrow Street partner Digital Barriers expands existing collaboration in the UK.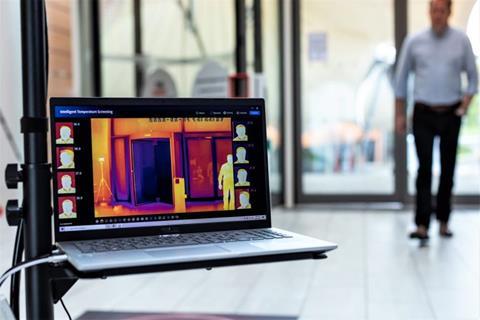 Vodafone partnered with surveillance and security technology provider Digital Barriers to launch the Heat Detection Camera, a standalone installation that measures peoples' temperature to identify potential coronavirus carriers.
The set-up has been installed at what Vodafone described as "several key UK sites". For external clients, it comes at a cost of £1,711 (€1,524) per month for a twelve-month term, with other pricing models presumably for larger scale installations.
Vodafone UK is marketing the solution to its enterprise and public sector customers, but Vodafone Business also appears involved. Ludovico Fassati, Head of Internet of Things (IoT) at Vodafone Americas, claimed to have "more than 20 customers interested" in the solution one week after a soft launch.
African counterpart Vodacom Group followed suit, offering Vodacom Business Thermal Scanners among a slew of other IoT solutions to enable a return to work for enterprise customers. Personal protection equipment monitoring is another, which Vodacom is offering to support by utilising existing surveillance camera feeds to identify individuals that are not using facemasks in a building.
Hot item
Digital Barriers' solution can take 100 readings per minute, scanning up to eight people at any one time, and consists of a laptop, camera, and tablet set up at a building entrance. It aims to flag people with elevated temperature readings, and takes advantage of Digital Barriers' EdgeVis Live low-bandwidth streaming to ensure the camera operator can remain at a safe remote distance. Vodafone stressed its role in contributing IoT connectivity, nationwide distribution, and service management to the partnership.
The Telegraph reported that thermal imaging cameras are being looked at as one possible instrument that could hasten the return of sporting events, with Premier League football clubs among those reportedly investigating the technology. Vodafone is not the first to the idea, however, with thermal imaging hardware sales soaring as nations and businesses start to consider relaxing lockdown restrictions. US thermal imaging specialist Flir has flagged a 700% rise in global demand for its hardware, noting airlines and governments as key customers.
The partnership builds on Vodafone's close ties with Digital Barriers. The UK-based business has received support from Vodafone Procurement Company and Technoport's innovation and incubation joint venture Tomorrow Street, and is one of Vodafone Business's 5G Dig Top 100 companies (Vodafonewatch, #170). In 2018, Vodafone pledged to make the startup's EdgeVis Live smart surveillance technology available internationally, and it appears that this is the second deployment to that end. In early-2020, Vodafone Business and Digital Barriers launched Smart Vision, a real-time video analytics solution for automotive and smart-city implementations (Vodafonewatch, #184).