OpenRAN playbook provides insight into deployment challenges.
Local skills and resources are critical for successful rollouts.
Acceptable performance achieved for rural environments.
More work needed on management, operations, security, and deployment models.
Vodafone brings open RAN trials to the Netherlands.
NEC boosts its position as a Vodafone open RAN integration frontrunner, while Altiostar muscles in.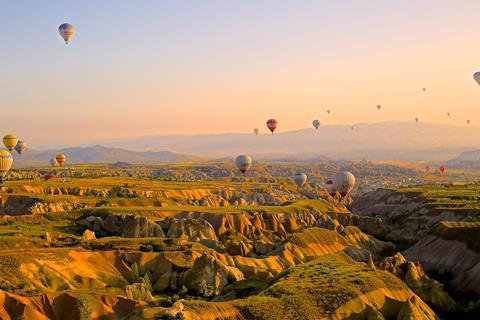 Vodafone Group and Parallel Wireless shared details of their OpenRAN trial in Turkey with the publication of a playbook for the OpenRAN Project Group within the Facebook-led Telecom Infra Project (TIP), an initiative that aims to disrupt the mobile supply chain status quo.
The playbook provides a highly technical blueprint for setting up OpenRAN trials, and reveals some of the practical challenges posed by the disaggregation of software from general-purpose processing (GPP) hardware. Although the trial focuses on technology testing, some insight can be gleaned about the types of skills and amount of resources that will be needed in the field, and within operator and vendor organisations, to deploy open RAN.
Vodafone is a leading advocate for TIP's OpenRAN, and open RAN in general (Vodafonewatch, #183, #184, and #186). The operator is currently running five OpenRAN trials using technology from Mavenir Systems and Parallel Wireless in the Democratic Republic of Congo, Ireland, Mozambique, Turkey, and UK. The trials test technology as well as operational and commercial models for OpenRAN.
Speaking during a Light Reading webinar in July 2020, Santiago Tenorio, Vodafone Group's Head of Network Strategy & Architecture and Chairman of TIP, said "while the primary focus of the trial in Turkey was just to test the system itself, we are testing the operating model in our other trials".
Anatomy of an OpenRAN trial
Vodafone's trial has been running since July 2019 across 25 sites in the Bozüyük district of Bilecik Province in the Northwest of Turkey to test 2G, 3G, and 4G (Vodafonewatch, #184). The area was chosen because it has a mix of rural, suburban, and urban conditions, and the sites already had power and backhaul. As this is a technology trial, the aim was to choose locations that would be "easier from an operational standpoint".
When designing an OpenRAN trial, the playbook recommends an initial use-case of rural deployments with low-capacity requirements. This is because the technology is still new, and it is better to test it under easier conditions at this early stage. According to the playbook, "initial multi-technology deployments in the same bands, using the same radio, could be risky in high-density urban areas having challenging load conditions".
Deployments need local know-how
Parallel Wireless had primary responsibility for the trial. The vendor worked with Vodafone's network support organisation in Turkey and hired a local, third-party subcontractor to handle the deployment, including installation and drive testing. The subcontractor, which was not named, had previous experience with other Vodafone trials.
Notably, the playbook stresses that engaging local subcontractors for open RAN deployments is "possibly the most important factor to consider", adding that "local knowledge provides a significant advantage during surveying, equipment installation, and optimisation".
Local contractors should be familiar with the region and with the operator. The previous experience will increase operators' confidence in working with the third party. In the case of the trial in Turkey, the playbook notes that the trial's third-party contractor solved problems like "finding extra materials, supporting all with ad hoc transport, customs, and technical expertise".
The installation and integration process requires thorough time and resource planning. Operators and vendors need to allow enough time for site surveys and have sufficient resource and technical support available for rollouts. The playbook does not specify how many staff were required to support the trial, but it notes that the need for "dedicated personnel to work closely with regions during the process" and "expert engineering resource presence in Network Operations Centre and on the ground during the site activation process".
In Turkey, depending on how different sites were configured, the onsite deployment time ranged from eight hours to 24 hours, while the commissioning and integration time took between 1.5 hours and 5.5 hours.
In terms of logistics, disaggregation appears to introduce some challenges when it comes to moving multiple technology components from the lab and ensuring timely delivery for a commercial trial. The playbook recommends that suppliers thoroughly understand customs rules before sending any equipment, procure materials locally as much as possible, locate a warehouse close to the planned deployment, and provide spare parts.
A trial success for rural use-cases, but challenges remain
The playbook concludes that the trial in Turkey "can be termed successful," particularly when viewed in the context of TIP's objective to "connect the unconnected", as Parallel Wireless's OpenRAN solution "meets acceptable performance levels for rural environments".
It cautions that OpenRAN deployments are "more complicated" in the initial rollout stages when operators need the new technology to be integrated with legacy networks. This requires more time and planning for operators and vendors to design and implement open RAN, as well as an understanding of the legacy equipment interfaces.
More broadly, the playbook flagged areas where more work is needed before OpenRAN can be deployed on a large-scale, mainly in the areas of architectural standards, management and orchestration, security, and operations, as follows:
Standardising the deployment models and split architecture for true interworking between all GPP hardware and software vendors' stacks to achieve optimal costs.
End-to-end lifecycle management of each OpenRAN architecture component.
Hardening of GPP platforms and software for commercial-grade security.
Operational excellence with regard to interfaces with current central network management system operators.
Next stop: Netherlands
Shortly after the playbook's publication, VodafoneZiggo became the latest country business to join Vodafone's open RAN party after flagging a trial with network partner NEC Europe.
The partners said the first mobile call was carried out using open RAN technology on the Dutch joint venture's mobile network. Over the course of the trial, VodafoneZiggo and NEC plan to integrate and test open RAN solutions from various suppliers, although only Altiostar has been named so far. It seems that NEC will act as an open RAN systems integrator by combining "best of breed solutions", including its own 5G radio products.
Ruud Koeyvoets, Director of Mobile Networks at VodafoneZiggo, said the introduction of open RAN technology "enables us to introduce new suppliers, such as Altiostar, giving us greater flexibility when rolling out our mobile network".
Vodafone open RAN commercial field trials and deployments, where publicised
Market
Technology
Supplier

Notes: * Trial ongoing as of July 2020. ** Vodafonewatch unable to determine partner identity. Does not include lab test programme in South Africa or deployments of associated Open CrowdCell solution for urban centres, deployed in Spain, Turkey, and the UK, and supported by Lime Microsystems.

Sources: Vodafone presentations (including at TIP Summit 2019); various.

Democratic Republic of Congo *

2G

Parallel Wireless

Ghana **

3G, 4G

–

India

4G

Mavenir

Ireland *

2G, 3G, 4G

Parallel Wireless

Mozambique *

4G

Mavenir

Netherlands

4G, 5G

NEC, Altiostar

Turkey *

2G 3G, 4G

Parallel Wireless

UK *

3G, 4G

Mavenir