VfIr joins small clutch of Group OpCos that offer commercial 5G.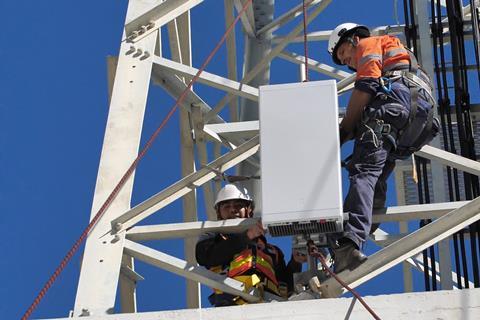 As noted briefly in the previous issue of Vodafonewatch, Ericsson confirmed that longstanding partner Vodafone Ireland (VfIr) had activated a commercial 5G network in Ireland during mid-August 2019, using the vendor's radio kit. 5G coverage has been set up in parts of Cork, Dublin, Galway, Limerick, and Waterford.
The OpCo did not make a song and dance about the launch, choosing not to even issue a press release, although it is the first 'live'' 5G network in Ireland. Local press reports said its initial 5G network reaches 300,000 people, and that VfIr aims to have a nationwide 5G network in place by the end of 2020.
As far as Vodafonewatch could determine, there was no specific information on VfIr's website about 5G tariffs by the end of August 2019, other than indications that RED Complete plans were "5G-ready" and could be enabled in-store or by contacting a customer service representative. The first two 5G-enabled smartphones in VfIr's portfolio are the Samsung Galaxy S10 5G and Huawei Mate 20X 5G.
Ericsson's deployment of 5G New Radio in Ireland uses spectrum within the 3.6GHz frequency band. In an auction completed May 2017, VfIr acquired a range of 3.6GHz concessions, totalling 105MHz in cities and 85MHz in rural areas (Vodafonewatch, #156).
VfIr reportedly stressed that while its 5G network will eventually be rolled out to hard-to-reach rural locations, it should not be seen as a substitute for Ireland's National Broadband Plan (NBP), which has still to get off the ground after a series of delays. A Vodafone spokesperson maintained that although its 5G network could be used as an "interim solution to the NBP ambition", it does not consider it an "alternative option… more a complementary one".
The Irish Times reported that incumbent eir plans to launch 5G in September 2019, while Three Ireland aims to follow suit with a limited rollout at some point during 2019.
5G-based FWA in pipeline
In November 2018, VfIr claimed it had tested Ireland's first "live" 5G network cell site, with initial emphasis on fixed-wireless access (FWA) rather than mobility, using equipment from Ericsson (Vodafonewatch, #171). The trial took place in Dublin's Docklands district. In December 2018, the OpCo started small-scale rural broadband trials in the counties of Roscommon, Tipperary, Waterford, and Wexford with what it called "5G-capable equipment". Also supplied by Ericsson, the FWA kit includes a Wi-Fi router employing 5G for backhaul over "dedicated" 3.6GHz spectrum. The router is apparently capable of delivering speeds of up to 500Mbps, which is reportedly several times faster than broadband services provided by incumbent eir. According to local media at the time, VfIr was aiming to make the 5G-based Wi-Fi routers commercially available sometime during 2019.
Among 5G frontrunners
VfIr is not too far off the 5G pace set by a small clutch of Group OpCos. In June 2019, Vodafone Spain and Vodafone Italy released 5G with a 15-city and five-city launch, respectively, while Vodafone Romania introduced 5G signals in "crowded areas of Bucharest", and has since extended coverage elsewhere. In early-July 2019, Vodafone Germany and Vodafone UK opened their 5G accounts with ten-city and seven-city launches, respectively. Beyond this grouping, Vodafone indicated that it has plans to bring 5G live in a further seven countries "over the next few months", thereby extending beyond its twelve-market Europe Region.
In late-July 2019, Vodafone stated that it had brought 5G roaming capability to 55 European towns and cities, including London, Madrid, Munich, and Rome.