Reports indicate desire for more office space in London alongside Paddington HQ.
Growing software engineering team seemingly looking for desks, with Future Ready hybrid-working model rolling out in parallel.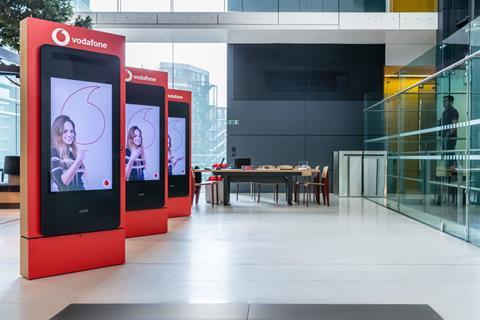 Vodafone is reportedly on the lookout for more London office space to accommodate for its in-house digital services hiring spree.
Estates Gazette Intelligence (EGI) reports that Vodafone has hired real estate agent Colliers to support the search. The operator is looking for up to 40,000sqft of additional space, with a preference for London's West End.
Vodafone currently leases approximately 130,000sqft at Paddington's One Kingdom Street, the Group's corporate headquarters where it has housed its global head office since 2009. The contract there is set to end in 2023, but EGI reports that the latest real estate search is for additional space rather than a replacement.
The outlet indicated that the supplementary space may house Vodafone's growing software engineering team.
Vodafone has not commented on the reports.
The Group set targets in 2021 to add 7,000 software engineers to its 9,000-strong roster. Although the 7,000 figure will include internal upskilling and reskilling, it will also involve external hires, said Technology Director Johan Wibergh. The initiative falls under Wibergh's Tech2025 vision, and ties with the Group's ambition to onshore engineering capability under a "build not buy" mantra (Vodafonewatch, #200).
Future Ready still requires real estate
The news comes as Vodafone settles into its 'Future Ready' office space initiative, which aims to optimise real estate to better suit a "hybrid" working environment. First flagged in July 2020, Future Ready underpins the operator's efforts to transform office space and the related expectations of its employees. It has led to a movement towards having remote location role requirements "where we can", and has seen an increasingly favourable view on what Read describes as a "distributed" office model, with "hub offices elsewhere in the country" (Vodafonewatch, #193).
In early-2021, Group Chief Executive Nick Read said he was looking to do away with "obsolete" offices, replacing them with new designs with "advanced IT capabilities". The Future Ready model envisions employees using central offices for collaborative work, with off-premises, home-offices used where appropriate. Pilots were rolled out at the Paddington office (as well as in the Czech Republic and Hungary), with a floor of One Kingdom Street dedicated to the hybrid plan.
By March 2021, Vodafone noted that employees had reached an average remote working/office ratio of 60:40, Group-wide.
In January 2022, a Vodafone spokesperson told MailOnline that it was encouraging UK-based employees to come into the office "when they need" from the end of the month.
A November 2021 study by Slack, entitled Future Forum, found that less than one-third of traditional office workers were working in an office every day, while those with hybrid working arrangements increased to 58%, from a 46% baseline in May 2021. Those who work exclusively remotely or exclusively on-premises both "declined sharply", according to Future Forum data.

Joseph Purnell is a Staff Reporter for TelcoTitans, contributing telecoms news analysis since 2019 as part of the TelcoTitans Editorial team.