Vendor's telco cloud infrastructure active in 15 Vodafone markets.
Vodafone hatches plans with Orange to make VNF onboarding easier.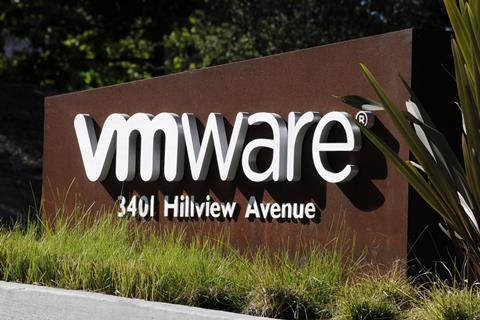 Vodafone flagged what appeared to be rapid expansion of its Telco Cloud relationship with US-based IT infrastructure specialist VMware.
At Mobile World Congress (MWC), held during late-February 2019 in Barcelona, the partners announced that VMWare's infrastructure services were "live" in 15 of the 22 countries where Vodafone has a presence, and were carrying "increasing amounts" of subscriber traffic on more than 300 core network functions.
No timeframes or usage indicators were provided, in order to gauge expansion speed. However, Johan Wibergh, Chief Technology Officer of Vodafone, used prepared remarks to highlight "accelerated time-to-market" and "associated economic benefits" from transitioning to network functions virtualisation (NFV) as part of a wider shift to Telco Cloud infrastructure. Agility and flexibility were beginning to be realised through software-defined infrastructure, he said.
Vodafone's ultimate goal is to bring uniformity to its operations and management (O&M) across fixed-line and mobile services, and avoid having to reinvent the O&M wheel every time new services come on board. The Group said it is focused on building a cloud infrastructure foundation that speeds up deployment of current 4G services, while introducing 5G "readiness". Another key aim is to avoid requiring "disruptive and expensive re-platforming".
" We've teamed up with VMware based not only on its technology leadership and innovation, but the ability to get operational deployments up and running within our requirements. "

– Wibergh.
Pat Gelsinger, the energetic Chief Executive of VMware – who recently climbed Mount Kilimanjaro to raise funds for a women's school in Kenya – was not so scripted when assessing progress made with Vodafone.
Speaking on the supplier's earnings conference call for the quarter to 31 December 2018, Gelsinger claimed – rather dramatically – that "everybody was a bit astonished by how well that partnership is going for both companies". Vodafone had now reached Telco Cloud-scale, he added.
In September 2017, VMware officially announced its NFV win with Vodafone Group, and described it at the time as its "largest-ever telco deal". The Dell EMC-owned vendor supplies Vodafone with its vCloud NFV virtual infrastructure management platform, including the vSphere server virtualisation system and NSX management and security suite. It also provides the Group with its Carrier-Grade Support system, designed to aid NFV implementation (Vodafonewatch, #134, #144, and #159). The deal looked to position VMware as a central enabler within the Group's Ocean network-as-software programme, and it is now evident the vendor has retained a key role as references to Ocean have petered out and Vodafone's Group Technology has pivoted from NFV and software-defined networking (SDN) to a broader Telco Cloud strategy (Vodafonewatch, #166). Juniper Networks, Mirantis, and Nuage Networks have also been referenced as Vodafone Telco Cloud shipmates.
VMware onboards Kubernetes…
VMware highlighted at MWC that vCloud NFV not only supports deployment of OpenStack infrastructure, but also Kubernetes – a cloud-native orchestration system that can automate the deployment, scaling, and management of container-based applications. Proponents of cloud-native architecture – which include Vodafone – typically cite greater scalability, automation, and resilience compared with traditional virtual network functions (VNF) running in a virtualised environment (based on the likes of OpenStack or VMware).
Fran Heeran, when he was Head of Cloud & Automation at Vodafone – he now works at Nokia – said it was no longer sufficient to merely virtualise existing functions, but to embrace cloud-native technologies, such as containers and micro-services (Vodafonewatch, #163). According to Heeran, cloud-native applications consumed about 40% fewer resources compared with software based on virtual machines.
VMware runs a certification programme designed to help VNF vendors simplify onboarding to its Telco Cloud platform. The vendor claims to have certified more than 105 VNFs from 85 vendors.
…and Ericsson
In the run-up to MWC, VMware and Ericsson announced a five-year alliance agreement to "simplify" NFV for communications service providers. The deal adds a bit more muscle to VMware's Telco Cloud portfolio, making it easier to run Ericsson VNFs on the vendor's vCloudNFV platform. They also established a VNF Certification Lab to ensure "industrialised software deployment", and what it called "operational best practices".
Aside from VNFs, Ericsson brings to the VMware table its billing and charging solutions, automation capabilities, and orchestration.
Matt Beal, Head of Technology, Strategy & Architecture at Vodafone, gave the alliance his approval.
" We have worked jointly with Ericsson and VMware for many years, and have implemented Ericsson's EPC [evolved packet core], PCRF [policy and charging rules function], UDC [user data consolidation], and MSC [mobile switching centre] virtual network functions on VMware vCloudNFV. The combination of software from both companies accelerates time-to-market for new services and enables our customers to fully embrace the opportunities of services like VoLTE [voice over LTE] and 4G/5G. "

– Beal.
Keep it simple, lads
NFV simplification and time-to-market acceleration looked to be key drivers behind reported plans, hatched by Vodafone and Orange, to agree a common approach to NFV infrastructure (NFVi). According to a report by Light Reading, the two operators – and no doubt the industry as a whole – want to address the difficulty of VNF testing across different NFV environments. The same report said Virtual Infrastructure Manager, based on OpenStack, was under consideration as a common platform.
Markus Wuepping, Head of the Cloud Centre of Excellence at Vodafone, fretted about the risk of having a different NFVi configuration for every VNF deployment. "You'd end up with a multi-silo deployment in our networks, which defeats the purpose of moving to cloud and leveraging the same shared infrastructure for multiple VNFs", he said.
According to Rabi Abdel, Network Virtualisation and SDN/NFV Lead Architect at Vodafone, the new NFVi will need to be more compliant with other enabling technologies.
" Network-intensive applications generally require high-throughput and low-latency, so the NFVi will need to support various acceleration technologies, like Smart NICs [network interface card] and DPDK [data plane development kit], that VNFs can access in a standard way. For compute-intensive applications, the infrastructure will include support for FPGAs [field programmable gate arrays] and GPUs [graphics processing units] and, again, we need to make these capabilities available to the VNFs in a standard way. "

– Abdel.
According to the Light Reading report, the GSM Association (GSMA) is preparing an "imminent" announcement related to NFVi.