OpCo appears more vulnerable than main rival Cosmote to US pressure on Greek government for a clearout of Huawei network kit.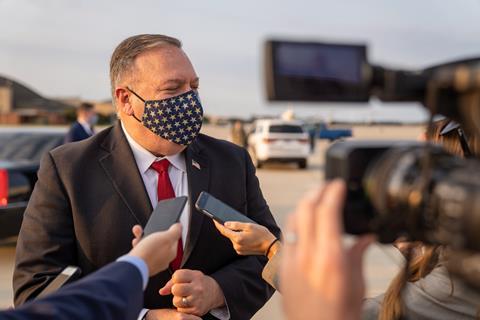 Vodafone Greece became the latest of the Group's OpCos to learn that its national government is now considering excluding equipment provided by Huawei Technologies from future 5G networks.
During an official visit to Greece in late-September, US Secretary of State Mike Pompeo reiterated in an address that the Greek government, under Prime Minister Kyriakos Mitsotakis, has elected to join the US-created "Clean Network" programme — which essentially means Greece has declared an intention to eschew the use of equipment from China-based suppliers in its 5G networks.
It seems unlikely that Vodafone Greece would currently be classified as a "clean telco" under the US government's definition, and the business is unlikely to welcome added political pressure over 5G plans only weeks before the country's latest multi-band spectrum rights auction.
The OpCo began testing 5G in December 2019 in the city of Trikala as part of e-Trikala, the city's digital initiative. The programme was supported by Huawei, plus software developer Luxoft (Vodafonewatch, #182).
The OpCo has indicated it is ready to commercially launch 5G services in the first quarter of 2021, once the spectrum auction has been completed. It expects to start offering 5G services in the cities of Athens and Thessaloniki, before expanding elsewhere.
The country's National Post and Telecommunications Commission has already started accepting applications for the tender and is expected to complete the auction by the end of 2020 (Vodafonewatch, #186 and #190). The frequencies on offer are 700MHz, 2GHz, 3.4GHz–3.8GHz, and 26GHz.
OpCo embracing open RAN but will it need a stopgap?
Vodafone Greece Chief Executive Haris Broumidis spoke to journalists just ahead of the Pompeo visit. According to Greek news site Liberal, he said Vodafone Greece was moving away from Huawei and plans to implement open radio access network (RAN) technologies in the next two years, in line with Group strategy (although at what scale was not revealed).
Whether this longer-term shift tallies with the Greek authorities' planned timeline for Huawei kit replacement is not yet clear. According to MoveD, Broumidis indicated that Vodafone Greece will continue to work with Huawei in the short term, since a change in supplier for the RAN would delay the launch of its 5G network. Strand Consult has suggested that the operator's 4G RAN is fully based on equipment from Huawei.
Broumidis said Vodafone Greece uses a wide range of suppliers, including Huawei, however. He also said the operator's core network is based on Ericsson technology.
Vodafone Group has already confirmed that it is removing Huawei equipment from core networks across Europe at an anticipated cost of €200m (£183m) and over a five-year timeframe (Vodafonewatch, #183 and passim).
Regarding rivals, Strand Consult indicated that the Wind Hellas 4G RAN is 100%-based on Huawei kit, while Cosmote Greece relies on Ericsson and Nokia for its 4G RAN. In March, Cosmote selected Ericsson as its exclusive 5G RAN supplier (Deutsche Telekomwatch, #90 and #93).
Between a rock and a hard place
Greece, like many European countries, has been trying to maintain good diplomatic relations with both China and the USA, but finding it increasingly difficult. As described by The National Herald, Greece finds itself at a crossroads between wanting not only more Chinese investment but also US military support against "Turkish provocations".
According to Nikkei Asia, Huawei could be one of the losers after Greece and the USA sealed stronger ties with enhanced cooperation in the area of security and defence.
In his remarks to the press, Pompeo said he had raised US concerns over Chinese technology during the talks with the Greek prime minister.
"We are very proud that Prime Minister Mitsotakis and his team are developing and promoting Greece's digital frontier, including on 5G, and we're happy that they have joined the Clean Network as well", he said.

Anne Morris is a freelance journalist, editor and translator. She has been working as a reporter and news analyst for TelcoTitans since 2016.