Group partners with Out There Media following two RCS‑supported brand campaigns in South Africa.
Vodafone's Liz McCord: RCS Business Messaging is "the game‑changer the industry has been waiting for".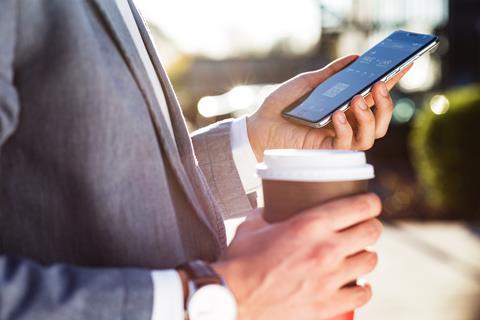 Vodafone is stepping up messaging on Rich Communication Services (RCS), with a growing emphasis on business‑to‑consumer use-cases and exploiting the RCS Business Messaging (RBM) channel.
The Group looks to have been quietly ramping up RCS activity following its high‑profile support of a Google‑backed reboot of the carrier‑led platform in 2016 (Vodafonewatch, #142). Vodafone conceded at the time that it had a lot of work to do to raise the penetration of two RCS‑based consumer services, message+ and call+, within its own base. In 2018, it also partnered with Infobip, with a focus on using the enterprise messaging solution provider's application programming interface to design RCS campaigns and enhanced messaging services (Vodafonewatch, #163).
Since then, it appears that Vodafone has been increasingly focusing its energy on RBM, such as by using the technology to support third‑party brand campaigns to improve customer engagement. The Group has now partnered with Austria‑based mobile advertising and data monetisation specialist Out There Media (OTM) to drive its business‑to-consumer RCS offering. OTM, which has worked with OpCos such as Vodafone Greece in the past (Vodafonewatch, 2009.02), has developed a platform called Mobucks, which is designed to link mobile operators with the advertising world by providing a single marketplace.
Together with the GSM Association (GSMA) and partners such as the Amdocs subsidiary OpenMarket, Vodafone first showcased RBM at Mobile World Congress 2018 (MWC) with a number of demonstrations, including a live promotion of the V‑Pet consumer Internet of Things solution.
Liz McCord, Principal Product Manager at Vodafone, describes RBM as the "game‑changer the industry has been waiting for", providing a "new messaging channel for mobile customers and brands alike". According to the GSMA, RBM provides brands with the "opportunity to increase their engagement with customers by making use of business messaging using chatbots and artificial intelligence [AI]".
"Our proprietary technology platform, Mobucks, produces a level of RCS experience not yet seen in the marketplace, and a viable alternative to current over‑the‑top [OTT] apps. By joining forces with Vodafone, we have created a unique, end‑to‑end, cloud‑based, and fully managed RCS solution, taking full advantage of the channel's ability to allow users to interact with brands without leaving their native messaging app. "

— Kerstin Trikalitis, Chief Executive, OTM.
Vodafone and OTM have already trialled the technology as part of two campaigns managed by Vodacom Group in South Africa. The campaign with The Walt Disney Company Africa made use of Vodacom's network for the 2019 release of the Lion King, while McDonald's used RCS for a Rewards programme.
McCord said the Disney and McDonald's campaigns "demonstrate the first large‑scale commercial RCS campaigns by big brands on the continent. The results were spectacular and prove the value of this new messaging channel for mobile customers and brands alike".
"With Vodacom and Out There Media, we ran some highly engaging Disney and McDonald's campaigns. The results highlight the potential of the channel and we look forward to continued success with further campaigns soon… RCS is a worldwide reality now. No more talk. It is there. It is robust and trustworthy. There is no spam. We make sure every single brand is verified and protected. "

— McCord.
Show me the money
Concerns have been raised about how mobile operators and partners will make money from business messaging, particularly given the proliferation of different channel alternatives to SMS messaging and RBM, including Apple Business Chat, Facebook Messenger, KakaoTalk, LINE, Viber, WeChat, and WhatsApp for Business.
Although the reach of RBM is expected to increase from five networks (in four countries) to 52 during 2019, the RCS ecosystem is "still struggling to find the best way to monetise business messaging", according to analyst firm Mobilesquared.
"At present, commercial launches of RBM have been priced in the same way as A2P [application‑to-person] SMS, that is to say on a per-event pricing model, primarily because billing mechanisms cannot handle anything else", Mobilesquared said. The concern is that RBM pricing could become too complex, as mobile operators "expand the commercial model beyond simple SMS‑like rate cards to include images, videos, rich cards, and carousels".
Mobilesquared noted that options to monetise the person‑to‑person (P2P) base — such as the introduction of a 'cost' model for P2P RCS pricing, targeting sponsored content sharing, and selling access to the P2P user base — are now being explored, as well as alternative A2P models such as revenue share, advertising, and search.
Oscar Gallego, Global Head of Smart Communication & Security at Vodafone, said in a presentation at MWC Americas 2018 that Vodafone's RBM service was commercially live in Italy, Spain, and the UK by end‑August 2018. The service supports versions 1.0 and 2.0 of the GSMA Universal Profile (UP) standard. Vodafone Spain, for example, provides a tool called itsmart messaging for small and medium enterprises, in collaboration with Spain‑based itsoft. A campaign run for Virgin Trains for customers arriving into London Euston was also described as the first commercial UP 2.0 campaign, and was supported by OpenMarket. However, despite some early signs that business messaging direct from a smartphone application produces an uplift in customer engagement, Gallego stressed at the time that further work was required to "realise the full potential of the RCS ecosystem".
It is fair to say that RCS has been slow to get off the ground, with concerns over the fragmentation of the specifications that dampened the technology's ability to gain reach and traction. It seems that efforts by the GSMA to drive momentum, such as through a series of collaborative GSMA RCS Business Messaging Awareness Labs around the world, are having an effect, combined with ongoing updates of the Universal Profile standard. Indeed, the GSMA estimates that RCS will have a potential market value of $74bn (£57bn/€67bn) by 2020 and said services have now been launched by 81 operators worldwide. It also expects to see an additional 27 operator launches by the first quarter of 2020. The 28th edition of the GSMA RCS Business Messaging Awareness Lab took place on 11 November 2019 in Cape Town, sponsored by Out There Media.
In April 2019, Mobilesquared predicted that RCS on Android‑based smartphones will "officially be the world's biggest business messaging platform" in 2021, with more than two billion P2P users, rising to 2.8 billion users by end‑2023. "2020 will be a key year for RCS in terms of scale — brands take note! Not only will it reach one billion users, but by the end of the year there will be 1.47 billion users, and the channel is now bigger than Facebook Messenger, WeChat, and Viber, and is on a par with WhatsApp", Mobilesquared said.