Goal of retail operation revamp.
Warehouse/store logistics based on "real‑time data".
Reduction in SAP data footprint by 90%.
IBM Services reportedly enables 50% faster migration to S/4HANA compared with traditional solutions.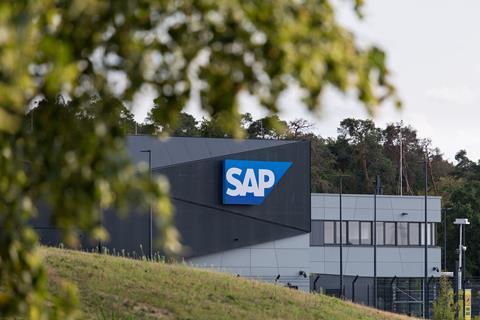 German software player SAP indicated that Vodafone Germany (VfD) had completed an extensive upgrade to S/4HANA, its new‑generation enterprise resource planning (ERP) solution.
Speaking on the provider's earnings conference call for the quarter to 31 December 2019, Christian Klein, co‑Chief Executive (CEO) of SAP, said VfD had gone live with the S/4HANA (SAP Business Suite 4 SAP HANA) ERP system. S/4HANA is designed to run solely on SAP HANA, the vendor's in‑memory platform for processing high volumes of data in real‑time. Vodafone previously made an investment in SAP HANA to help target corporate customers based in Germany (Vodafonewatch, #146).
SAP positions S/4HANA as a route for business transformation rather than merely a technical upgrade to SAP HANA.
"This is one of the largest go‑lives we have seen", enthused Klein. He hailed the VfD engagement as a "perfect example" of S/4HANA migration to the cloud from a "hybrid landscape", comprising both on‑premise and cloud‑based data facilities.
IBM and SNP in mix
VfD worked on the project in collaboration with IBM Services, a close IT partner of the Group. The vendor provided 'strategic guidance' on S/4HANA. "We were facing an aging ERP landscape, which no longer met our business requirements", said Annette Mahler, ERP Department Lead at VfD. "S/4HANA was the next logical step in our digital transformation", she added.
Mahler made her comments in a brief video, uploaded to YouTube in early‑November 2019, titled "Vodafone and IBM: answering the call to SAP S/4HANA with IBM Rapid Move". She said IBM, armed with IBM Rapid Move capabilities, offered "50% acceleration" compared with the traditional S/4HANA upgrade timeline, and that a 90% reduction in its SAP data footprint was achieved.
Andrew Worsley‑Tonks, SAP S/4HANA Leader at IBM Services, emphasised the importance of leveraging Vodafone's existing SAP investment in Germany to make S/4HANA installation more cost‑efficient. He indicated, too, that a "traditional upgrade and implementation" was not possible in the case of VfD. A 60% reduction in custom SAP code, which is not the norm, was apparently required to reduce development complexity.
Germany‑based SNP Group, which describes itself as a "transformation software company", helped IBM Services with VfD's comparatively swift S/4HANA upgrade. In March 2018, the two providers agreed to pool resources and SAP know‑how, combining SNP's data transformation engine with IBM Services' S/4HANA project management (including technical and functional expertise). The partnership was brought to bear on the German OpCo's SAP ERP upgrade. "[The SNP platform] provides better data quality", said Worsley‑Tonks.
Digital Logistics Hub
Prior to going live with S/4HANA, VfD flagged the ERP upgrade as part of its efforts to create a Digital Logistics Hub. The aim of the Hub is to enable the OpCo to enhance its retail operations by "infusing real‑time data into decision‑making".
"Our retail stores represent one of the most effective ways we have to engage with customers and prospects", said Mahler in a recent briefing paper on the S/4HANA collaboration with IBM.
"To keep pace [with competition and market trends in Germany], it's crucial that we anticipate consumer demand and keep our stores stocked with the optimal assortment and quantity of key product lines. 

"SAP S/4HANA will ultimately become the logistics system that integrates our entire retail footprint in Germany with our warehouses and distribution network. When we go live, all 9,000 of our business users will transition to the new platform. "

— Mahler.