EU initiative supports deployment of Vodafone-connected drone tech in Spain.
Clearance given by authorities to fly unmanned aircrafts beyond 500m.
Surveillance use-case comes to the fore — again.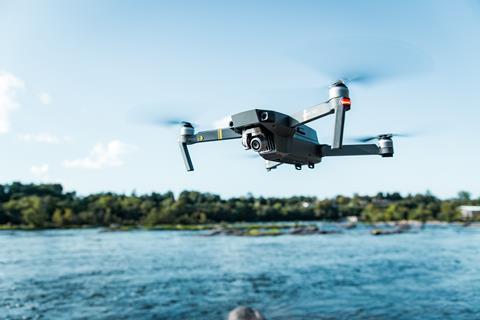 Vodafone Spain (VfS) highlighted the delivery of 4G and 5G connectivity to enable a beyond visual line of sight (BVLOS) drone surveillance system, leveraged by utility Naturgy.
Naturgy will use the system to monitor and inspect its nationwide network of electrical "power lines" throughout 2021, seemingly for upkeep purposes. Spanish drone startup FuVeX will supply the unmanned aircraft, which will be supported by the Group's in-house-developed Radio Positioning System — pitched as a "precise" drone tracking solution that not only provides players with accurate oversight, but reduces dependency on GPS satellites (Vodafonewatch, #163, #184, and #192).
The three-way partnership has won "indefinite" approval from the Agencia Estatal de Seguridad Aérea (State Agency for Aviation Safety) and ENAIRE (air traffic control) to conduct BVLOS drone inspections beyond a radius of 500 metres, something previously prohibited. The project will work within the parameters of the drone safety and security "framework" established by the European Union (EU)'s Robotics for Infrastructure Inspection and Maintenance (RIMA) research and innovation initiative (see below), for which FuVeX drones — marketed as being able to fly 80 times further than "conventional drones" — appear to be tailored.
The apparent aim is to underline various knock-on benefits to Naturgy (presumably laying the basis for further collaboration). These are expected to include greater operational efficiency and — given that inspections of assets would otherwise be carried out manually (requiring engineers to travel long distances) — a reduction in costs and carbon emissions. Naturgy's participation, moreover, no doubt flows from an established interest in helping develop new and 'impactful' cross-sector technologies, a central tenet of its existing partnership with Telefónica on the Europe-wide Start4big open innovation project (Telefónicawatch, #132).
Monitor this space
RIMA is a three-year (2019–2022), €16m (£14.2m) project funded by the EU's outgoing Horizon 2020 (H2020) initiative and coordinated by the French-based research body l'Energie Atomique et aux Energies Alternatives (the French Alternative Energies and Atomic Energy Commission). It heads an expansive ecosystem of Digital Innovation Hubs together with a network of industry and research partners. The aim is to promote and facilitate pilots of "inspection and maintenance"-focused robotic tech (sometimes by means of financial investment) for the benefit of multiple sectors, such as energy, infrastructure, and transport.
RIMA's support also extends to FuVeX (a graduate of the EU's Parsec Accelerator programme, which in turn is also funded by H2020). FuVeX, which holds office space in Navarre, northern Spain, was founded in 2015 by Carlos Matilla Codesal (Chief Executive) and Carlos Castellano Aldave (Technology Executive). The startup received a €50,000 grant from another EU and innovation-focused initiative — the EU Executive Agency for SMEs — in early-2016.
Meanwhile, VfS's involvement represents a continuation of the Group's go-to-market push around drone technology, with much of its recent activity in the space centring on the inspection use-case. Vodafone UK's partnership with Sees.ai, a remote drone control technology provider, flagged in November 2020, is another example. (Vodafonewatch, #192). In late-2020, the startup disclosed to Vodafonewatch that it believed the path towards large-scale commercial deployments of drone technology will likely begin with what it described as the "simplest" and "low[est] risk" use-case: remote inspection and monitoring of infrastructure at enterprise scale.

Sam Patterson is a Staff Reporter for TelcoTitans, contributing telecoms news analysis since September 2020 as part of the TelcoTitans Editorial team.