Read infers Group is better placed, post-Colao for economic downturn.
Della Valle confirms new, AT Kearney-inspired €1bn cost-cutting plan, after trailering move in late-2019.
No disruption to Read's M&A overhaul, beyond Egypt.
Targets hit but glitchy performance, both at OpCos and Vodafone Business.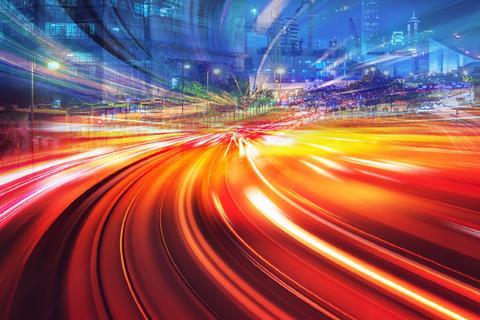 Vodafone's past decade of growth struggles, interspersed with various nasty competitive and operational surprises, has given its top executive team a rich well of experience when it comes to stakeholder reassurance. Their ability to present everything as fully under control was again on show as Vodafone reported its results for the year to 31 March 2020 (FY19–20), and provided the Group's first steer on strategy since the COVID‑19 pandemic.
The session was delivered from the homes of Chief Executive (CEO) Nick Read and Chief Financial Officer Margherita Della Valle, apparently to showcase Vodafone's communications service quality (with no majorly obvious glitches, other than a mute button mishap from Read and the odd bit of background family noise).
Reflecting the more informal setting, the top duo were relaxed and comfortable throughout. They differentiated Vodafone from main London Stock Exchange rival BT Group by telling shareholders that their dividends were safe from a further cut, following the "rebasing" announced a year ago (Vodafonewatch, #175). Key FY19–20 targets were hit, and as previously trailered, the disciplinarian Della Valle wheeled out another €1bn (£878m)-plus savings plan to maintain "momentum" on digital transformation and robot-based customer care (Vodafonewatch, #181).
Read and Della Valle were also in glass-half-full mode on COVID‑19 — optimistically (and perhaps a little conveniently) framing the crisis as fertile ground for their existing, high-level strategic ambitions, such as resetting of Europe's regulatory foundations, seeding of Read's Technology Communications Leader vision for Vodafone's enterprise business, and increased leveraging of the Group's German power base. Vodafone has never been the most flexible of organisations and, following a review of the pandemic impact, the Group's Board of Directors appears to have decided to stick to the Read formula.
City analysts looked to lap it all up, and the Group's share price was tracking up 7%–8% as Read and Della Valle were speaking.
First, what they didn't say
With the industry in flux, executives had a full agenda and some notable developments did not gain any airtime in the FY19–20 review.
There was no reference, for example, to the future of long-time Chairman Gerard Kleisterlee, who previously indicated that the Group's coming Annual General Meeting, in July 2020, will be his last. Whether Vodafone sees this as a time for stability, or a new broom, remains to be seen.
Chief Technology Officer Johan Wibergh did not feature, despite the Group having now ostensibly gone beyond the 2020-focused Gigabit Vodafone strategy he laid out when he joined Vodafone in 2015.
Group hits main marks…
At headline level, Read trumpeted FY19–20 as a "big delivery year" in terms of business performance.
Group revenue increased 3%, to €45bn — feeding, alongside cost savings, into a 2.6%‑increase in adjusted earnings before interest, taxation, depreciation, and amortisation (EBITDA), to €14.9bn. This landed neatly within Vodafone's uprated guidance range, of €14.8bn–€15bn. Before spectrum, free cash flow grew by 4.7% to €5.7bn, surpassing the Group's FY19–20 target of around €5.4bn.
Predictably, the Group hit its €400m target for cost-cutting during FY19–20 — delivering its one third-share of Della Valle's FY18–21, €1.2bn savings plan. The Italian is now moving Vodafone onto a recalibrated diet, aimed at shaving "more than €1bn" of expense over three years, via cutbacks across customer care, distribution, and shared services. Confusingly, there is overlap between the two schemes, with the current year's €400m brief retained but now forming part of the new plan. Both FY21–22 and FY22–23 are tabled for €300m reductions, bringing Vodafone up to the new €1bn target.
… but still far from a smooth and consistent machine
Despite this solid performance, there continued to be a mixed picture across the Group's footprint.
Gearing around Vodafone Germany (VfD): Düsseldorf continued to build on its position as the centre of Vodafone's world, despite its London listing and HQ. Following recent M&A and one‑off investment programmes, VfD generated nearly 40% of the Group's operating free cash flow across FY19–20. Executives seem happy to embrace this level of reliance, with Della Valle welcoming the fact that Vodafone was "relatively more exposed to Germany" in the wake of the pandemic. With Vodafone having pulled away from numerous volatile and insignificant territories over the past few years, to focus primarily on Europe, there appears now to be an increasing tendency to differentiate and tier its businesses inside the region too.
Other big European OpCos still battling away: with VfD seeing only flat service revenue in recent quarters, and some other OpCos continuing to contract, Vodafone's long search for growth in its Europe Region goes on. Vodafone Italy (‑3.7%) and Vodafone Spain (‑2.7%) eased their rates of organic service revenue erosion in Q4, but not enough to bring the division into forward gear overall (‑0.4%). Executives acknowledged southern European markets, and particularly Spain and its summer tourism-geared economy, will see significant pain from COVID‑19 travel restrictions.
Home market comfort: Vodafone UK's (VfUK) slow-motion-revival was again highlighted, with the OpCo seeing 1.2%-service revenue growth in Q4 and a big increase in margin during H2 (+3.4 pp, to 25.3%). Read assured that the OpCo was now "really performing" and played down the competitive impact of the pending Telefónica UK (O2)–Virgin Media merger, expressing belief in the Group's "organic strategy" in its home market. He also looked to position VfUK as a BT fibre "anchor tenant", which raises some questions over long-term integration of fixed and mobile fibre assets, considering VfUK's Cornerstone joint venture (JV) with O2.
Gaps in the EU Cluster trailbreaker narrative: Vodafone's collection of smaller Europe Region businesses, outside of the 'big four', have recently been held up as Group pioneers on digital transformation and efficiency. There were no plaudits this time, however. Vodafone Ireland saw a major dip in service revenue during Q4 (‑3.6%), with no explanation other than pain from "increased competition in both mobile and fixed". It saw a major end‑FY carrying value writedown (‑€630m, alongside -€840m impairments for Vodafone Spain and ‑€110m for Vodafone Romania). Rather than driving productivity, Vodafone's Other Europe line of smaller OpCos produced a slight decline in EBITDA margin during H2 (‑10bp, to 30.4%).
Arduous journeying at Vodafone Business: Vodafone remained coy on financial performance at its business-to-business (B2B) operations, and although Read continued to talk up an opportunity for growth by challenging established rivals in fixed-line and SD‑WAN, the exact state-of-play with the Group's Vodafone Business division remains unclear. As recently flagged by Vodafonewatch (issue #185), there are major question marks over Vodafone Automotive, apparently heightened by COVID‑19, and the unit was written down by €105m in the results statement. Internet of Things (IoT) performance continued to be discussed in terms of connections growth, rather than financial metrics, and it was noticeable, and remarkable, that Read described Vodafone as in the "early" phase of IoT rampup.
COVID-19: seeing the positives
Operationally and financially, Vodafone's post-COVID‑19 message was that matters are in hand, although the operator left some room to change tack if markets' "exit" from the pandemic goes particularly badly, or well.
The Group's slides inferred that as a business, Vodafone has been functioning effectively (and perhaps more effectively, even) since COVID‑19 measures were put in place. It indicated 100,000 of its staff have been working from home and while doing so, are slightly more likely to report that they feel connected to their team and are "living the Spirit of Vodafone". They have also been "working longer hours", at least in terms of virtual meetings, according to one graphic.
Financially, lockdown measures were said to have had only a limited impact on FY19–20 numbers, but the outlook for the current fiscal year has been significantly muddied.
Vodafone's already minimal forward guidance has been trimmed further, with official adjusted EBITDA forecasts removed, at least until November 2020, when the Group is due to report its H1 figures. Vodafone's "view", rather than formal guidance, is that earnings will be "flat to slightly down" for FY20–21, but it stressed this was based on an unclear macro vision. Free cash flow forecasts have been retained and Vodafone is expecting this figure to reach "at least €5bn" in FY20–21, which would be down on FY19–20. Della Valle suggested the Group would have experienced "good growth" this FY, if not for the pandemic. She deemed Vodafone "resilient… but not immune" to the crisis.
Roaming and enterprise pain
Drilling down into commercial trends Vodafone expects from the pandemic, there was a similar picture to those painted by other operators that have reported results since the crisis.
Roaming revenue has naturally taken a major hit (‑65%–75% in March 2020–April 2020), and Della Valle made the warning, mentioned above, over how restricted travel could affect southern European OpCos in the coming months. Drags have been seen on small- and medium-size enterprise (SME) payments and large corporate projects and tenders, with further "gradual deterioration" expected going forward. The SME pressures could feasibly be a further motivator for the dedicated, small business tariffs Read flagged were in the pipeline earlier in 2020 (Vodafonewatch, #183). As per other telcos, churn is said to have dropped during national lockdowns, but it seems unlikely that this will continue as consumers adjust to more difficult circumstances and shop around.
There were interesting comments from Read regarding Vodafone's ability to weather a competitive storm as recession hits key markets. Again, the CEO sought to distance himself from predecessor Vittorio Colao, and how the Italian was wedded to a focus on higher-value customers even as millions of users churned away from its businesses. Read made the (somewhat arguable) claim that Vodafone was well placed to take advantage of an apparent "appreciation of quality" that has come out of the pandemic. He also stressed the Group was now better placed to retain optimising consumers through speed-tiering, artificial intelligence-based pricing, and second brands. "Our business is very different to what it used to be", he claimed.
Read not knocked off track, but is tail wagging dog on post-COVID-19 strategy?
Strategically, Read and Della Valle assured that Vodafone had not been blown off course when it comes to delivering their key, M&A-based restructuring projects, aimed at improving asset utilisation, cost discipline, and debt reduction.
Vodafone highlighted the near-complete TPG Telecom–Vodafone Hutchison Australia merger, wrapped-up exits in Malta and New Zealand, and consummated tower merger with INWIT in Italy, as evidence of its concerted "portfolio activity" during FY19–20.
The sale of the Group's Vodafone Egypt stake has been disrupted, however, and the Group's release indicated it was now "planned to occur" by March 2021, against its original 30 June 2020 target (Vodafonewatch, #185). Nonetheless, the deal was said to be "progressing". There was no such assurance over the long-delayed Indus Towers–Bharti Infratel transaction in India, however. It is now tabled to go through in late-June 2020, but both parties have the option to pull out before then.
The Group remains "on track" to perform a flotation of its new European TowerCo in early‑2021 — key to efforts to reduce its net debt, which ballooned to €42.2bn during FY19–20, following the four-country Liberty Global business buyout. Vodafone confirmed the deal had added €18.5bn to its borrowing pile, through cash payments and onboarding of debt, with only €4.4bn recouped through the transactions in Italy, Malta, and New Zealand.
Read reiterated, once again, that no "new equity" will be injected into stressed Indian JV Vodafone Idea.
Vodafone's M&A work "done"
A striking but brief note in Vodafone's statement indicated that in terms of M&A, the "optimisation of our portfolio is now substantially complete". While this wording leaves room for some tweaking of Vodafone's assets, it suggests major deals are now off the table — and this, in turn, shines a spotlight on the Group's presence in key markets, like Italy and the UK, where it has done nowhere near the level of convergence-led deal-making seen elsewhere, and particularly Germany. It also suggests the OpCo fire sale seen in recent years may not extend further into its European core, to territories like Spain (where an exit has been mooted in the local media) and the Netherlands (where options have been opening up around the Group's VodafoneZiggo stake, and Liberty's Belgian business Telenet has been angling for a combination with the Dutch JV). Another indication that Vodafone has got its 'portfolio' into shape is that it has opened up data on return-on-capital expenditure, and integrated it within executive incentives.