German OpCo engages in Kiel project to trial autonomous passenger ferries.
Plans further buildout of 5G coverage along Germany's waterways.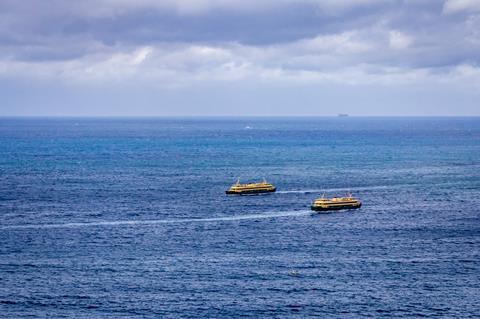 Vodafone Germany (VfD) is deploying 5G technology at the Port of Kiel to support the Förde 5G project in the field of inland maritime transport at the North German port.
The project aims to explore how 5G can support the partial, and eventually full, autonomous operation of passenger ferries, as well as port logistics, sailing, and maritime sports.
The 5G network will provide coverage for the inner part of the Kiel Fjord, which is a 17-kilometre inlet of the Baltic Sea. VfD said it will "soon" activate nine 5G antennae at three locations.
VfD indicated that the Kiel deployment ties in with wider efforts to provide 5G connectivity along Germany's waterways. The OpCo said it had already activated 180 5G antennae at 64 locations, and plans to bring into operation a further 1,000 antennae at more than 300 locations in the coming twelve months.
5G finds its sea legs
Förde 5G is one of a number of projects that falls under the Clean Autonomous Public Transport Network (CAPTN) initiative of Christian-Albrechts-Universität (Kiel University/CAU). The broad aim is to develop autonomous bus and ferry services, with a pilot application in Kiel. The project began following the city of Kiel and CAU's participation in the 5G Innovation Competition within the framework of the '5x5G strategy' of the Federal Ministry of Transport and Digital Infrastructure (BMVI). The Ministry provided initial funding of €100,000 for the development of a 5G project. If successful, the BMVI will provide further funding of up to €4m (£3.6m) for the implementation of the project in the coming years.
The letter of intent for the Förde 5G project was signed on 18 August 2020 by Hannes Ametsreiter, Chief Executive (CEO) of VfD, Ulf Kämpfer, the Mayor of Kiel, Bernd Buchholz, Minister of Economic Affairs, Transport, Employment, Technology and Tourism in the state of Schleswig-Holstein, and Karin Schwarz, Vice-President of Kiel University. Also supporting the project are:
ADDIX Internet Systems, the Germany research unit of Austrian engineering specialist AVL.
visualisation specialist HH-Vision.
bridge navigation systems provider Raytheon Anschütz, a subsidiary of US aerospace manufacturer Raytheon Technologies.
Port of Kiel.
Wissenschaftszentrum Kiel, part of the Kiel Science Park.
VfD has previously partnered with Airbus, Thales, and the state of North Rhine-Westphalia as part of efforts to target different 5G applications, and support 5G in planes, trains, and automobiles (Vodafonewatch, #180). The OpCo has emphasised the importance of network slicing and mobile edge computing (MEC) to support new use-cases such as these. It also set up the 5G Mobility Lab in August 2017 (Vodafonewatch, #158). Working alongside various technology providers and car manufacturers, including the 5G Automotive Association (5GAA) — of which Vodafone is a member — VfD has tested Cellular Vehicle to Everything (C-V2X) capabilities (Vodafonewatch, #163, #177, and #180). The network of federal waterways in Germany comprises 7,476 kilometres of inland waterways, about 75% of which are rivers and 25% are canals. Also included are 23,000 square kilometres of sea waterways, 450 lock chambers, two dams, and more than 100 modern public sea and inland ports.