With TV no longer the side-project it once was for Vodafone, the Group is seeking to create deeper insight into how subscribers are using its services.
AI and automation integrated within Vodafone TV Analytics platform.
Move seeks to inform and support technology operations, media partners, and procurement.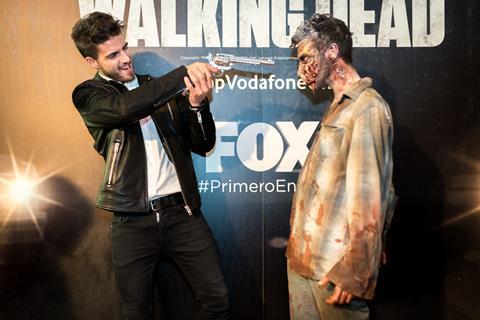 Early‑2020 will mark a decade since Vodafone flagged a step‑up in pay‑TV ambitions, by filing for registration of "Vodafone TV" as a trademark.
The Group had long expressed interest in the TV space, prior to the move — having gestated various video‑led services since at least the mid‑2000s, then highlighted various iterations of strategy, partnerships, and platforms in the interim.
However, it is only with Vodafone's convergence‑led M&A spree, initiated in 2013, that it has fully realised these ambitions and gained a sizeable pay‑TV presence.
It now has more than 13 million subscribers across its core European heartland, and major positions in Germany, Spain, and the Netherlands — and that is before the eight million-plus ('basic' and 'enhanced') TV users the Group stands to pick up through its four-country buyout of Liberty Global cable operations, covering Czech Republic, Germany, Hungary, and Romania, if the deal is cleared.
This will propel Vodafone beyond Liberty in the regional pay‑TV market, and inevitably force new thinking on TV's role in the Group's future.
Diving in at the deep end
As a comparatively fresh area of business for Vodafone, tactical and strategic intelligence around TV services is no doubt of key importance for the Group's management.
The many hazards pay‑TV providers are currently having to navigate through, such as the shift from linear to 'anywhere, anytime' delivery, over‑the‑top (OTT) disintermediation and cord‑cutting, and management of content rights acquisition expenses, have been widely reported, but remain problematic.
At the same time, Group and OpCo commercial strategies are constantly evolving, adding complexity to the task of understanding TV services' role in broader customer experience.
The Group's focus on ensuring that TV services fit with wider business objectives, and are viable, has been demonstrated regularly over recent years. Particular cases include Vodafone UK's continued hold on the 'pause' button of Vodafone TV launch plans, stretching back to 2016, and Vodafone Spain's (VfS) decision to pull out of major football coverage in 2018 (Vodafonewatch, #150, #167, and #170).
Both moves have been questioned, and in the latter case derided by competitors as illogical. But Vodafone has stood behind its analysis, asserting that by taking these steps, it is preserving profitability. "Football rights in Spain are, quite simply, uneconomic", asserted Chief Executive Nick Read (then Chief Financial Officer) when announcing VfS' move.
Vodafone TV Analytics expansion project
Recent weeks have seen behind-the-scenes expansion of Vodafone TV Analytics, an asset that Vodafone has been quietly building to gain deeper visibility into usage of its pay‑TV services, and inform decisions on future direction.
Enabled by Celfocus, Vodafone Portugal's (VfP) systems integration joint venture with IT group Novabase, the platform powers dashboards for (Group and OpCo) executives to track data on user behaviour and video content consumption, as well as to monitor service performance in different markets.
Developed in association with the Group's TV Hub and Video Centre of Excellence (VCoE) in Portugal and Germany, respectively (Vodafonewatch, #149), Vodafone TV Analytics represents a "central repository that provides a common way for all OpCos to collect, process, and visualise their own information, taking advantage of a big data platform on the cloud with real‑time KPI [key performance indicator] calculation capabilities", says Pedro Mota, Head of Analytics at Celfocus.
The platform purportedly gathers data from more than one million registered households within the Vodafone TV footprint, drawn from TV devices, mobile terminals, and the content management systems of Group TV partner Kaltura.
The data it offers up is said to be set against more than 100 KPIs, bundled within four main categories: management (such as average revenue-per-user, or subscription revenue); product (content and feature usage); operations (diagnosis of system errors); and marketing (user segmentation, and media reporting requirements for content partners, fed through Kaltura and digital rights management technology enabler NAGRA).
Group Network Operations monitors the platform via a distinct "front-end", called the Vodafone TV Umbrella, but is one of several Group 'stakeholders' in the analytics project, also including Group Security, the VCoE, and OpCos themselves.
The Vodafone TV Analytics platform is run from Celfocus' headquarters and based on Amazon Web Services (AWS) infrastructure. According to Paulo Duarte Silva, Head of Digital TV at Celfocus, the platform is "deployed 100%" on this AWS cloud — and is therefore fully aligned with Vodafone's Group-level Gigabit Vodafone strategy, which aims to migrate 65% of all Vodafone's IT applications to the cloud by 31 March 2020 (Vodafonewatch, #160 and passim). Although the cloud deployment "posed some challenges, mostly [around] connecting to Vodafone premises and some Vodafone third-party vendors", Duarte accentuates the "flexibility and the speed of deployment" it provided, saying it enabled the platform to be implemented in a "quick and reliable way without some of the traditional dependencies associated with an on‑premises deployment". For big data analytics, Vodafone TV Analytics is based on Elastic, Cloudera, and AWS software-as-a-service tools.
AI in the sky
In March 2019, the Vodafone TV Analytics toolset was further expanded with the addition of a Video Insight Platform (VIP), in development since 2018.
This, says João Gonçalves, VTV Engineering Manager at Vodafone TV Engineering in Portugal, extends service monitoring capabilities into the realm of artificial intelligence for operations (AIOPS). The VIP will provide a "reliable and scalable solution with the ability to cover all types of business analytics needs", including descriptive, diagnostic, predictive, and prescriptive analytics, he says.
Duarte describes the VIP as a "big opportunity for us to improve customer satisfaction" by applying machine learning and automation of techniques, such as remote diagnostics, to accelerate detection and prevention of anomalies.
Also currently being implemented within Vodafone TV Analytics is a TV API Gateway, to create a security and orchestration layer between Vodafone TV devices and back‑end systems, and decouple (and thus enable enhancement of) features. "Phase one" of the project — which enables a proxy mode for existing APIs — is now "ready to reach the production environment", says Duarte.
Armchair expertise
While future plans for Vodafone TV remain under wraps, proponents of cloud‑based TV delivery continue to position it as a route to service innovation and business model transformation, especially as Gigabit networks gain reach and traction.
Media procurement is a particular balancing act for Vodafone in TV, as an avowed 'content aggregator' rather than 'big spender' on rights, and given its eagerness to restrict expenditure while maintaining some level of product differentiation. Vodafone TV Analytics already supports content buying decisions by measuring media consumption and enabling A/B testing for the Vodafone TV video-on-demand content catalogue. In future, one might suspect the platform could also play a role in technology choices for Vodafone TV, with Group leadership having again recently mooted plans to consolidate the Group's disparate legacy TV platform line‑up (Vodafonewatch, #168).
Advances in real-time analytics are being pitched as a means to bring a new level of personalisation to content selection and delivery. Speaking at the Vodafone‑backed Arch Summit, held in Luxembourg during March 2019, Dr. Shay David, President & General Manager of Media & Telecom at Kaltura, flagged cloud‑based TV as a "huge opportunity to use the data in a meaningful way and actually understand who the audience is".
He described three 'knowledge graphs' focused on device usage, content consumption, and customer intelligence, but suggested Vodafone could go further by mining smartphone user location data, within privacy norms. "Telecom providers like Vodafone have a fourth knowledge graph, which is around location", he said. "That presents a tremendous opportunity around what we call 'cognitive TV', to really understand who those users are. The end‑game, I think, would be to use all of that data not only to drive user behaviour, but also to drive content", he added.
Another opportunity referenced at Arch Summit — which could hypothetically lead on from Vodafone TV Analytics' content reporting abilities — is data‑led TV advertising marketplaces. Paolo Ceccherini, Solution Family Lead for Digital Video Services at Hewlett Packard Enterprise, cited new opportunities for service providers based on analytics. "For example, they could create some kind of virtual marketplace where advertisers, e‑commerce [players], and traditional content providers can meet and monetise all the information that is [produced by] this technology… There will be a new model in the next few years", he added.
Seven on board; Czech and New Zealand next up
Geographically, the Vodafone TV Analytics project is also expanding its reach.
When it kicked off in the first half of 2017, it was set up with an initial focus on two OpCos: VfS, which has the Group's third largest TV base, largely thanks to the 2014 buyout of Spanish cableco ONO; and Vodafone Italy, which was then a TV‑newcomer after debuting Vodafone TV in late‑2016 (Vodafonewatch, #155). This first phase established "baseline infrastructure" to support the two businesses, says Duarte.
Since then, five further OpCos have been "on‑boarded" (Vodafone Germany, Vodafone Greece, Vodafone Hungary, VfP, and Vodafone Romania), and another two are "in the pipeline" (Vodafone Czech Republic, which is now performing integration; and Vodafone New Zealand, which is scheduled to bring the platform live by the end of 2019). Among in‑Group TV players this leaves outside the current Vodafone TV Analytics ecosystem are Vodafone Hutchison Australia, Vodafone Ireland, and VodafoneZiggo.
The broader rollout of the platform has thrown up some "interesting" contrasts between different markets, when it comes to user preferences and habits, says Gonçalves.
"Although the service is in its initial steps in most of the countries, it is interesting to verify that some behaviours are different on a market per market basis. In some countries, most of the STBs [set-top boxes] are connected via Wi‑Fi while in others almost all the STB are connected using an Ethernet cable. In some countries, the service usage is mainly driven by EPG [electronic programme guide] events while in others almost all the usage is driven by video-on-demand. It is also interesting to identify that iOS versus Android usage has some impact on the user behaviour. "

— Gonçalves.