Wholesale deal with Telefónica aims to secure Liberty merger go‑ahead.
Vodafone also commits to deliver OTT TV services in Germany.
DT and broadcasters remain unimpressed.
EC pushes back deadline again on merger investigation.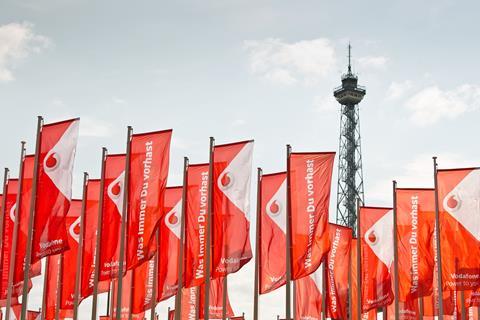 In a move designed to allay competition concerns about its proposed four-country takeover of cableco businesses belonging to Liberty Global, Vodafone struck a deal with Telefónica Deutschland that will give the Spanish telco wholesale access to its cable networks in Germany.
Details of the arrangement were scant, other than it was signed on a "long-term basis", and that Telefónica committed to paying for a minimum level of customers over the term of the contract. Vodafone insisted that its rival will be able to offer "competitive broadband", notching speeds of up to 300Mbps.
Markus Haas, Chief Executive of Telefónica, said financial terms of the arrangement were devised on a commercial basis, rather than looking to regulators for pricing guidance. Any objections Telefónica might have had about the Vodafone–Liberty merger have all but disappeared, with Haas stating that "we believe this deal… enforces a third nationwide player to create competition" in the country. Vodafone claimed that the wholesale deal, which covers the cable networks of both Vodafone Germany (VfD) and Unitymedia, Liberty's operation in Germany, will enable Telefónica to market broadband services to 23.7 million households.
The wholesale agreement is part of a bigger 'remedy package' by Vodafone to try and oil the wheels of merger approval. The package includes a further commitment to set aside enough capacity on the combined network to distribute over‑the‑top (OTT) TV services. Both measures, asserted Vodafone, "will enhance broadband competition in Germany to the benefit of consumers and broadcasters".
The remedy package is contingent on the European Commission (EC) giving the green light to the broader Liberty tie‑up. Vodafone not only has its eyes set on Unitymedia, but also its sister businesses in the Czech Republic, Hungary, and Romania (Vodafonewatch, #165 and passim).
Deadline dodgers
When Vodafone announced the Telefónica deal in early‑May 2019, the EC intended to undertake market testing of the remedy package during the remainder of the month. A fortnight later, the EC extended its merger investigation deadline from 9 July 2019 to 23 July 2019. No explanation was given for the extension, although the proposed remedy package no doubt generated extra work. There is a general sense, however, that the process of weighing up the pros and cons of the merger, which the EC began in December 2018, is more complicated than initially thought. The broken 9 July 2019 deadline was itself an extension of a previous 18 June 2019 deadline.
DT puts boot in…
Aside from a decline in broadband competition, another concern for the EC is increased bargaining power for the beefed‑up merged entity with broadcasters and content providers — something which Vodafone evidently thinks it can assuage with its OTT commitment to TV broadcasters.
It is the media part of the merger that has raised the hackles of main rival Deutsche Telekom (DT). "We're opposing the merger because of the concentration of the TV market, not [the] broadband market", said Christian Illek, Chief Financial Officer at DT. Illek was unimpressed by Vodafone's remedy package and professed to share the worry of housing associations — cable operators' traditional preserve — about rising retail prices.
Illek's altruistic concern may well be genuine, but DT no doubt realises it has little room to complain about concentration in Germany's broadband market when it has the lion's share. According to broker house Jefferies, Telekom Deutschland (TDE) holds 40% of Germany's broadband market. A combination of VfD and Unitymdia, on the other hand, will have a smaller 34% share.
Another worry for TDE is that the Vodafone wholesale cable deal would give Telefónica a broadband boost. Heavily reliant on wholesaling souped-up copper lines from the incumbent, Telefónica has fallen behind the broadband pack. Jefferies calculates its broadband share at 6%, down from 14% in 2006.
…along with broadcasters and housing associations
German broadcaster VAUNET was also unenthusiastic about Vodafone's concessions. Harald Flemming, Managing Director at VAUNET, argued that the remedy package was little more than what Vodafone was obliged to do under existing laws. "The opening up of broadband access to equal, non‑discriminatory conditions is already laid down in telecommunications regulation", he asserted, adding that "maintaining net neutrality must be a matter, of course, even without a commitment".
Flemming echoed DT in arguing that the merged entity, accounting for about 80% of cable TV subscriptions in Germany, would have excessive bargaining power in determining commercial conditions for the airing of content. Opening up the combined network to OTT content, he argued, would make little difference in VAUNET's commercial dealings with the "new monopolist". Flemming also complained that Vodafone's proposed measures "do not in any way consider our concerns in the area of cable distribution beyond IPTV and OTT".
Others expressed disquiet about the proposed merger. GdW, a German housing association, worried that prices for bundled internet, telephony, and television services could rise if the merger goes ahead.
"The EU Commission has rightly expressed massive competition concerns to the parties involved in the merger in areas including fibre-optic network deployment, internet and telephony, as well as TV signal delivery to apartment blocks. Vodafone's current commitments largely ignore these remarks and are economically worthless. "

— Axel Gedaschko, President, GdW.