Italy's plan to create a single national broadband network moves closer, but deal still has some hurdles to overcome and Vodafone CEO Read signals he is opposed.
Beyond broadband network, project might include 5G, edge computing, cloud and data centres, creating further strategic complexity for Vodafone's Italian interests.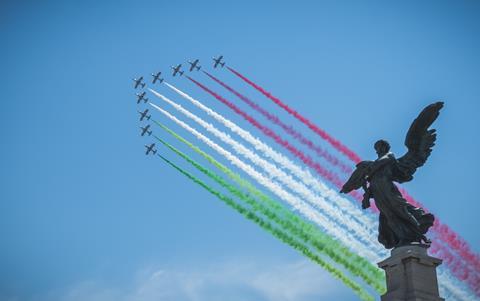 As Italy is poised to create a single national broadband network, it didn't take long for Vodafone Chief Executive Nick Read to raise objections and argue that the plan likely goes against European Union law.
In an article published in Politico, Read describes the Italian government's move to merge Telecom Italia's (TIM) fixed-lined access network assets with fibre wholesaler Open Fiber as an effort to "recreate the fixed-line monopoly in the country that previous governments and EU institutions over time had dismantled". Read writes that "reverting to a failed monopoly model cannot possibly be good for either competition or investment. It also contravenes four decades of anti-monopolistic policy and EU law".
Read's comments escalate the objections already raised by Italian competitive operators and signal that the national broadband network plan will have a difficult time clearing all the necessary regulatory hurdles.
For Vodafone Italy (VfIt), the single network plan means that its fibre-to-the-premises partner Open Fiber will be folded into an entity majority owned by incumbent TIM, and this will be VfIt's only major fixed-line wholesale option in the country (Vodafonewatch, #174 and #182).
In late-August 2020, VfIt, Sky Italia, and Wind Tre issued a joint statement about the plan, sounding a note of caution and urging the government to ensure that the new network entity remains independent. In contrast, Read's comments in the Politico piece do not sugar-coat the situation and call on the European Commission to get involved.
While it is not clear whether he had any hand in the Italian infrastructure plan, Read's predecessor Vittorio Colao earlier in 2020 led a task force focused on reviving the country's economy, post-COVID-19.
Plan for Italy's single network takes shape
After protracted and complex efforts, agreements reached at the end of August 2020 between operators, investors, and the government pave the way for the merger of TIM's fixed-line access network assets and Open Fiber to create a national AccessCo.
To get to this point after many months of discussion, TIM agreed a deal with Kohlberg Kravis Roberts Infrastructure (KKR) and Fastweb to create a new company called FiberCop. TIM will transfer its passive copper and fibre access infrastructure (e.g., ducts) into FiberCop, along with the assets of Flash Fiber, a fibre-to-the-home (FTTH) joint venture of which TIM owns 80% and Fastweb 20%.
TIM also agreed to sell a 37.5% stake in FiberCop to KKR for €1.8bn (Vodafonewatch, #188).
FiberCop's ownership breaks down as follows: TIM will have a 58% stake; KKR will have 37.5%; and Fastweb will have 4.5%. The company will operate according to a co-investment model, offering passive copper and fibre access services to service providers. The first operator to sign up to the new company's model was Tiscali, which agreed terms with TIM to participate in FiberCop's "co-investment plan".
FiberCop + Open Fiber = AccessCo
These agreements and the establishment of FiberCop lay the groundwork for TIM's access network to be merged with Open Fiber into a single entity with the aim of accelerating the rollout of FTTH, which has been the government's goal for some time.
TIM agreed a letter of intent with state lender Cassa Depositi e Prestiti (CDP) to merge FiberCop with Open Fiber, which is co-owned by state utility company Enel and CDP, to create a unified network player called AccessCo. Under the agreed terms, TIM will own at least 50.1% of AccessCo.
While TIM will have a majority stake, AccessCo will be jointly controlled by TIM and CDP and open to co-investment from other operators, and importantly from an alternative operator's point of view, "characterised by the absence of vertical integration links with respect to network access services", according to CDP's statement.
The state lender's announcement about the agreement appears eager to assure that the move does not signify a return to a nationalised telecoms monopoly or a resurgence of anti-competitive behaviour. CDP claims that AccessCo's "high autonomy and independence" can be guaranteed by an "innovative corporate governance system" and new "regulatory regime". These measures, it says, will ensure the network's "third-party status under the profiles of equal access, investment decisions, pro-competitive effects, and the high quality-of-service standards".
Sounds good, but…
The CEOs of VfIt, Sky Italia, and Wind Tre were invited to meet with government ministers and CDP's CEO, who explained their plan to guarantee that the single network provides a "competitive, transparent, and neutral market".
In a joint statement, the three operators said the meeting was constructive and that they appreciated the government's openness to involve them in discussions at this early stage. Overall, their reaction to the plan was positive, but they stressed that it is still an initial plan and that there are still many important decisions to be made about how the new network will be governed and regulated.
The meeting allowed them to express their views on the "strategic and operational independence of the new company" and said that this independence was "crucial" to achieving the goal of faster and wider deployment of the "ultra-broadband network".
According to the joint statement, "corporate and governance agreements — for which the independence and leading role of CDP have been confirmed — will be crucial to achieve this goal, as well as the operational details in the implementation of the project that include pricing mechanisms, business practices, and assistance and service practices".
With its long-lived shadow incumbent strategy, Vodafone has previously appeared warm towards the prospect of Open Fiber and TIM linking up on fibre — but less so on any prospective full merger between the two operators (Vodafonewatch, #165, #170, #171, #184, and passim). Clearly, VfIt will want to be closely involved in devising the regulatory and governance structures.
Next steps for FiberCop and AccessCo
TIM and CDP are aiming for both deals to create FiberCop and AccessCo to be completed by 31 March 2021, but there is a long way to go before completion. AccessCo is subject to the "consent of other parties involved and to the completion of the related evaluation and decision-making processes", according to CDC.
Fitch Ratings previously flagged several hurdles that could stand in the way of any merger when the discussions were still evolving: "We believe governance, control, future regulation of the unit, and valuation of the entities involved are likely to be key obstacles to overcome", the ratings agency said.
As all involved iron out the governance, regulatory, and valuation details, CDP said that it will seek interest from other operators to participate in the AccessCo operation, potentially by contributing assets and resources.
Beyond the single broadband network, CDP and TIM said they will consider cooperating in other areas such as "5G, edge computing, data centre and cloud", but did not provide further details.

Michelle Donegan is an experienced telecoms writer and has been contributing as a reporter and news analyst for TelcoTitans since July 2020.