Road safety‑focused V2X platform STEP set for early‑2022 commercial launch.
Vodafone drives connectivity via edge network, with HERE and Porsche among a stable of partners.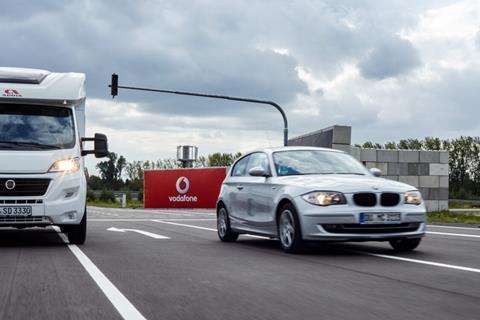 Vodafone Germany is set to launch an "open" vehicle‑to‑everything (V2X) platform designed to improve road safety using the operator's multi‑access edge computing (MEC) technology.
The platform includes a V2X message broker, enabling users to distribute and ingest standardised data from sensors on so‑called vulnerable road users (cyclists and pedestrians, primarily), connected vehicles, and connected roadside infrastructure and street furniture.
The Safer Transport for Europe Platform (STEP), was announced at Connect Conference 2021, a 5G and e‑mobility conference held this week. It is due to go live in early‑2022, said Guido Gehlen, Head of Connected Mobility Technology at Vodafone Germany. He added that, as the name suggests, "this is not a local offer, we want to expand it all over Europe".
Beyond Germany, Vodafone Group flagged its intention to build an "ecosystem of connected vehicles, cyclists and pedestrians across Europe and Africa" in mid‑2021, following trials at the UK's Connected and Automated Mobility (CAM) Testbed led by Vodafone with support from Chordant and Nokia (Vodafonewatch, #198).
Platform development is currently at the minimum viable product stage, which means it is capable of creating hazard reports in real‑time, distributing those reports to road users. Among the challenges of commercialisation for STEP, Gehlen said, was that connected mobility hardware is not yet as ubiquitous as required. That, he explained, was part of the motivation to make the platform open — to encourage automakers, local transport authorities, and other network operators to run with it, with the platform delivered via a software‑as‑a‑service model.
" Our customer becomes virtually the entire road infrastructure, but also specifically automobile companies, to exchange messages that they do not necessarily have the expertise for. "

— Gehlen.
The platform was described as an over‑the‑top application to allow automakers to utilise Vodafone's message brokering and MEC expertise, without the need for in‑house specialists.
A team effort
STEP appears to bring together a number of Vodafone Germany's recent V2X research and development initiatives.
Data is gathered from sensors fitted to vehicles and road‑side infrastructure and from a smartphone app for pedestrians and cyclists. This data is then exchanged via Vodafone's V2X Message Broker, developed in partnership with Munich‑based message queuing telemetry transport (MQTT) specialist. MQTT technology enables the V2X Message Broker to dissemination large amounts of data between vehicles and static infrastructure over 4G and 5G networks, addressing latency challenges typical in real‑time data gathering.
The message broker then distributes anonymous data in a standardised format to edge services, including Vodafone's own Digital Roads, Intersection Assistant, and VRU Awareness modules. Although details were not issued about these solutions, partnerships with mapping specialist HERE Technologies and automaker Porsche were said to be involved. The trio have been testing real‑time warning systems for connected vehicles, underpinned by 5G networks and precise location tracking technology.
The platform announcement follows a number of R&D projects with a handful of other partners, flagged in the past few months by Vodafone Germany, including with BMW and Porsche (Vodafonewatch, #200).

Joseph Purnell is a Staff Reporter for TelcoTitans, contributing telecoms news analysis since 2019 as part of the TelcoTitans Editorial team.