Apparent pragmatic row-back on opposition to private spectrum allocation.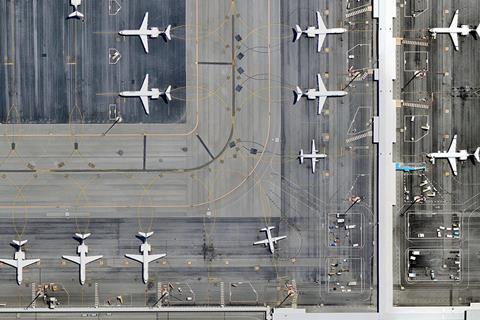 Lufthansa Technik, the maintenance and repair arm of the eponymous airline, partnered with Vodafone Business to trial a private 5G network in one of its hangars at Hamburg Airport.
Utilising the higher bandwidth and ostensibly improved security of a private 5G network enabled Lufthansa engineers to conduct inspections and repairs via a high‑definition video link, and apply augmented and virtual reality overlays to generate 3D visualisations of aircraft equipment and cabins. The private network model is expected to be employed at other Lufthansa Technik sites after an evaluation of a three‑month testing phase.
The Virtual Table Inspection proof‑of-concept trial is the result of a three‑way partnership between Vodafone Business, Lufthansa Technik, and Nokia, with Vodafone picking up a technology and services management role. Lufthansa provided the use‑cases and owns the spectrum, while Nokia's Digital Automation Cloud solution, a digital automation platform, underpins the network.
If you can't beat them…
Private standalone networks have been touted as a key area of development in bringing 5G to the fore after the German regulator Bundesnetzagentur (BNetzA) allocated some 5G spectrum to non‑telcos (Vodafonewatch, #182). The BNetzA decision was controversial as it has the potential to cut telcos out of the equation, allowing enterprises to go straight to equipment vendors for campus network rollout.
Notable opposition to the BNetzA decision came, ironically, from Vodafone. Group Chief Executive (CEO) Nick Read warned governments about the danger of prioritising short‑term cash generation over national 5G rollout imperatives, citing fears that private spectrum allocation would "fail to strike a healthy balance for the industry". In November 2019, Johan Wibergh, Chief Technology Officer of Vodafone, signed off on a document called "An Industrial 5G Spectrum Policy for Europe", which outlined the Group stance on the policy to "set aside" spectrum:
"'Set aside' results in less spectrum remaining available for deployment in national networks, giving marginal potential benefits to a narrow set of stakeholders at the expense of all other 5G users, society, and the wider economy. "

— An Industrial 5G Spectrum Policy for Europe, Vodafone.
In an apparent U‑turn, Vodafone Germany (VfD) CEO Hannes Ametsreiter now claims that participating in private 5G trials on spectrum owned by a non‑telco evidences the role of 5G in helping the German economy to "maintain its leading position".
While VfD did not highlight involvement in the Lufthansa Technik project, Vodafone Business's service and technology partner mandate is evidence that the Group is willing to adapt its stance and play a support role in private networks. It looks to have settled with managed services revenue in the deal with Lufthansa.
Private time
Vodafone's business model, product portfolio, and technology ecosystem on private networks evidently remain in evolution.
Vodafone Business is understood to have identified private networks as a key area where it needs to strengthen its propositions, and to be targeting "double-digit" annual growth. To address this, it is believed to be in the process of creating a new Mobile Private Network portfolio, encompassing both Industry 4.0 and supply chain management services for large enterprises.
Partners are also being weighed up. Beyond the Nokia tie‑up, the Group is among several operators slated to try out 5G use‑case scenarios using Microsoft's Azure Edge Zones and Azure Private Edge Zones systems. The new zones are designed to boost application performance with 5G edge computing and its associated ultra-low latency capability. Building on previous work with AT&T, Microsoft said it will expand collaboration with other operators during 2020. Aside from Vodafone Business, they include Etisalat, NTT Communications, Proximus, Rogers, SK Telecom, and Telefónica. Suppliers namechecked by Microsoft for zone development were Affirmed Networks (which it is in the process of acquiring — see separate report), Mavenir Systems, Metaswitch, Nuage Networks, Palo Alto Networks, and VMware.
Vodafone Business previously announced a partnership with Amazon Web Services (AWS) with a view to launching AWS Wavelength, which is also designed to trim 5G latency times to "single-digit milliseconds" through network edge computing (Vodafonewatch, #182). Vodafone flagged the addition of AWS Wavelength as "another step" in Vodafone Business's multi-cloud strategy.
In January 2020, Vodafone gave its backing to 5G Future Forum, yet another collaborative initiative designed to accelerate development of 5G and mobile edge computing-enabled solutions (Vodafonewatch, #182).