Hungarian business secures rights in three new bands.
Digi plans legal action over 'unfair' 5G auction.
5G auction plans topple in Europe due to COVID‑19.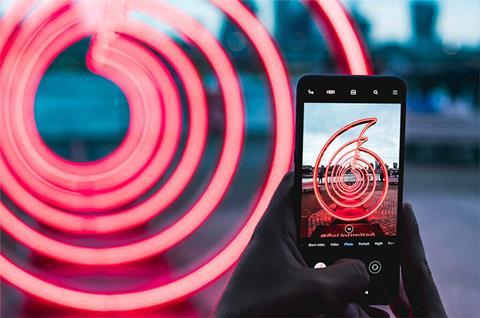 Vodafone Hungary (VfH) is to shell out HUF 38.65bn (£95m/€109m) for 5G‑enabling spectrum after winning bids for 700MHz, 2.1GHz, and 3.6GHz frequency rights.
During the recent spectrum auction organised by Nemzeti Média- és Hírközlési Hatóság (National Media and Infocommunications Authority/NMHH), the OpCo acquired 80MHz across the three frequency bands, paying:
HUF 26bn for 2×10MHz of 700MHz spectrum;
HUF 4.4bn for 2×5MHz in the 2.1GHz band;
HUF 8.25bn for 50MHz in the 3.6GHz band.
The 15‑year licences expire in 2035, with the option for a five‑year extension to 2040. The 700MHz frequencies will be made available from September 2020.
VfH said it was the first Hungarian mobile network operator (MNO) to launch 5G services in May 2019, using 3.6GHz frequencies acquired in 2016 (Vodafonewatch, #177). The OpCo currently operates 34 5G base stations in Budapest. It said the 2.1GHz frequencies would be used to boost capacity on the LTE‑Advanced network.
NMHH confirmed that the MNOs — VfH, Magyar Telekom (MT), and Telenor Hungary — paid a total of HUF 128.49bn for the spectrum licences. It noted that competition was fierce for 700MHz frequencies, and no bids were submitted for lots in the 2.6GHz band. Reuters reported that the government's auction proceeds were nearly double the initial target of HUF 70bn. It seems that a preliminary bid stage on 11 March 2020 indicated that demand outstripped supply, particularly in the 700MHz band, prompting the NMHH to proceed to a secondary auction.
Vf was the second-highest spender behind incumbent rival MT, which said it paid HUF 54.24bn for its three licences, including HUF 26bn for 2×10MHz of 700MHz frequencies. It won 2×10MHz in the 2.1GHz band and 120MHz in the 3.6GHz band. The operator subsequently launched commercial 5G services at sites in Budapest and the ZalaZone vehicle test-track in Zalaegerszeg. Telenor Hungary appears to have spent HUF 35.6bn. It failed to win licences in the 2.1GHz band but did secure the biggest chunk (140MHz) of 3.6GHz spectrum, as well as 2×5MHz in the 700MHz range.
Digi remains sore
The 5G auction did not usher in any new entrants after the only other applicant — pay‑TV and broadband player Digi — was blocked from taking part (Vodafonewatch, #180). Digi has already issued a statement claiming that the auction results were unfair and calling on NMHH to withdraw them. It also flagged its intention to pursue legal action over its exclusion from the process. In November 2019, Digi Hungary and Ericsson started live network 5G testing in Budapest using a 20MHz frequency block in the operator's existing 3.4GHz spectrum allocation.
Hungary escapes COVID‑19 cancellations
Hungary was able to complete the auction despite the spread of COVID‑19. NMHH said the auction took place under special conditions, including onsite supervision and protective equipment for all participants.
Elsewhere in Europe, the pandemic has forced a number of regulators to postpone 5G auctions until further notice:
Austria: Telekom‑Control‑Kommission postponed its second 5G auction involving the allocation of 700MHz, 1500MHz, and 2.1GHz frequencies, affecting A1 Telekom Austria, Drei, and Magenta Telekom.
Czech Republic: Český telekomunikační úřad appears to have pushed back the auction of frequencies in the 700MHz and 3.5GHz bands to mid‑2020, affecting Vodafone Czech Republic, Telefónica Czech Republic, and T‑Mobile Czech Republic.
France: Autorité de Régulation des Communications Électroniques et des Postes postponed the planned auction of 3.4GHz–3.8GHz frequencies, affecting Bouygues Telecom, Free, Orange, and SFR.
Portugal: Autoridade Nacional de Comunicações said Vodafone Portugal, MEO, and NOS requested a suspension of the public consultation process on draft regulations for the allocation of frequency rights in the 700MHz, 900MHz, 1800MHz, 2.1GHz, 2.6GHz, and 3.6GHz bands (Vodafonewatch, #184).
Spain: the Spanish government delayed the planned auction of frequencies in the 700MHz band, affecting Vodafone Spain, MÁSMÓVIL, Telefónica España, and Orange Spain. Spain has apparently halted the migration of 700MHz spectrum from digital terrestrial television services to 5G.
The European Commission is likely to be forced to extend the current deadline of 30 June 2020 for European Union member states to allocate the 700MHz band to 5G.
UK keeps calm and carries on — for now
Ofcom published the final rules for the auction of 5G‑enabling spectrum in the 700MHz and 3.6GHz–3.8GHz bands, broadly confirming revised proposals outlined in late‑2019 (Vodafonewatch, #181).
As things stand, the regulator is suspending existing consultation deadlines and putting on hold new consultations because of the COVID‑19 pandemic. Although Ofcom has not commented on how this might affect the 5G auction, a precise 5G timetable has not yet actually been disclosed.
According to a report in The Telegraph, Vodafone has called on the government to scrap the auction because of the pandemic, and instead allocate the spectrum fairly among the four operators at the reserve price of £1bn (€1.1bn). The Group apparently outlined its proposals in a letter written to Oliver Dowden, the UK Culture Secretary, and industry rivals.
Hutchison CK‑owned Three UK was said to have called for a delay to the auction, while EE reportedly favours an online process that would allow the auction to go ahead as planned.
UK 5G auction rules: a brief overview
Ofcom will award national licences for 80MHz in the 700MHz band and 120MHz in the 3.6GHz–3.8GHz band.
A cap of 416MHz (37%) is to be imposed on the total amount of spectrum that any single MNO can hold. Vodafone UK (VfUK) holds 20% of total useable spectrum, compared with 26% for EE, 21% for Three UK, and 15% for Telefónica UK (O2 UK), with 18% still to be allocated. The regulator said spectrum shares "have the potential to change considerably as a result of this auction".
The auction will include a principal stage, in which bidding for "frequency-generic" lots will determine the amount of spectrum won by each bidder in each band, followed by an assignment stage to determine the precise frequencies of lots won in the principal stage.
The assignment stage will contain measures to help defragment holdings in the wider 3.4GHz–3.8GHz band, including a period for negotiation in which winners of lots in the 3.6GHz–3.8GHz band will be given time to agree the precise frequencies of those lots.
Ofcom confirmed that MNOs will be able to trade tranches of spectrum in the latter band to defragment their holdings. Such a manoeuvre is designed to give operators a better chance of covering a contiguous block of spectrum in the range. However, Ofcom made it clear it has no intention of intervening to "guarantee spectrum contiguity for all operators". "Contiguous spectrum, whilst desirable, is not strictly necessary for the future provision of service", added the regulator. According to reports, VfUK and O2 UK continue to warn that this approach will harm competition. A report in The Telegraph said the two MNOs also fear that fragmented spectrum could limit which vendors they can use, with equipment provided by Huawei Technologies considered best placed to link up fragmented spectrum.
One key point is that the regulator decided not to impose coverage obligations, primarily because VfUK, EE, O2 UK, and Three UK finally came to an agreement with the government on the proposed Shared Rural Network (Vodafonewatch, #181, #183, and #184).