Technology from acquisition IoT.nxt is helping Vodafone to better optimise its office space.
Rollout chimes with coronavirus challenges and Group's cost savings goals.
External customers being scoped out for system.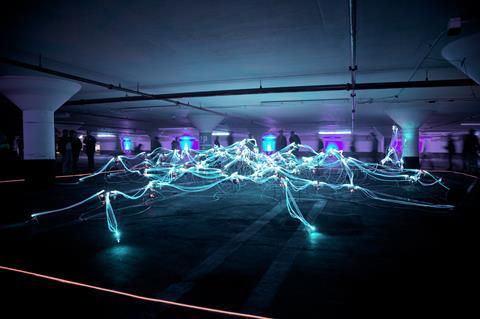 The deepening relationship between Vodacom Group Internet of Things (IoT) subsidiary IoT.nxt and Vodafone was put clearly on display this week with a demonstration of how the UK group is using smart-building technology from the South African startup for its own needs, with plans to sell the solution to its own customers.
IoT.nxt had already flagged that a "comprehensive smart-buildings solution" was in situ at the Midrand headquarters of its South African parent. The IoT specialist has also now deployed the technology at Vodafone's HQ in Paddington, London as part of a collaborative effort that also built on the experiences gained from the Vodacom implementation.
Vodafone is using IoT.nxt's Virtual Raptor (V-Raptor) IoT gateway aggregation platform to integrate the various subsystems at its HQ. The information gathered is then filtered, analysed, and sent to IoT.nxt's Commander platform.
Zahir Mamoojee, Vertical Business Lead at IoT.nxt, said the system was implemented to "integrate a bunch of systems" and provide a central point of control for previously standalone systems or equipment and new technology such as sensors.
By combining the IoT.nxt solution with the building management system, sensors, and IP-enabled cameras, Vodafone has now gained access to live occupancy counts, as well as real-time data on air quality, water quality, temperature, and humidity in the building. The overall system appears to be called V-Space.
Space matters
Richard Muraszko, Group Property Strategy Manager at Vodafone, said the whole project was originally driven to optimise the amount of office space that Vodafone uses, "because of course real estate is expensive".
"The fewer buildings we have, the better. And so what we wanted to do was concentrate people into bigger buildings, bigger footprints, and allow people to mix more", he said. "You're able to say 'we don't need that building, we don't need that floor', and those rationalisations of costs by taking out a whole building is so much better than tinkering around the edges, trying to get [facility management] costs down or something like that".
Muraszko said other factors have now been brought in that allow Vodafone to look at how people use the space at a micro level, "so that we could actually design space better" and take account of environmental aspects that would improve comfort levels for employees.
"The sensors that we've deployed come from various different sources", he said. "The ability to take data from different sources and different data types, is very important to us here", he added, noting that desk-booking systems have also been integrated into the system to ensure that the number and size of rooms available are suitable for the needs of employees.
Muraszko added that "for me, the most powerful tool about this is how we plan for the future [and] what we can do with this data to make the offices that we build in future, design in the future, better suit the changing world in which we work in".
He said this will be particularly applicable in the post-COVID-19 period, when "we're looking to go back to a different type of workplace. We're looking to reduce the footprint again and reduce the number of people that we expect to have in the office", and provide appropriate types of working space.
Forward planning
Russell Carr, Global Business Development Manager at Vodafone, went on to highlight how the analytics tools included in the system have enabled the Group to track office occupancy levels during the coronavirus pandemic, in order to maintain social distancing.
"As we as we start to return people safely to work we will be able to use the analytics and the live occupancy tracking feature… to report on social distancing, and that's really important because it means we'll be able to get as many people back into the offices… in the safest possible way, because we'll be able to… adhere to social distancing", Carr said.
Carr indicated that Vodafone customers and partners are also interested in the solution. "The additional productivity that can be unlocked is very powerful", he said. "The customers that I demonstrate this to all have the same kind of reaction; they understand it's actually about access to future data and questions you haven't thought about today".
In November 2020, Vodafone UK announced the launch of a new range of IoT services for UK businesses in partnership with IoT.nxt, with a particular focus on digital buildings. Vodafone UK's goal is to offer customers "every part of an IoT solution, with a single data management platform, and the capability to integrate old and new devices in one system". It aims to provide IoT sensors and devices, create a data management platform, and offer ongoing professional services.
IoT.nxt's closer integration with its parent companies is believed to have played at least a partial role in the recent resignation of Nico Steyn, Chief Executive and co-founder of IoT.nxt, who is to step down as the startup prepares for what he called a "next phase of commercialisation and corporatisation" under parent Vodacom.

Anne Morris is a freelance journalist, editor and translator. She has been working as a reporter and news analyst for TelcoTitans since 2016.