Supernet 5G goes live in parts of Bucharest but awaiting handsets.
Government aims for high returns in upcoming spectrum auction.
New turnover tax adds more pressure on telecoms sector.
Rival DT reportedly mulling market exit.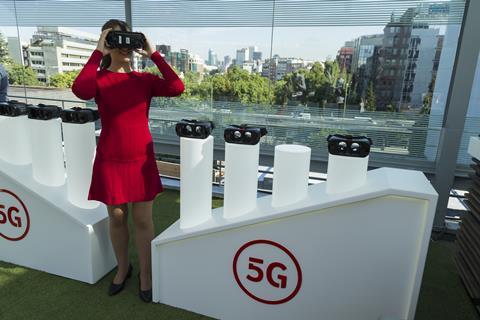 Vodafone Romania (VfR) claimed to be first out of the country's 5G traps, activating next‑generation antennas in "busy areas" of Bucharest, with networks in several cities apparently due to follow by end‑2019. The only thing stopping customers from taking advantage of its Supernet 5G network, said VfR, was the lack of 5G‑enabled devices. No date was specified for their availability. In the meantime, VfR invited customers to register on its website if they wanted to be among the first 5G users.
VfR is keen to showcase 5G advances. In February 2019, in what it said was another country first, the OpCo used 5G to integrate a hologram into a concert (Vodafonewatch, #173). Synchronisation of virtual and physical musicians testified to 5G's low‑latency capability, said the OpCo.
No details were provided on frequency bands in use either in Bucharest or at the concert, other than that they were part of VfR's existing spectrum portfolio. Further, there was no reliance on any temporary licences provided by market regulator Autoritatea Naţională pentru Administrare şi Reglementare în Comunicaţii (ANCOM).
The OpCo's current spectrum portfolio includes airwaves in the 800MHz, 900MHz, 1800MHz, 2.1GHz, and 2.6GHz frequency bands. ANCOM is slated to auction more concessions in the 700MHz, 800MHz, 1500MHz, 2.6GHz, and 3.5GHz frequency bands during the last three months of 2019. The next round of licence awards is dubbed a 5G auction, not least because coveted 3.5GHz frequencies are up for grabs. These are widely seen as a "pioneering band" for 5G rollout in Europe.
Another uncertainty is the role of embattled Huawei Technologies (see separate report). No mention was made of suppliers in VfR's official announcement on the Bucharest launch, and Huawei has been a close partner in the OpCo's rollout of 4G and Supernet 4.5G (Vodafonewatch, #148 and #151).
Pricier spectrum, tougher taxes
Despite technical progress, financial pressures are growing in Romania and casting a long shadow over the telecoms sector (see below).
In an interview conducted in November 2018, Murielle Lorilloux, Chief Executive of VfR, expressed hope that spectrum fees paid in the 5G auction will be no higher than those seen in the 4G auction six years previously (Vodafonewatch, #106). That hope was all but extinguished the following month when the government passed controversial emergency ordinance OUG 114/2018. Designed to bolster public finances, the ordinance brings to bear tougher financial measures on the telecoms sector, as well as on banks and energy companies (Vodafonewatch, #171).
On 5G spectrum, the government is on the prowl for a huge windfall. It wants to sell 5G licences for a minimum of 2% of turnover in the electronic communications sector, multiplied by the number of years for which the licences are granted. According to ANCOM, revenue generated by electronic communications networks and services amounted to RON 16.1 billion (€3.5bn/£3.1bn) during 2018. In January 2019, Romania's operators feverishly calculated that they will have to pay between €2.7bn (£2.4bn) and €8bn for 5G licences — something they thought, understandably, was unrealistic. In the 2012 auction, operators paid a much more modest €700m in total. VfR contributed a shade under €230m.
More financial squeezes are in the pipeline. Courtesy of the emergency ordinance, operators are now subject to a 3% turnover tax, although ANCOM has warned the government that the turnover tax breaches rules laid down by the European Union, and that the ordinance might jeopardise the 5G auction. Renewal terms of 2G, 3G, and 4G licences have not escaped the government's attention either. Rather than working out fees based on 2% of turnover in the telecoms sector and multiplying that by the number of years of licence duration — which was the original plan — the government's baseline calculation is now 4% of sector revenue.
In the midst of the worsening regulatory and competitive environment, VfR has evidently been coming under pressure, with service revenue trend worsening over recent quarters and culminating in a 5%-fall, to €149m, in the three months to 31 March 2019. While the OpCo is doubling down on Romania, through the Group's pending buyout of cableco UPC Romania, there have been repeated suggestions that Group arch-rival Deutsche Telekom (DT), which controls local incumbent Telekom Romania, via Greece's OTE Group, is thinking about bailing out of the Romanian market (Deutsche Telekomwatch, #80).