TowerCo's build-to-suit programme hit by labour and material supply crunch.
Management responds with move to simplify supply and logistics.
Execs assure headline operational and financial goals remain in reach.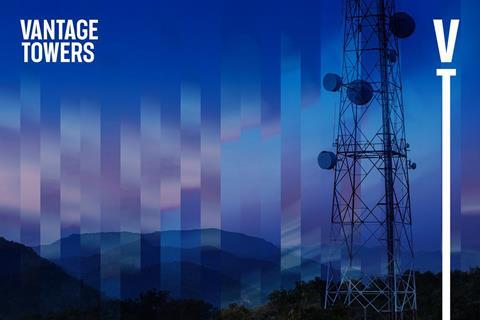 Vantage Towers reassured that it remains on track to hit key business goals, despite experiencing some "annoying inconveniences" from the supply chain crunch.
Reporting the TowerCo's results for the quarter to 31 December 2021 (Q3 FY21–22), Chief Executive Vivek Badrinath said its site footprint expansion plans had seen some "short-term slippages" because of bottlenecks in people and material supply.
The build-to-suit (BTS) programme — which is geared towards adding 7,100 client-customised sites to Vantage's network by March 2026 — delivered about 130 sites during Q3, up from 90 in the previous quarter. Nonetheless, Vantage warned that the "execution timing of our BTS programme is currently being impacted mainly by supply chain challenges and will require continued management".
The TowerCo stressed the BTS project will still ramp up to full rollout speed by the end of the coming financial year (FY22–23). However, Badrinath indicated the delays will necessitate a level of catchup in the last twelve months of that period — i.e. during FY22–23. "It's going to mean a steep '23'", he noted.
Regarding the 2026 end goal, he confirmed the supply crunch "does not impact our long-range view of the BTS programme". The TowerCo reaffirmed its FY21–22 financial guidance.
TowerCo responds with supply chain reboot
While Badrinath stated that the problems were "nothing systemic", the Germany-based business is performing a supply chain management recalibration to accommodate the changed roadmap and mitigate inflationary pressures from the squeeze on labour and materials.
The CEO said Vantage's team in Germany was "looking at how to simplify the supply chain". This involves "things like warehousing more raw material or, let's say, pre-assemble towers, earlier",as well as"standardising a format so we can mix and match or swap equipment from one site to the other".
On engineering crew supply, Vantage was running a "very active programme" to respond to the challenge, and"working very closely with our partners to secure availabilities, confirm them, and try to de-risk each and every one of these steps", Badrinath added.
Chief Financial Officer Thomas Reisten said the procurement standardisation and simplification plan will "help us to counteract any pricing increases". "So we believe that we can drive down procurement costs actually… and stay in line with our expectations on a per-tower construction point", he added.
Flying the nest
Away from the operational headaches, Vantage displayed "continued momentum" on the commercial side of the business and is pushing on with efforts to diversify its customer base beyond parent Vodafone.
On a pro forma basis, the TowerCo grew revenue by 4.4%, to €252m (£210m), during Q3 — helped by the net addition of about 600 new tenancies across its European footprint during the three months. This drove an increase in its tenancy ratio to 1.43×, from 1.39× a year earlier, and inched Vantage nearer to its mid-term occupation target of over 1.5×.
Q3's key go-to-market highlight was December 2021's flagship, 3,800-site deal with German challenger 1&1 Mobilfunk — which is expected to ramp up from this year, and forms a key reference win for Vantage as it seeks to attract a broader service provider client base (Vodafonewatch, #202).
Badrinath called the 1&1 deal a "major milestone for organic growth in what is our largest market, Germany", and pointed to 9.6% growth in its non-Vodafone revenue.
Progress on real estate cost reduction
No figures were provided on profitability in Q3 — but, on the cost side, Vantage assured that its key Ground Lease Buyout Programme (GLBP) is progressing well.
The TowerCo, which has about 45,700 macro sites in its consolidated portfolio, said it had signed 460 GLBP contracts — up from 310 three months earlier — and received 390 further commitments by the end of the quarter.
Currently, the GLBP programme is leaning towards Germany and Spain for initial wins, with a majority (360) of signed deals coming from within those two markets.
Badrinath's straight bat on tower titan tie-up
Inevitably — given the M&A speculation swirling around parent Vodafone, and the possibility of a major tower tie-up with rivals Deutsche Telekom and/or Orange (Vodafonewatch, #201) — Vantage's management team faced multiple questions over the pros and cons of such a transaction.
Badrinath was perhaps slightly more guarded than during Vantage's Q2 presentation (Vodafonewatch, #201), stressing that the TowerCo was "big already".
" So, it's not that it's an existential point for us, that we absolutely need to increase scale — otherwise, we are at the risk of being irrelevant or inefficient. So that's a good place to start with because that means that it indeed allows us to ask ourselves the right questions on deals… whether they're indeed satisfactory and relevant for our shareholders. "

Badrinath.
Regarding openings for further consolidation in the regional tower market, Vantage is "one of the big guys in Europe and that means we should certainly consider such opportunities", he added.