TowerCo indicates cleantech R&D tie-up is ready for wider deployment.
Deal initially focuses on a small subset of sites in main market Germany, but wider national and international rollout mooted if system checks out.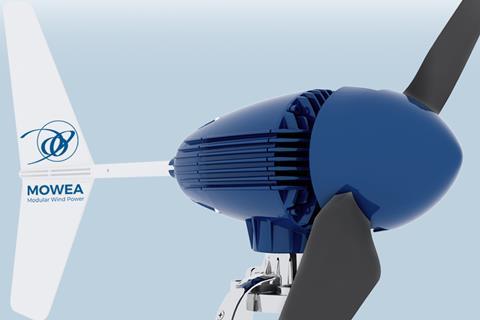 Vantage Towers is to roll out micro wind turbines at more than 50 of its sites via an expanded tie-up with German cleantech startup MOWEA.
The TowerCo aims to deploy more than 750 of MOWEA's devices during the second half of 2022, giving an apparent significant off-grid power boost to sites when wind conditions are favourable.
Somewhat head-scratchingly, Vantage says MOWEA's devices are, on an average day, capable of reducing sites' power consumption and electrical running costs by "up to two-thirds and more". At the same time, it adds that, in the same conditions, the "green energy generated on-site will cover 100% of the towers' energy requirements".
MOWEA's turbines were originally designed to be installed on office blocks or to stand in open spaces, but have since been specially tailored for masts. The vendor says one of their USPs is their size, enabling deployment in congested urban situations, and presumably allowing them to be pitched as less unsightly and invasive (Vantage notes its planned deployment is permit-dependent). The devices feature a data connection for remote monitoring and control, and an algorithm to "maximise performance".
Bit by bit
Currently, Vantage's plan envisages deployment on just 52 towers — a tiny fraction of the TowerCo's German footprint (19,400) and consolidated site network across Europe (45,600). However, Vantage indicated the project is only a "pilot", or "first-phase" rollout. "If the pilot project is a success, there is clear potential for the future expansion of the partnership", added Vivek Badrinath, its Chief Executive.
Vantage has also highlighted experimentation with wind-based solutions on towers in the UK, alongside vendor Crossflow Energy and Cornerstone Telecommunications Infrastructure (Vodafonewatch, #202).
Vodafone wants pound of flesh
Vantage's release suggested the deal is dedicated towards serving energy to active network kit of Vodafone Germany, whose towers were taken over by Vantage when the infraco was set up in 2020 (Vodafonewatch, #188).
It represents progression of a longer-running tech development relationship between MOWEA, the German OpCo, and Vantage.
MOWEA — a Technische Universität Berlin spinout — was in its early stages a member of Vodafone's UPLIFT accelerator programme, and as part of the scheme worked with htw saar University of Applied Sciences to customise its turbines for use in mobile networks. A handful were subsequently set up on one of the operator's towers in Torgelow, northern Germany, to assess their effectiveness (Vodafonewatch, #194).
The startup previously flagged to TelcoTitans that it was discussing a fuller deal with Vantage, as well as mooting potential engagements with other Group businesses, including Indian joint venture Vi.
While Vodafone is moving ahead with MOWEA, arch-rival Deutsche Telekom was a fellow supporter of the vendor as it scaled up its business, via innovation and incubation arm hubraum — and has also indicated it uses the vendor's turbines on some of its own towers (Deutsche Telekomwatch, #101).
Breaking the chain
Vodafone has been vocal in flagging progress on reduction of the (environmental and financial) costs associated with powering its network, not least through the greater energy efficiency of new network tech. The Group reported a significant drop in Scope 1- (direct) and Scope 2- (bought-in energy) based greenhouse gas emissions during its last fiscal year (to March 2021), from 1.95 million tonnes to 1.37 million. In June 2021, it also highlighted that it had completed the switchover of its European network to renewable sources.
The much greater headache for Vodafone and other operators is the environmental damage being wrought by its suppliers, upstream, to create the goods and services it sells. In the same period, its Scope 3 (supply chain) emissions were several times larger than its direct output, at 9.4 million tonnes, and only saw a slight reduction on the previous twelve months (-0.1 million). As such, Vodafone aims to reach 'net zero' on its "own carbon emissions" by 2030, but is not targeting neutrality at Scope 3 until a full decade later (Vodafonewatch, #198 and passim).