Vodafone partner AST SpaceMobile sets date for LEO satellite launch.
Development release timeline updated, with Texan operator on track for 2023 commercial services launch despite delays.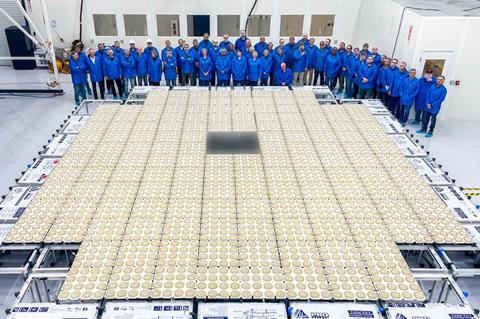 Vodafone‑backed satellite communications developer AST SpaceMobile set a firm date for its low‑Earth orbit (LEO) launch, progressing the BlueWalker 3 satellite beyond its initial development phase.
The launch is scheduled for 15 August, contingent on several factors such as weather and progress against technical requirements.
Abel Avellan, Chairman and Chief Executive, described the prospective launch as the "culmination of years of effort". A rough summer 2022 date was set late last year, replacing an initial estimate of March–April. At the time, the delay was said to allow for further testing and 'launch preparation'. SpaceX, SpaceMobile's launch provider for the BlueWalker 3 mission, will enable the launch from Cape Canaveral, Florida.
BlueWalker 3 aims to "close the gap between the digital 'haves' and 'have nots'", Avellan said, by providing a mobile service to devices without the need for additional hardware. It provides a cellular broadband network direct to mobile phones via its 693 sqft array. As of 31 March 2022 (Q1 FY22), SpaceMobile had invested a cumulative $115m (£95m/€110m) in the satellite and premises in which it will build its commercial successors. At the time, it claimed that more than 700 ground tests had been conducted. As of mid‑June, that number has increased to 800.
On track for partner trials
Chief Strategy Officer Scott Wisniewski told TelcoTitans that the launch will complete SpaceMobile's initial development phase.
A spokesperson added that plans are currently in place to launch the first commercial satellites in 2023 through to 2025, with "substantial global mobile coverage" by the end of 2024 after 110 satellites are in orbit. In 2025, when it has launched 168 satellites, SpaceMobile targets multiple input, multiple output (MIMO) capabilities.
The spokesperson noted that despite being granted an experimental licence by the US Federal Communications Commission to test 3GPP connectivity in Hawaii and Texas, it is "early days on the regulatory front". SpaceMobile has partnerships with mobile network operators including Orange and Rakuten, as well as Vodafone, to enable trials on five continents once commercial satellites are launched.
Vodafone's initial target markets for SpaceMobile technology are Ghana, Kenya, Mozambique, and Tanzania. Vodafone was an early investor in SpaceMobile, and has already been testing the interoperability of its early prototypes with mobile handsets. Luke Ibbetson, Head of Group R&D at Vodafone, sits on the SpaceMobile Board of Directors.

Joseph Purnell is a Staff Reporter for TelcoTitans, contributing telecoms news analysis since 2019 as part of the TelcoTitans Editorial team.