FTTH JV counts on extra funding to meet 450,000 homes-passed target.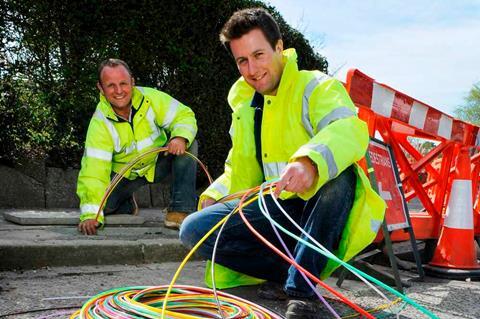 SIRO, Vodafone Ireland's (VfIr) wholesale fibre joint venture (JV) with the country's Electricity Supply Board (ESB), received a much-needed financial boost. The JV raised €200m (£183m) from a syndicate of international banks, including BNP Paribas, HSBC, NatWest, Royal Bank of Canada, and Ulster Bank.
SIRO has already spent €250m on its fibre-to-the-home (FTTH) network, and had previously indicated it needed a fresh cash injection.
In an accounts filing with Ireland's Companies Registration Office for the year to 31 December 2017 (FY17), SIRO said VfIr and the ESB had agreed to postpone repayment of €96m in loans to the JV, originally tabled for settlement on 30 November 2018 (Vodafonewatch. #170).
The parent companies were also said to have provided SIRO with an unspecified amount of additional financing since the end of FY17. SIRO added that acquisition of external financing was another possibility.
Broadband catch-up
SIRO said the extra funding will be used to "accelerate" its business plan of connecting 450,000 premises to a fibre access network capable of delivering 1Gbps downlink speeds. The immediate aim is to deepen operations in Cork and Galway, and to better compete with incumbent eir in Dublin's suburbs.
Like most large-scale infrastructure projects, SIRO's deadlines have slipped. John Keaney, Chief Executive (CEO) of SIRO, told the Irish Times in late-July 2019 that the JV had covered 250,000 premises. This is well short of its original "phase one" target of passing 500,000 homes and businesses by 31 December 2018.
The CEO nonetheless put a positive spin on progress since the JV was launched in 2015. "From a standing start, that's a significant build", he said. "When we started, we had just the agreement that we could access the electrical infrastructure – that was it; there were no people, there were no contracts, there were no systems, no customers", he added.
Keaney also presented SIRO as well placed, competitively. According to figures quoted in the Irish Times, incumbent eir has passed 300,000 homes with FTTH, while National Broadband Ireland – the vehicle set up to deliver the state-backed National Broadband Plan – aims to cover 540,000 homes. Taking into account the existing 250,000 homes covered by SIRO, that still leaves one million homes to play for. Sticking to the original "phase one" target, Keaney indicated SIRO can cover 200,000 of them, leaving it with an overall 25% market share of homes passed with FTTH.
On the flipside, Keaney did not disclose when the 250,000 premises coverage target might now be met. Further, SIRO's current take-up rate of 18% (the JV has 45,000 customers through its retail partners) is not high. "Take-up takes time", insisted the CEO. He anticipated overall take-up rates will rise to between 25% and 30% once the SIRO footprint becomes more established. "We've got towns that are more mature – Dundalk, Letterkenny, Drogheda – that are now in [the] mid-30s", said Keaney.
SIRO is tied to about ten service providers that are bringing its services to customers, including Airwire, BT Ireland, Carnsore Broadband, Digiweb, eNet, Kerry Broadband, Rocket Broadband, Sky Ireland, and WestNet, in addition to VfIr itself.