Small operator grouping gets legal on competition.
Housing association supply concerns resurface.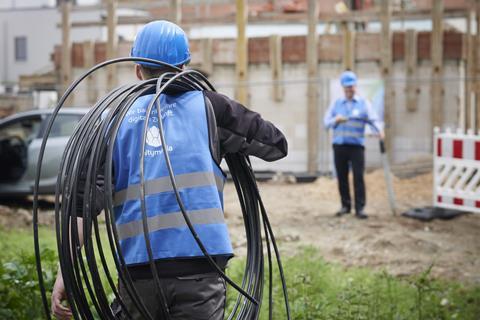 Opposition continued to simmer over Vodafone Germany's (VfD) recent controversial and transformative takeover of cableco Unitymedia.
The Fachverband Rundfunk- und BreitbandKommunikation (FRK), an association of around 160 small‑ and medium‑size cable operators in Germany, confirmed its intention to take legal action against the European Commission (EC) over its decision to approve the deal — if it can secure legal aid to cover estimated legal costs of up-to-€400m (£360m) in the event of a defeat.
If the application for legal aid is rejected, FRK suggested it could join a community of plaintiffs in order to spread the legal costs, with reports citing Deutsche Telekom (DT) and cablecos EWE TEL, Netcologne, Tele Columbus, and wilhelm.tel as potential participants. However, FRK has also previously been critical of the VfD and DT "duopoly" on the broadband market.
FRK is particularly concerned about the dominant position that the combined VfD‑Unitymedia will have on the German cable market, and appears to have little faith in the "remedy package" agreed by VfD in order to gain EC approval — which includes wholesaling of cable services to Telefónica Deutschland (Vodafonewatch, #174).
The EC has already been lambasted by DT for clearing the Unitymedia deal, which was the centrepiece of the Group's four-market buyout of Liberty Global assets in the Czech Republic, Germany, Hungary, and Romania (Vodafonewatch, #178). DT has indicated it is in the process of deciding whether a judicial review is necessary to "protect competition". BREKO Bundesverband Breitbandkommunikation, the German association of alternative operators, has called for VfD to do more to open its mobile and broadcast infrastructure to rivals. German commercial broadcaster association Verband Privater Medien has also been unenthusiastic about Vodafone's concessions.
FRK is also taking aim at VfD over the settlement of a long‑running dispute between its 2013 acquisition Kabel Deutschland and public broadcasters ARD and ZDF (Vodafonewatch, #164). The association claims the settlements with both VfD and Unitymedia during 2018 distort competition because smaller cablecos do not benefit from feed‑in fees paid by the broadcasters. FRK therefore plans to support a test case by a member company against this practice, and is calling for the equal treatment of all cable operators.
Housing association concerns, too
FRK announced its decision to take legal action against the EC during September 2019's FRK Broadband Congress in Leipzig.
At the same event, VfD and DT also reportedly came under fire from GdW Bundesverband deutscher Wohnungs- und Immobilienunternehmen, a German housing association that is concerned that prices for bundled internet, telephony, and television services could rise following the VfD merger with Unitymedia.
In his presentation at the Congress, Claus Wedemeier, Head of the Demographic & Digitalisation Unit at GdW, complained that "in almost all cases, Vodafone and Deutsche Telekom refuse to use the optical fibre [installed by] housing companies". However, Wedemeier expects this situation to change. He pointed to DT's desire to change how the housing market is served, with calls for collaboration with other network operators as fibre‑based internet access gains ground.
Timotheus Höttges, Chief Executive of DT, has often expressed concerns over cablecos' strength through historical bulk service contracts with Germany's housing associations — a market DT has long sought to break back into (Vodafonewatch #163 and passim). He has also argued the Unitymedia deal is a blow to media plurality in Germany.
VfD was, somewhat inevitably, said to be planning job cuts as part of the integration programme being conducted following the acquisition of Unitymedia. According to a report in Handelsblatt, talks with work councils are already underway. VfD told the German broadsheet that it aims to save personnel costs of up-to-€135m (£117m), although it is not yet clear where the cuts are planned. VfD employed around 13,400 staff, as of 31 March 2019, and absorbed around an extra 2,700 people from the Unitymedia buy. The OpCo indicated it intends to reduce its workforce by not replacing departing employees and using fewer external staff. However, it seems that layoffs will be unavoidable. Torsten Gerpott, Professor of Telecommunications at Duisburg‑Essen University, told Handelblatt that around a third of the Unitymedia workforce could be cut following the eradication of dual functions within the Group. Handelsblatt added that the restructuring measures could have far‑reaching effects for VfD and Unitymedia shops, the majority of which are operated by franchise partners. One obvious move would be to sell Vodafone and Unitymedia‑branded products in the same stores. The cableco is said to operate 14 of its own shops, compared to 150 operated by partners, while VfD operates 170 of its own shops compared to 1,200 franchise outlets. The reports came as Vodafone flagged plans for further roll-back of its retail footprint in European markets (see separate report).