Strategic partnership looks to be getting going.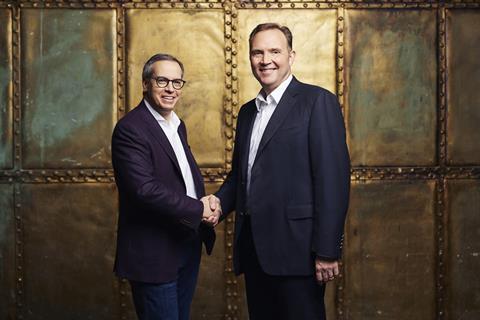 Vodafone and IBM confirmed the first customer win for their enterprise cloud and digital services partnership, announced in January 2019 (Vodafonewatch, #171 and #172).
The two providers said they had secured an eight-year deal to "modernise" the IT estate of National Express, a UK-based transport provider with services in eight countries. The agreement will see migration of National Express' infrastructure to a hybrid cloud platform based on IBM Cloud and Vodafone Business connectivity. The link-up will also purportedly seek to utilise 5G, analytics, artificial intelligence, Internet of Things, and software-defined networking technology. It will enable National Express to develop "customer-focused innovations such as personalised passenger experiences, flexible payment options, and always-connected vehicles", said Vodafone.
An upsell
National Express does not represent 'new business' for IBM and Vodafone, per se, as the provider has a relationship with Vodafone stretching back to (and beyond) the 2012 Cable & Wireless Worldwide (C&WW) takeover (Vodafonewatch, #153 and passim). C&WW assets laid the basis for the creation of Vodafone Business' Cloud & Security division, which is being reorganised around the IBM tie-up. Services that Vodafone already provided to National Express include wide area network connectivity and a Secure Internet Gateway.
Cloud & Security 2.0 – the nuts and bolts
The IBM-Vodafone relationship is one of a trio of new, enterprise-focused "strategic partnerships" announced by the Group since its change of leadership in 2018, alongside tie-ups with Arm and AT&T on Internet of Things services (Vodafonewatch, #173).
It rests on an eight-year managed services contract with IBM, but could be seen as the most obvious example of the more multi-dimensional relationships the Group has talked of gestating with key services and technology vendors in recent years, through Vodafone Procurement Company's Strategic Relationship Management Programme (Vodafonewatch, #176). While evidently focused on squeezing more value out of supplier deals, and creating a new range of incentives for collaboration and innovation beyond traditional client-vendor arrangements, the programme offers up clear concerns over supplier diversity (i.e. lock-in to IBM) and strategic flexibility. There also remain questions over how it fits with IBM's other cloud relationships with telcos and IBM-only activities.
As well as the partners' Vodafone IBM Global Innovation Office in London, the venture is supported by:
A new headquarters in London's South Bank district.
Joint investment budgets for development of new offerings (the value of which has not been publicised).
A "dedicated" executive leadership, comprising Michael Vallocchi, General Manager, Vodafone/IBM Venture and Greg Hyttenrauch, Director, Cloud & Security, Vodafone Business.
Combined solutions teams, fronted by single, dedicated sales representatives.
Shared metrics and objectives.
A focus on embedding "co-creation" capabilities within the organisation.
Although the venture officially "opened for business" back in May 2019, it remains to be seen exactly how IBM and Vodafone plan to develop it. In their statement on the National Express deal, the two partners continued to refer to the link-up as the "Vodafone Business and IBM venture", giving something of an incomplete feel around marketing. Internally, the process of establishing the partnership has been run under the moniker "Project Cirrus" – a second-hand brand previously used by IBM for various commercial and research and development initiatives.
While termed a "venture", the partnership has not taken legal 'joint venture'' form, perhaps suggesting options are being kept open regarding future structure, and raising the question over who in reality 'owns'' it, especially if leadership changes, or fortunes change dramatically (for good or bad).
Vodafone has also yet to confirm the full implications of the move for staff, products, and other assets associated with its legacy enterprise cloud operations, although it has highlighted savings as a key focus. Some Vodafone staff (operational, delivery, or solutions) are said to have transferred to the new venture, but others (such as those with broader focus, beyond cloud) have remained within Group, but with a level of dedication to the venture.
Go-to-market setup appeared only partial at the point the venture was fully established, in May 2019, with 'coverage' across Germany, Ireland, the UK, and Vodafone Global Enterprise' multinational corporate base. Five industry verticals have been prioritised: agriculture; manufacturing; retail; transport; and utilities.
A helping hand
The partners appear at early days regarding their portfolio reshaping effort, too, with IBM's July 2019 Red Hat acquisition bringing new add-on capabilities, the broader Telco Cloud space continuing to evolve, and new capabilities such as edge computing and network-slicing set to be introduced with 5G.
The over-arching aim of the partnership appears essentially to allow the reportedly growing, but comparatively low-profile Vodafone Cloud & Security division to shift beyond the legacy products and assets it inherited from the C&WW buyout, but without stretching Group resource at a time when cash conservation remains a top priority. Vodafone itself has framed the tie-up as a way of scaling Cloud & Security, both optimising and widening its portfolio. This involves adding new components previously outside of Vodafone Business' core skill set, such as professional services, application development and management, and expanded security solutions. For investment- and M&A-shy Vodafone, this evidently required a partnership, and IBM was chosen after a contest to be the Group's cloud buddy in 2018.
Despite evidently having failed to make major inroads in the cloud and security markets so far, and now delegating some responsibilities to IBM, Vodafone still claims to have serious cloud computing ambitions in the 5G era, emphasising connectivity as a key enabler for next-generation digital technologies. It has indicated it aims to become the "leading global network connected hybrid cloud provider" within four years, helped by the IBM tie-up.