Latest filings on Phones 4u legal action see operators assert commercial reasons behind end to agreements.
Claims on alleged comments from O2's Ronan Dunne on operator collaboration vigorously denied by operators.
While O2 and Vodafone flatly deny, EE response keeps Dunne and Vodafone's Guy Laurence in the firing line.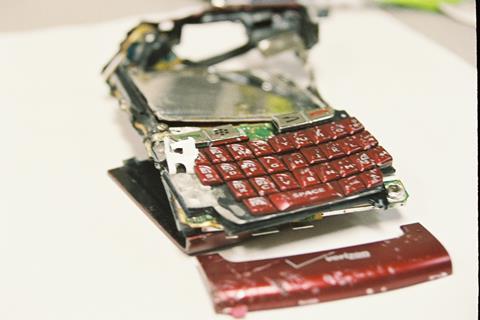 Aldan Management, the concurrent administrator handling the insolvency of mobile retailer Phones 4u alongside PricewaterhouseCoopers (PwC), published the legal submissions from the key defendants made in response to the Aldan-led claim against three of the UK's mobile network operators (MNOs), including Vodafone UK (VfUK).
In December 2018, Aldan instigated legal proceedings against VfUK and rivals Telefónica UK (O2) and EE, as well as the latter's owners at the time of the Phones 4u collapse, Deutsche Telekom and Orange (Vodafonewatch, #174 and passim). In March 2019, details of the Phones 4u claim began to emerge, which referenced conversations between Phones 4u management and former O2 Chief Executive (CEO) Ronan Dunne, which were alleged to indicate that the operators were collaborating on negotiations with the retailer.
Who said what to whom?
In June 2019, the responses of the defendants were published, which cast further light on their view of the events that led to the collapse of the retailer.
EE denied any active involvement in collusion, but its submission to the court does appear to suggest that other operators may have attempted to open discussions on the prospect of co-operation in relation to a number of commercial matters.
In its submission, EE claims that, in 2012, Dunne attempted to discuss pricing strategy in an "inappropriate" way with EE's erstwhile CEO Olaf Swantee.
EE said that during a lunch meeting between the two operator CEOs, Dunne expressed concern about value in the market for operators, and the role of indirect channels. He was then said to have raised the prospect of O2 reducing volume in the indirect channel if it could be assured that EE would not take up the slack. EE said that Swantee did not agree, nor do anything to suggest agreement, with the proposals. EE goes on to outline in its filing other occasions when the heads of rival operators contacted Swantee, with Dunne said to have attempted to discuss the approach that MNOs could take in negotiations with Apple on iPhone distribution agreements. Again, Swantee is said to have not encouraged the discussion.
In separate incidents in autumn 2012, EE also claimed that Guy Laurence, who then ran VfUK, suggested to Swantee a 4G price premium should be set at £10 (€11.17) per month, and not the £5 he believed EE was set to adopt. EE's filing says that, two days later, a senior executive from a major retailer, Carphone Warehouse, called Swantee and made a similar suggestion.
Swantee is said to have contacted EE's General Counsel regarding the conversations with his O2 and VfUK counterparts, who in turn had consulted with external lawyers. Subsequently, EE's General Counsel spoke with his peers at O2 and VfUK, and EE said the approaches then ceased. However, EE also acknowledged that Swantee was mistaken when he had suggested earlier in proceedings that a formal letter from the General Counsel had been sent to O2, protesting its approach, and that all communications were verbal.
EE maintains that the alleged approaches did not affect its decision to cease trading with Phones 4u in 2014, and that it was not involved in any collusion. EE's withdrawal from the retail chain was the end for Phones 4u, as VfUK and O2 had already stopped supplying the company in favour of direct sales channels.
Ronan Dunne is now an Executive Vice-President at Verizon Wireless, and CEO of Verizon Consumer Group. Olaf Swantee is CEO of Swiss operator Sunrise Communications.
James Blendis was EE's General Counsel between 2012 and 2017 (and before that, at predecessor T-Mobile UK), departing after the MNO's legal team was merged with its BT counterpart. He now holds the same role for Renault-Nissan UK and Ireland. BT appointed ex-Anheuser-Busch InBev and Diageo legal chief Sabine Chalmers as its Group General Counsel in 2018, succeeding Dan Fitz.
Peers respond
EE's chronicling of Swantee's conversations feature in the documents as a result of earlier assertions from Phones 4u management concerning their own conversations with Dunne regarding distribution agreements. The insolvent retailer alleged that the conversation had alluded to discussions between the operators' top management on their approach to negotiations.
In its response to the claims regarding its former CEO, O2 denied that the alleged remarks were made at all, and maintained that no attempt at collusion took place, with its response categorising the initial Phones 4u assertions as "factually, and therefore legally, misconceived".
Vodafone, meanwhile, had its own concerns with comments in the Phones 4u filing that had suggested inappropriate conversations on potential collusion between Group-level management at Telefónica and Vodafone, with respective then-CEOs César Alierta and Vittorio Colao described as having formed a pact on withdrawal. Vodafone denied that any such commitments were made.
Vodafone and VfUK issued a joint submission in the case. This did not acknowledge any conversation between Swantee and Laurence, but it did state that any allegation of collusion with EE is made based solely on "speculation, inference, and coincidence". It went on to stress that its decision to end ties with Phones 4u had "no connection to any purported collusion but [was] instead based on a fully developed commercial rationale".
The case continues.
Wider probe urged
Beyond Phones 4u's reported £1bn claim against the MNOs, the case may have broader financial and regulatory implications for VfUK and its rivals.
Conservative Party Member of Parliament (MP) Grant Shapps – Chair of the cross-party British Infrastructure Group, and now Transport Secretary in the cabinet of new UK Prime Minister Boris Johnson – recently called for the country's Competition and Markets Authority to investigate "potential collusion" between the operators.
He was quoted by The Telegraph as saying that the Phones 4u allegations will "worry consumers, and the British Infrastructure Group of MPs is anxious to see the sector come clean. They can start by ensuring that full competition always benefits consumers, as well as stopping dodgy practices like continuing to charge full whack after a contract has ended".