On a like-for-like basis, Vodafone Group is holding its own in the pandemic so far and leadership appears confident regarding short-term outlook.
Longer-term prospects remain a question mark, however, especially as cost-cutting — rather than the top‑line growth — is keeping the Group on a steady course.
Asset sales also continue to diminish Vodafone's overall earnings base.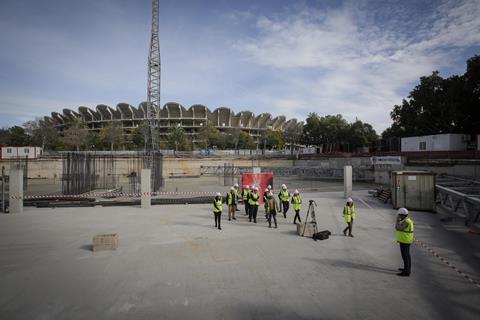 The H1 presentation saw Vodafone reaffirm its guidance for the FY — underlining how it and other telcos, helped by government intervention and stimulation of usage through office closures, have had some cushioning from COVID‑19 impact.
As ever, a big slice of nuance and spin came with Vodafone's forecasts, with the Group continuing to offer only a limited view of future trends — which leaves room for management to flex as trends develop, but never gives the impression the operator has a grip on its own destiny. Forecasts remain confined to adjusted EBITDA and free cash flow for the current FY only.
The ongoing shrinkage of the Group through sales and other asset restructuring also continued to have a hidden effect — bringing forecasts down, but seeing their impact finessed out for the H1 report.
EBITDA guidance was trimmed marginally, to reflect the recent separation of tower assets from OpCos and sale of Vodafone Malta (Vodafonewatch, #185), but trend expectations were essentially the same, with Vodafone now forecasting it will produce €14.4bn–€14.6bn in earnings across the FY. This would put EBITDA flat on FY19–20's performance — which was €14.5bn, if viewed on a pro forma basis.
Free cash flow remained guided at "at least €5bn", before spectrum costs and restructuring impact — also basically level with FY19–20's number (€5.2bn).
The familiar Vodafone tale of resilience through cuts, rather than growth
Predictably, CFO Margherita Della Valle was keen to highlight the contribution the quicker-than-expected implementation of her Group Finance-led efficiencies programme had made to keeping Vodafone on an even keel during the worrying and challenging first six months of the FY.
No absolute numbers were provided at Group-level, but in Europe, it was intimated that opex savings had essentially cancelled out travel restrictions' drag on roaming revenue, with both impacts placed at €300m.
Upticks are needed in both earnings and cash flow during H2, to meet guidance for the FY — but Vodafone said it had "increased confidence" regarding trends for the current six‑month period, and indicated a lot of the lag in H1's contribution was down to phasing of payments.
While highlighting a range of ongoing uncertainties, Della Valle was positive on H2 service revenue prospects, citing "good commercial momentum" and "good demand for our services in B2B". "We definitely see that the second half is going to look better than the first half, but still [with] a degree of oscillation, as you would expect likely", she added.
Performance
Target

Vodafone Group guidance, FY20–21

Note: Performance and targets at guidance exchange rates, and excluding M&A, spectrum acquisitions, and restructuring costs. As such, FY19–20 numbers have been "re-based" for purposes of comparison.

Source: Vodafone.

Criteria

FY19–20

FY20–21

EBITDA

€14.5bn

€14.4bn–€14.6bn

Free cash flow

€5.2bn

"At least" €5bn, pre-spectrum


Richard Agnew is Group Editor at TelcoTitans and Market Mettle.