Vodafone leadership considering next phase of Group strategy, and indicates M&A moves could form part of new medium-term plan.
Group open to solutions in markets not generating sufficient return on capital employed.
Germany's importance to Vodafone on display again; commitment to other markets less obvious.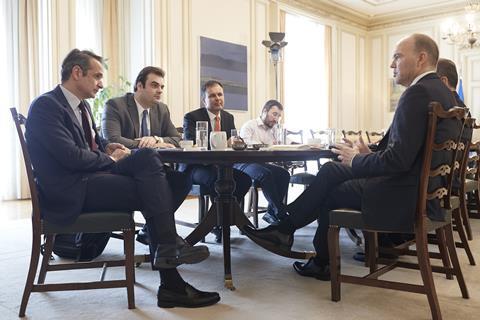 Vodafone's leadership put M&A back onto the regional agenda as businesses in its main Europe Region reported a mixed bag of COVID‑19-afflicted results in the period to 30 September 2020 (Q2/H1 FY20–21).
Despite the Group stating earlier in 2020 that the nip-and-tuck it has undertaken to its portfolio over recent years was "substantially complete" (Vodafonewatch, #186), Vodafone Chief Executive (CEO) Nick Read appeared to open the door for further deal-making as the Group considers prospects, post-pandemic, and prepares to lay out a fresh, medium-term strategy in 2021 (see separate).
Read open to incomings…
With an eye towards acquisitions or joint ventures (JV), he indicated Vodafone's top brass would take a "pragmatic view" if an appealing deal possibility comes up in its core focus areas of Europe and Africa.
"So, I think we have got a good organic plan and that will prove to improve returns over time. Of course, were there to be consolidation opportunities, we will always evaluate those opportunities if they are value accretive for our shareholders. We have always taken that sort of pragmatic view, market-to-market, on how to strengthen positions. "

— Read.
… and outgoings too
Beyond in‑market 'strengthening', Read laid out a "framework", underpinned by three "core principles", that evidently re‑opens the door to sales in markets that Vodafone deems not to be delivering sufficient return-on-investment. According to the CEO, these criteria include:
Perceiving an opportunity to "use our regional scale on top of our local in‑market scale to drive a competitive advantage versus national players".
Being able to concoct a "credible and actionable plan over the medium term, to achieve sufficient scale and to deliver a return on capital in excess of our cost of capital in each market".
Having confidence that "we are the right long-term owners of each asset".
Evidently underlining that further market exits are possible, Read added that "if we find pragmatic alternatives that deliver superior value, we will always consider them".
Also emphasising the current CEO's willingness to change things up if unhappy with performance drags or exposure in Vodafone territories, Read put on display a list of the 14 deals conducted by the operator since 2018 (including some key moves initiated by predecessor Vittorio Colao). These included the exits from Malta, New Zealand, and Qatar, as well as acquisitions and mergers to bulk up in Australia, Germany, Greece, India, and elsewhere.
Read and Chief Financial Officer Margherita Della Valle were, again, noticeably positive towards the performance of Dutch JV VodafoneZiggo — a rare, M&A‑based story of revival in Europe, and one in which further deal-making options could be opening up (see separate).
Q2 FY19–20
Q2 FY20–21
Change (y-on-y reported)
Change (y-on-y organic) *

Note: * Organic growth is said by Vodafone to present performance "on a comparable basis, both in terms of merger and acquisition activity and movements in foreign exchange rates".

Source: Vodafone.

Service revenue by segment

€7,338m

€7,390m

0.7%

-1.8%

Mobile

€4,698m

€4,470m

-4.9%

–

Customer revenue

€4,049m

€3,874m

-4.3%

–

Incoming revenue

€301m

€287m

-4.7%

–

Other revenue

€348m

€309m

-11.2%

–

Fixed-line

€7,338m

€7,390m

0.7%

–

Service revenue by geography

€7,338m

€7,390m

0.7%

-1.8%

Germany

€2,696m

€2,883m

6.9%

-0.1%

Italy

€1,226m

€1,129m

-7.9%

-8.0%

UK

€1,218m

€1,208m

-0.8%

-0.5%

Spain

€978m

€960m

-1.8%

-1.8%

Other Europe

€1,264m

€1,240m

-1.9%

-1.8%

Portugal

€254m

€255m

0.4%

0.3%

Greece

€237m

€222m

-6.3%

-6.1%

Ireland

€215m

€201m

-6.5%

-6.1%

Romania

€188m

€195m

3.7%

-2.3%
A shift in the pecking order
To Vodafonewatch's mind, various elements of the Q2 results presentation added weight to the suggestion that further changes could be coming to the Group's OpCo line‑up, should the circumstances dictate.
While over the past decade, the Europe Region has been aligned around four major — and seemingly 'untouchable' — OpCos (in Germany, Italy, Spain, and the UK), plus the 'EU Cluster' of smaller businesses, the division now appears increasingly two‑tiered, in Group leadership's mind, between the recently-bulked-up operations in 'Germany' and 'the rest'.
Vodafone Germany (VfD) produced 38% of Europe Region revenue in H1, and was the custodian of nearly half of the division's capital spend (47.8%).
Further, it was striking that the Group's slide deck reserved two pages for VfD while affording others half-a-slide each — when in the not-too-distant past, the 'big four' OpCos were always given equal billing.
Italy feels the pain; Spain improving
As in Q1 (Vodafonewatch, #188), Vodafone's Q2 figures bore the scars of COVID‑19 disruption, but were by no means disastrous.
The division's total service revenue went backwards by 1.8% on an 'organic' basis, but this was an improvement on the 2.6%‑drop seen in Q1, and progress on the Group's cost-cutting programme (see separate) helped keep it to a mere 1.2%‑fall in adjusted earnings before interest, taxation, depreciation, and amortisation (EBITDA) across H1.
Vodafone's presentation document indicated that COVID‑19 response measures' negative impact on roaming revenue was essentially cancelled out by operating expenditure savings, driven by Della Valle's ongoing, digital-led efficiencies programme (and, presumably, some COVID‑19 influences, too). Both 'puts' were placed at €300m.
Regarding individual markets, nearly all OpCos remained in reverse gear on service revenue — the exceptions being Vodafone Portugal — but some weathered the storm much better than others, depending on existing levels of competitive difficulty and exposure to cutbacks in international travel.
VfD was in the former category, furthering a long run of flat service revenue (‑0.1%), despite the crisis, and maintaining forward movement on EBITDA across H1 (+1.3%), with Della Valle praising the OpCo for getting well ahead of the curve — overall — on its Unitymedia integration programme.
At the other end of the spectrum was Vodafone Italy, which reported an 8%‑reduction in service revenue and 11.1%‑fall in H1 EBITDA. Nearly half of the earnings drop (around ‑5pp) was said to have been caused by reduced roaming and visitor revenue. "Pricing pressure" was again flagged as an ongoing drag on the challenged OpCo's performance.
Vodafone Spain — one of the other recent businesses to be subject to M&A speculation (Vodafonewatch, #191 and passim) — provided a comparative bright spot for once, reducing service revenue slippage to ‑1.8% and delivering 6%‑growth in H1 EBITDA. Della Valle hailed the OpCo for maintaining commercial momentum, producing a fifth straight quarter of customer base growth — but stressed that "our structural transformation of Spain is continuing".


Richard Agnew is Group Editor at TelcoTitans and Market Mettle.
Vodafone Q2 FY20–21
1

2

3

4

5

Currently reading

Europe: Read stresses asset line-up is not settled

6