Auction process expected to kick off in April 2020.
Regulator seeks to attract new entrants by reserving spectrum.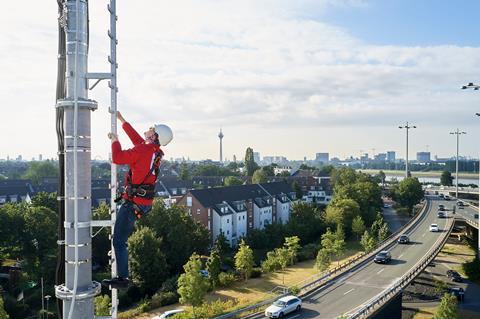 Vodafone Portugal (VfP) expressed frustration over the proposed terms and timing of the country's upcoming auction of rights to 5G‑friendly airwaves.
In late‑February 2020, Autoridade Nacional de Comunicações (ANACOM) approved the draft regulation for the allocation of frequency rights in the 5G‑enabling 700MHz and 3.6GHz bands, alongside the auction of surplus airwaves in the 900MHz, 1800MHz, 2.1GHz, and 2.6GHz ranges. ANACOM aims to firm the rules and start the auction by April 2020, and expects the process to be concluded in June 2020 (Vodafonewatch, #181).
The regulator laid out the number of lots to be auctioned and their reserve prices, with the evident aim of attracting new entrants to the market. Spectrum in the 900MHz and 1800MHz bands has been reserved (and discounted) for newcomers, which will also be allowed to participate in the main auction.
Further, the regulator confirmed plans to enforce network access rights for mobile virtual network operators, as well as national roaming for players that meet minimum spectrum acquisition levels (2×5MHz in the 700MHz band, 2×5MHz in the 900MHz band, 2×15MHz in the 1800MHz band, and 50MHz in the 3.6GHz band).
Portugal's planned spectrum award

Bands

Number of lots

Reserve price

Source: ANACOM.

700MHz

6 lots of 2×5MHz

€19.2m

900MHz

1 lot of 2×5MHz

€30m

900MHz

4 lots of 2×1MHz

€6m

1800MHz

3 lots of 2×5MHz

€4m

2.1GHz

1 lot of 2×5MHz

€2m

2.6GHz

2 lots of 2×5MHz

€3m

2.6GHz

1 lot of 25MHz

€3m

3.6GHz (with restrictions up to 2025)

6 lots of 10MHz

€840,000

3.6GHz (with restrictions up to 2025)

4 lots of 10MHz

€940,000

3.6GHz

30 lots of 10MHz

€1.23m
Some conditions have been attached to spectrum licences in the 700MHz and 3.6GHz bands. Each operator is limited to acquiring 2×10MHz in the 700MHz band and 100MHz in the 3.6GHz range, and will be obliged to provide minimum speeds of 100Mbps to 85% and 95% of the country's total population by the end of 2023 and 2025, respectively.
ANACOM also initiated the migration of 700MHz frequencies from the digital terrestrial television network in preparation for their reallocation to 5G services. The regulator said the process began on a national level on 7 February 2020 at the port of Sines on the Atlantic coast, and will conclude in the north of the country during late‑June 2020.
Operators non-plussed
Although a clear 5G auction timeline finally seems to be in place, the country's operators have complained that Portugal is lagging behind other European countries in terms of 5G network launches.
Mário Vaz, Chief Executive (CEO) of VfP, reportedly described ANACOM's proposed terms for the auction as "highly penalising and discriminatory" against existing operators, referencing the "disproportionate nature of the obligations". Vaz added that the OpCo will "fight and try to influence" the final regulations through ANACOM's public consultation, which is due to close at the end of March 2020.
However, Vaz also said the delay in allocating 5G‑friendly airwaves in Portugal means the technology will be more evolved when it is eventually rolled out in the country. "We have to make up for lost time — let's look at it as an opportunity and accelerate", he said.
Speaking at the Building the Future conference in Lisbon during late‑January 2020, João Nascimento, Chief Technology Officer of VfP, flagged the OpCo's progress with 5G trials, despite the delay in the availability of suitable spectrum (Vodafonewatch, #174 and #179). VfP has already been testing 5G equipment supplied by strategic partner Ericsson, using a temporary 3.6GHz licence, and has been waiting for ANACOM to indicate a firm release roadmap (Vodafonewatch, #174).
ANACOM has become increasingly unpopular with the country's operators over its perceived lack of progress with 5G spectrum liberalisation. Just ahead of the announcement of the draft auction decision in October 2019 (Vodafonewatch, #181), VfP and rival operator NOS reportedly filed lawsuits against ANACOM for the delay, while Altice Portugal (which markets telecoms services under the MEO brand) was said to have called for the dissolution of ANACOM's Board of Directors.
One particularly contentious issue has been a 3.5GHz licence held by 'neutral host' wireless network player Dense Air Portugal since 2010, with an expiry date of August 2025. After a period of stalemate over the use of this licence, ANACOM recently decided to reduce the provider's spectrum holding from 168MHz to 100MHz, and relocate it to the lower end of the band, to allow for increased access for other players.
Portugal has stopped short of banning China‑based vendors such as Huawei Technologies from participating in 5G rollout, although reference was made in the draft regulations to security matters in relation to implementing the European Union's (EU) recommendations on cybersecurity of 5G networks and toolbox of risk mitigating measures, in accordance with the European Electronic Communications Code. ANACOM noted that 5G network operators will be subject to measures set out at EU level.