Safaricom partner Circle Gas secures nine-figure loan to drive expansion in African (and potentially Asian) markets.
Targets include Nigeria and neighbouring markets of Kenya and Tanzania, where startup is already present.
Capital needed for investment-heavy distribution platform.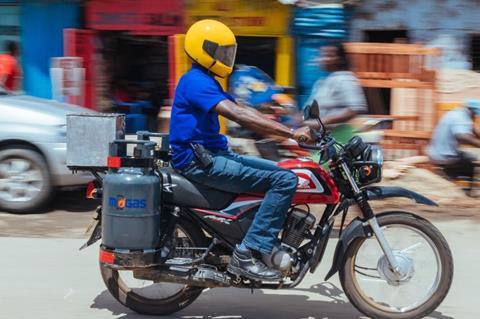 Circle Gas, a startup focused on bringing affordable cooking fuel to low‑income households in sub‑Saharan Africa, is understood to be preparing an international expansion drive after securing a $100m (£72m/€85m) loan.
The London-based venture, which has close links with Vodafone's Kenyan associate Safaricom, is targeting expansion in Africa and Asia — where it says 1.6 billion people do not have access to "clean cooking" and urban population growth is driving need for its service.
According to a company filing, Circle Gas's management, led by Chief Executive Volker Schultz, landed a convertible loan of $100m in April 2021, to "finance growth in 2021 and early‑2022". The borrowing — added to a $7m convertible loan secured earlier in the year — will be "drawn down in tranches" and help the company acquire and build out new depots and distribution networks for the liquified petroleum gas (LPG) it sells on a pay‑as-you‑go basis to households.
Circle Gas is aiming to secure ten million customers for the service, which is controlled via an app and smart‑meter, in its current plan. To help achieve this, it expects to launch in new countries before the end of 2021.
Nigeria next
Regarding new target markets, Circle Gas's "initial focus" is on Africa — having debuted in Kenya during 2020, as well as inheriting a presence in Tanzania via the late‑2019 acquisition of local technology player Kopa. It said it is "actively exploring" an expansion into Nigeria, and sees east African territories such as Mozambique, Rwanda, and Uganda as "natural extensions of the business".
In Asia, Circle Gas drew out Bangladesh and Vietnam as "potential markets".
No mention was made of any ambitions for Ethiopia, despite Safaricom's planned entrance into the country's mobile market in 2022 (Vodafonewatch, #198 and passim). Nor did Circle Gas indicate whether Safaricom and other Vodafone OpCos will be chosen to support services in countries where the telecoms group is present, such as Mozambique.
Safaricom bought into Circle Gas in late‑2019, alongside a wider arrangement that sees the operator support its M‑Gas offering in Kenya. The startup's smart‑meters ride on Safaricom's Narrowband Internet of Things network and top‑up payments are enabled through m‑money platform M‑PESA (Vodafonewatch, passim). The two companies also have a branding arrangement, and Peter Ndegwa, CEO of Safaricom, sits on the business's Board of Directors. Safaricom's holding stood at 18.4% at 31 March 2021, having been slightly diluted by a share issue associated with borrowing.
Growing pains
As well as enabling a more flexible, prepaid-based payment system for households, Circle Gas pitches LPG as a more environment‑ and health-friendly alternative to the cooking fuels used by many African families. "Clean cooking solutions are badly needed throughout the developing world, particularly in sub‑Saharan Africa where most families use expensive and polluting cooking fuels such as charcoal, biomass, and kerosene every day", said the business.
'Last yard logistics' represents a key challenge for the startup, especially post-pandemic, with Circle Gas's LPG cylinders and cooking stoves distributed from local depots serving 7,000–15,000 households each, and supported by a fleet of technicians. Circle Gas's management noted that its business model "requires scale to realise value for shareholders and to achieve significant social and environmental impact". It recorded a net loss of $7.6m in the year to 31 December 2020, on revenue of $551,000, as it took on the complexity and cost of rolling out its service in Kenya.
The startup's technology base is in China, building its devices via local subsidiary Zhilang Technology and a recently formed relationship with IoT module supplier Quectel.