KwaZulu-Natal flooding declared an emergency with more than 300 dead.
Vodacom cites 'social contract' in ZAR 3m relief donation.
Operators begin network restoration, with power outages a core issue after backup batteries washed out.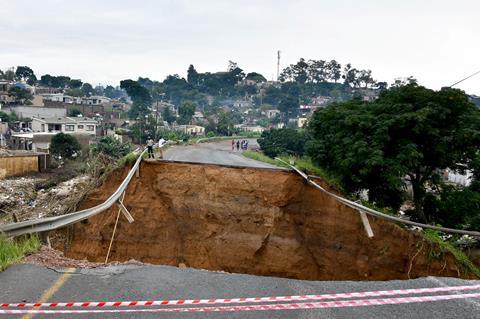 Takalani Netshitenzhe, Director of External Affairs at Vodacom South Africa, described the flooding in KwaZulu-Natal as a "serious tragedy" after rainfall that beat 60-year-old records hit the province on South Africa's east coast this week.
The flooding has been declared a disaster, with more rain forecast for the coming weekend. The local government has confirmed 306 deaths, and President Cyril Ramaphosa described it as a "catastrophe".
Temporary fixes
Vodacom's network suffered "extensive damage", with operator peers facing similar repair jobs.
On Wednesday, Vodacom claimed to have reached 150 of 400 affected sites. The remaining 250 were inaccessible at the time. Vodacom noted that power cuts were the primary reason for network outages, and has engineers working "around the clock" to deploy generators at accessible sites.
Rival operator MTN flagged similar problems, with "widespread infrastructure damage and power outages" forcing 500 of its sites offline. MTN said it had actioned "contingency plans" in the region, but conceded that accessing sites to conduct repairs was a major challenge.
Jacqui O'Sullivan, MTN SA's Executive for Corporate Affairs, said that backup batteries formed part of the contingency, but have been "depleted" by flooding.
Social contract
Vodacom made a ZAR 3m (£156,000/€188,000) donation to the Gift of the Givers Foundation to support the recovery effort, with money going towards basic supplies for those in the KwaZulu-Natal province. Netshitenzhe said the donation was "over and above our business-as-usual financial commitment to ensure access to communication by restoring the sites and the network".
Netshitenzhe said that working to support the relief effort was part of Vodacom's social contract: to "use our resources working in partnership with government and other social partners to respond to some of the pressing needs in communities in which we operate".
MTN, for its part, donated ZAR 500,000 to an unnamed charity to provide food parcels and blankets to the impacted region, with MTN customers in the KwaZulu-Natal province offered a free SMS bundle.

Joseph Purnell is a Staff Reporter for TelcoTitans, contributing telecoms news analysis since 2019 as part of the TelcoTitans Editorial team.